Cradlepoint is a global leader in 5G wireless WAN solutions and its range of 5G native enterprise routers are proving popular with Australian businesses who are moving swiftly to adopt wireless networking.
Cradlepoint wireless WAN solutions proving popular in Australia
The popularity of Cradlepoint 5G router deployments is growing, driven by the convergence of four trends in the Australian market. They are
the progressive infill of the 5G network rollout, providing viable signal strength in more places
the mass-market shift to working outside the corporate office, demanding more security and agility from networks
the numerical rise in cyber threats and the expansion of the cyber threat vector
the adoption of Cloud and SD-WAN for agile corporate networks
MobileCorp has deployed many of Australia's first Cradlepoint wireless networks either as a standalone primary access link, or as part of a hybrid network providing intelligent routing, critical traffic prioritisation, business continuity, cyber security and remote cloud management.
A few of the first Cradlepoint network deployments we have deployed in Australia include
Marine Rescue NSW - integrated a Cradlepoint cellular branch network as part of a major upgrade of its critical communications network. The 69 Cradlepoint routers are the backbone of the 45 site network providing traffic management with failover from NBN to Telstra 4G, and steering ROIP traffic to Telstra LANES prioritised access in peak traffic periods.
Ticketek Entertainment Group - migrated from MPLS to a hybrid WAN network with NBN and Cradlepoint providing 4G LTE | 5G failover. The solution has delivered cost savings of $250,000 a year on fixed venue connections alone. It has also enhanced agility, scalability, security and reliability with Cradlepoint edge routers managing hybrid WAN and wireless redundancy. MobileCorp provides visibility, monitoring and support via Cradlepoint NetCloud Manager.
Surf Lifesaving Australia - utilises wireless to protect the critical communications of the Westpac Rescue Helicopter base in La Perouse. Using 5G as an additional connection provides link diversity removing the potential for outages in the 'last mile'. The speeds being achieved by the Cradlepoint W2005 installed on the roof are significantly superior to the fixed line primary connection at 883 Mbps downlink and 70 Mbps up.

Top 5 most popular Cradlepoint routers in Australia
Each of the following Cradlepoint endpoints has been certified for use on the Telstra and Optus networks in Australia.
#1. E3000 5G Enterprise Router
The most popular Cradlepoint router in Australia is the E3000.
The E3000 is Cradlepoint's high-end, high-performance, enterprise 5G router.
It is capable of supporting the throughput and service needs of a large branch office, a retail store, logistics depot, or manufacturing site.
Recently MobileCorp has deployed E3000s across Australia to defence force contractors, insurance companies, equipment hire companies, industrial textile distributors, and pharmaceutical companies.
The router is not limited to an industry vertical or by use case. It's high specs mean if the E3000 doesn't cut it, it is higly unlikely any 5G router in the Australian market will fare any better.
We have been deploying the E3000 to
manage a primary access link in place of wired infrastructure
as part of a hybrid WAN for failover
to handle prioritisation of critical communications traffic and manage traffic spikes though bandwidth augmentation
The E3000 includes full-featured routing, security, switching with nine PoE ports and Wi-Fi, making it easy to connect branches to the Internet and critical applications without the need for extra hardware or complicated configurations. The E3000 also has the ability to add a second LTE or 5G connection for increased bandwidth availability and reliability.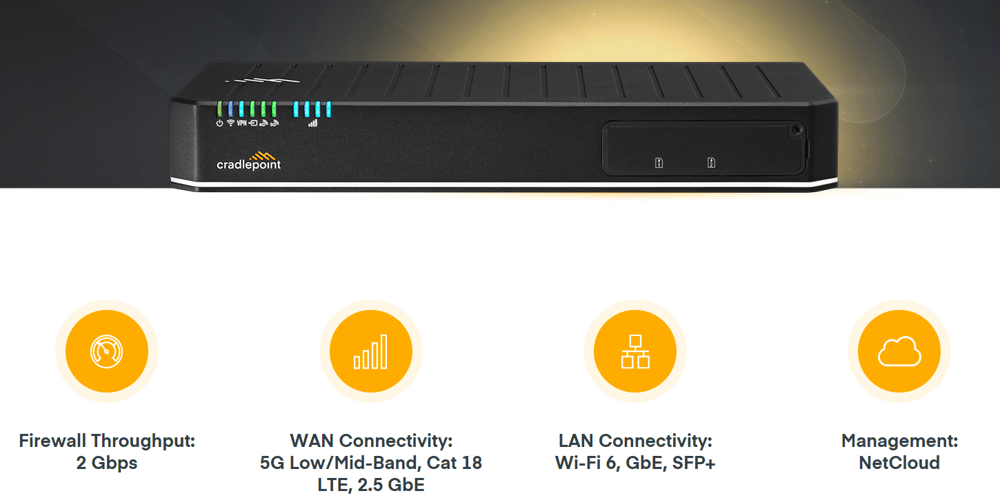 Suited for:
Large branch offices
Fixed offices, healthcare, financial services and retail locations, where security, connection to critical cloud-based applications, and analytics performance are needed
High availability WANs
Private LTE/5G networks
High performance portable command centres
For enterprise-class routing, performance and security
For organisations with high volume throughput, dynamic routing, critical applications
Features and Benefits:
Rapidly deploy and dynamically manage Wireless WAN networks at geographically distributed locations with NetCloud
Integrate into your existing network with standards-based dynamic routing and VPN tunnel support.
Define policies through centralised, cloud-based management for easy deployment at scale
Add a second cellular modem for dual LTE or 5G connectivity
Add hardware redundancy by pairing mirrored routers with VRRP to optimize uptime.
Use NetCloud's visibility and control capabilities to define and distribute global policies for advanced routing, traffic control, and security.
Enable unified edge security with application aware multizone firewalls, IDS/IPS, Internet security, and available FIPS 140-3 Level 1 Implementation Under Test.
#2. E300 5G Enterprise Router
Coming in at #2 is the Cradlepoint E300. This router is particularly popular due to its suitability for pop-up networks and Day 1 network access. It also provides enterprise-class features in a smaller form factor and at a lower price point than the E3000.
The E300 is the 'go-to' device for many Australian companies looking for 4GLTE and 5G enterprise-class routing and robust security performance, in a hurry.
Since its introduction, the E300 has evolved through several iterations launching as a 4G only router, then becoming 5G-enabled with an add-on modem, and now being 5G-embedded.
This router is specifically designed for a small-medium sized branch office.
It was widely utilised during the pandemic for Covid-19 testing centres and quarantine facilities. During the Mallocoota bushfire emergency in Victoria, a Cradlepoint wireless network was spun up at the pop-up evacuation centre.
Less dramatically, MobileCorp has deployed E300s to Ticketek for its ticketing outlets, to Peloton for its retail showrooms, to a defence force utilities contractor for its onsite offices, and to new warehouse sites on Sydney's fringe that faced months of waiting for NBN.
The E300 has the agility to spin up a Day 1 Wireless WAN, and provide Gigabit-Class 4GLTE or 5G connectivity as a primary or failover connection. It also has VPN support, Wi-Fi 6, optional Bluetooth, four ports, and integrated switching.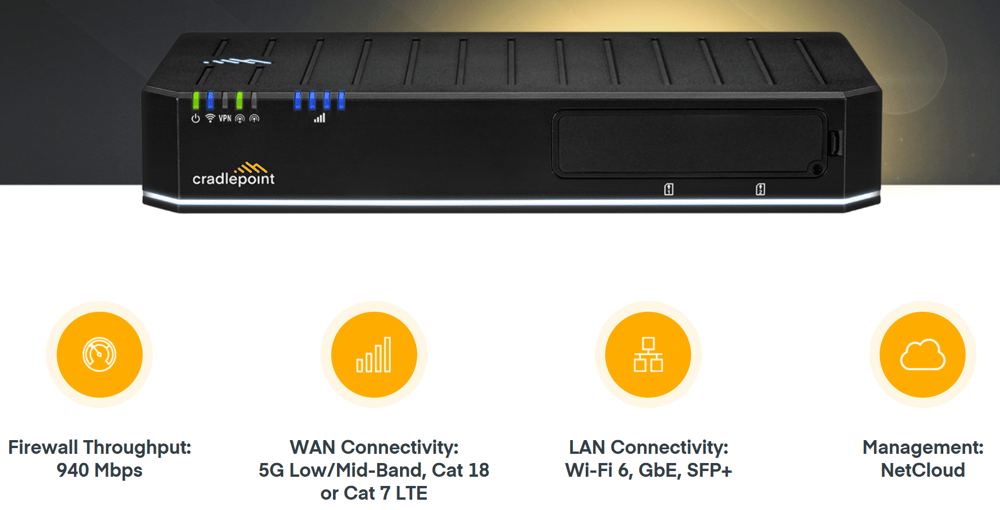 Suited For
Construction sites
Restaurants
Pop-up stores
Hospitals, Medical clinics
Branch offices
Events
Utility companies that need to manage multiple remote locations

For pop-up and temporary locations, as well as small-medium permanent sites

For organisations that need to manage connectivity at multiple remote locations
Features and Benefits:
Open temporary locations without compromising security or reliability
Gain fast day-1 connectivity with embedded 5G or LTE modem
Terminate a broadband link with 5G or LTE failover for reliable hybrid connectivity
Establish encrypted tunnels with NCX Secure Connect and WAN Edge Security VPN tunnel support
Add a second cellular modem for dual 5G or LTE connectivity
Able to act as a controller for

Cradlepoint 5G Wideband Adapters W2005 and W1850
#3. W2005 Outdoor 5G Wideband Adapter
Okay, the W2005 is not actually a router, but it is a member of the Cradlepoint 5G family, so we're including it.
The W2005 sits at #3 in popularity, and is particularly suited to the Australian market as it addresses two challenges we have with the rollout of 5G.
The first challenge is our population density being concentrated in the coastal fringe requiring multiple towers and signal saturation to mitigate network congestion. The second challenge being the vast distances and geographical challenges of spreading 5G to regional, rural and remote locations.
The W2005 is essentially a 5G gateway device. It is purpose-built to boost signal throughput and provide a more consistent and reliable connection for high performance wireless WAN branch applications.
Operating in the 5G low to mid-band and Cat20 LTE spectrums, the W2005 can be paired with a Cradlepoint router like the E3000 or E300 in "captive modem mode", or it can be connected to your existing third-party router via an Ethernet connection .
MobileCorp has deployed multiple W2005 adapters to bring 5G wireless connectivity to locations like Sydney's Silverwater and Long Bay jails, defence force bases as varied as Randwick and Holsworthy, private schools in the centre of Melbourne CBD, the Western Sydney Airport construction site at Badgery's Creek, event venues in National Parks, and even to retail shopping centres.
We have also utilised a portable W2005 to provide connectivity for First Nations Ranger Drone Programs operating in Far North Queensland.
The W2005 adapter can make 5G connectivity viable for locations that may be outside the NBN footprint, some distance from a 5G tower, or needing higher bandwidth throughput.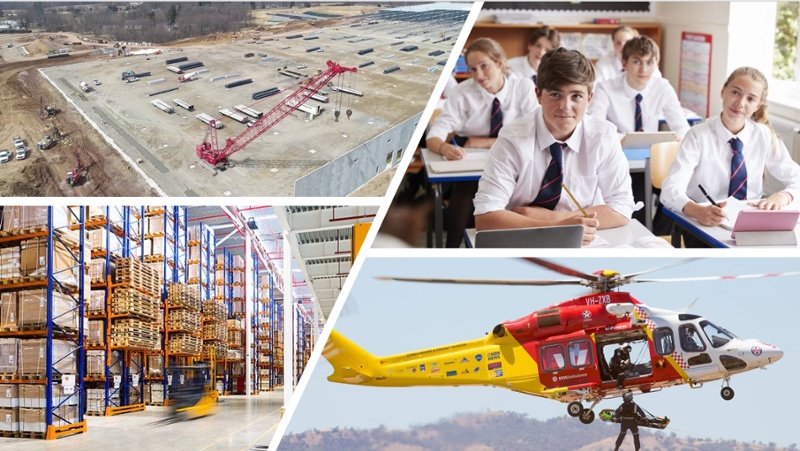 Word of warning!
Procurement of the W2005 globally is restricted by Cradlepoint to its MSPs & Resellers who hold the '5G for Enterprise Branch' specialisation.
MobileCorp was the first Cradlepoint Partner in Australia to hold this specialisation and there are still only a handful of locally accredited resellers.
Cradlepoint also recommends professional installation by a certified Cradlepoint Partner for the W2005.
Installing the Cradlepoint W2005 for optimal signal throughput is not as simple as dropping it onto the roof.
For optimal signal acquisition, MobileCorp often installs the W2005 in tandem with an additional external directional antenna. There are cabling limitations, waterproofing between adapter and antenna, and the installation should be tested and managed from within the NetCloud Management portal.
It is not rocket science but having experience does help!
MobileCorp has been called in to remediate a number of W2005 networks after devices have been procured from a carrier and installed by unaccredited local vendors.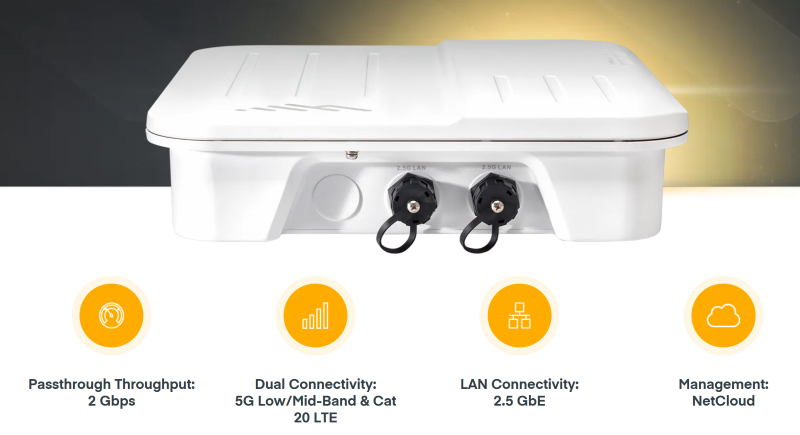 Suited to:
regional branch offices
warehouses on the urban fringe
correctional facilities
defence force bases
national parks
retail outlets
critical communications e.g. Surf Lifesaving rescue helicopter - Case Study
Features and Benefits:
Increase the size and types of your WAN use cases with 5G performance
Experience the dependability of dual connectivity with simultaneous 5G and 4G connections
Gain carrier-class connectivity using a software-defined modem and integrated multilevel test and recovery utilities
Manage the Cradlepoint router and 5G adapter as one entity for singular control and visibility
Deploy within any existing networking or SD-WAN environment
For primary or failover connectivity
For permanent and semi-permanent branch offices
For locations requiring optimal 5G signal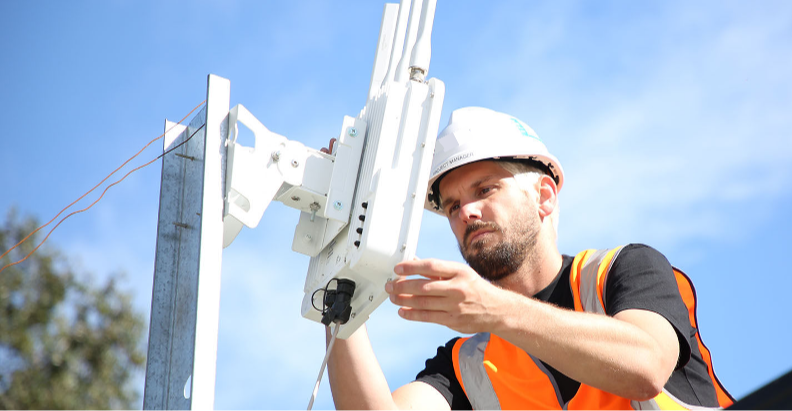 #4. R1900 Vehicle 5G Ruggedised Router
At #4 we have the R1900 high performance ruggedised in-vehicle router.
This router has a proven track record in the USA where it has been widely deployed in police and emergency service vehicles, and it is garnering a lot of interest with Australian field-force organisations.
The R1900 mobile router includes an embedded 5G modem and, as you would expect, it will automatically connect to Cat 20 LTE if the vehicle moves outside of 5G coverage.
When coupled with the Cradlepoint Advanced Mobile Performance Service plan, the R1900 provides threat management, web filtering, application visibility, analytics, and advanced GNSS/GPS functionality including location tracking and cellular coverage maps.
The R1900 is designed to cope with environmentally harsh environments. It can be hardwired into a vehicle or with the addition of a battery it can be portable.
At MobileCorp we have developed our R1900 in-vehicle connectivity kit as seen below which comes with a battery pack for portability.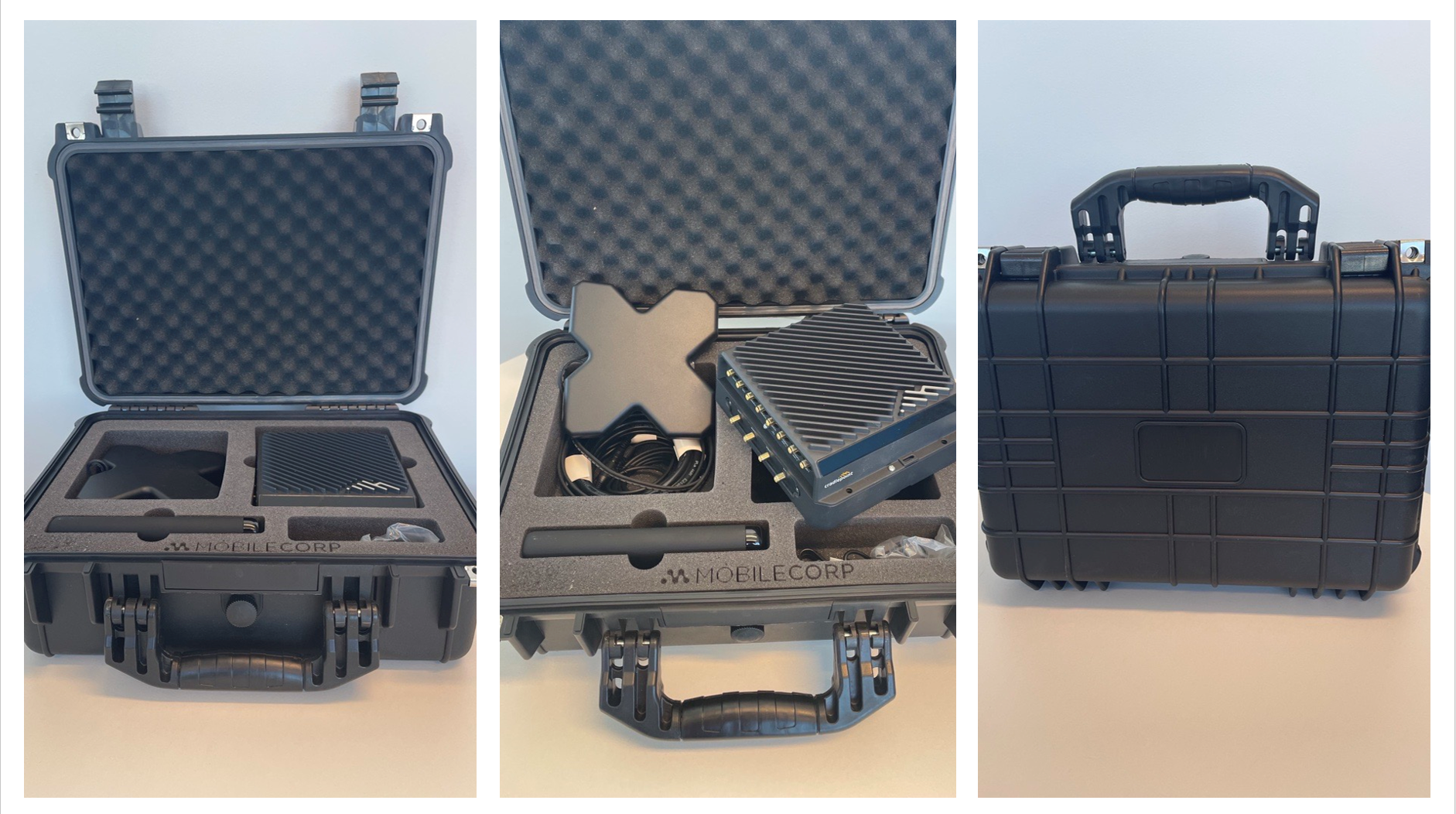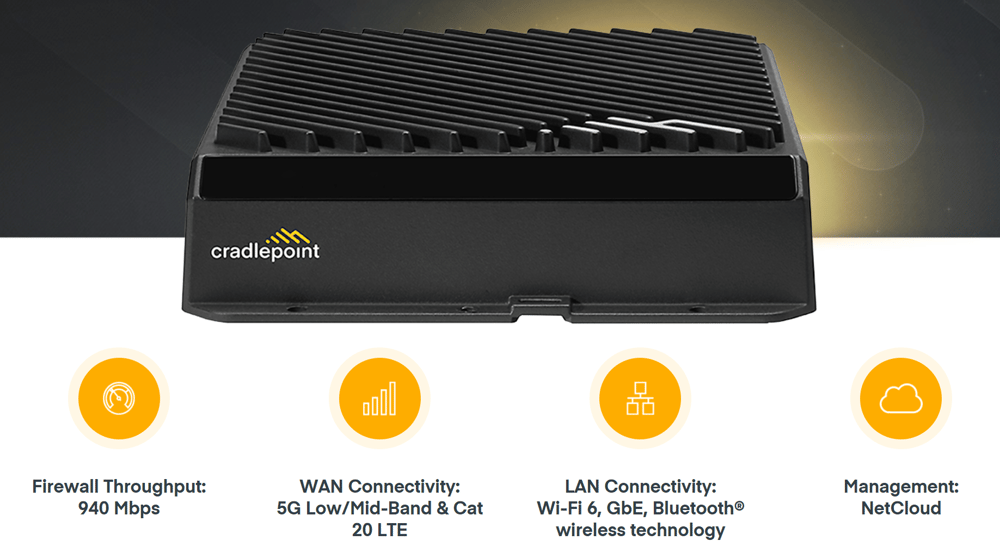 Suited For:
First Responder services - police, ambulance, fire, emergency response vehicles
Public transport - buses, trains, trams, taxis
Supply chain - refrigerated and other delivery vehicles
Local Government - rubbish collection trucks, rangers
Security and Defence vehicles
For organisations that depend on connected field forces
For vehicles with multiple connectivity requirements including IOT sensors, WiFi, cameras, access to cloud applications, telematics


Features and Benefits:
Deploy the ultimate 5G NR / Cat 20 LTE mobile networking solution
Add a second cellular modem with the optional RX30 managed accessory for simultaneous
dual-carrier connectivity
Take advantage of Wi-Fi 6 for the best possible connections
Enable unified edge security with application aware multi-zone firewalls, IDS/IPS, and internet security
Define policies through centralised cloud-based management for easy deployment at scale
Integrate into Automatic Vehicle Location systems with discrete GNSS and dead reckoning
Create a cellular coverage map for complete visibility into your area's 5G and LTE coverage
>Extend your deployment with additional PoE ports, GPIOs, NetCloud SDK and API, Bluetooth, and container support for customisable solutions
#5. W1850 Indoor 5G Wideband Adapter
Currently languishing at #5, we think the W1850 is on the cusp of a surge in popularity.
This indoor 5G Wideband Adapter is often a great fit for retail outlets located in a shopping centre or streetscape retail precinct.
MobileCorp is currently working through a number of Proof of Concepts with iconic Australian retailers who are looking at the W1850 for a business continuity failover solution for their stores.
The W1850 5G adapter is purpose-built for deployment in the low-, mid-band 5G spectrum. It comes with four cellular antenna, white, 600 MHz-6 GHz, SMA, and 180mm.
It accommodates diverse spectrums while delivering enterprise-class standards of scalability, comprehensive cloud management, and zero-trust security features.
A number of MobileCorp customers are connecting the W1850 directly to a switch, rather than to a router, however it is designed to be used in "captive modem mode" with the E3000 or E300, or connected to an existing third-party router via an Ethernet connection to act as a 5G gateway.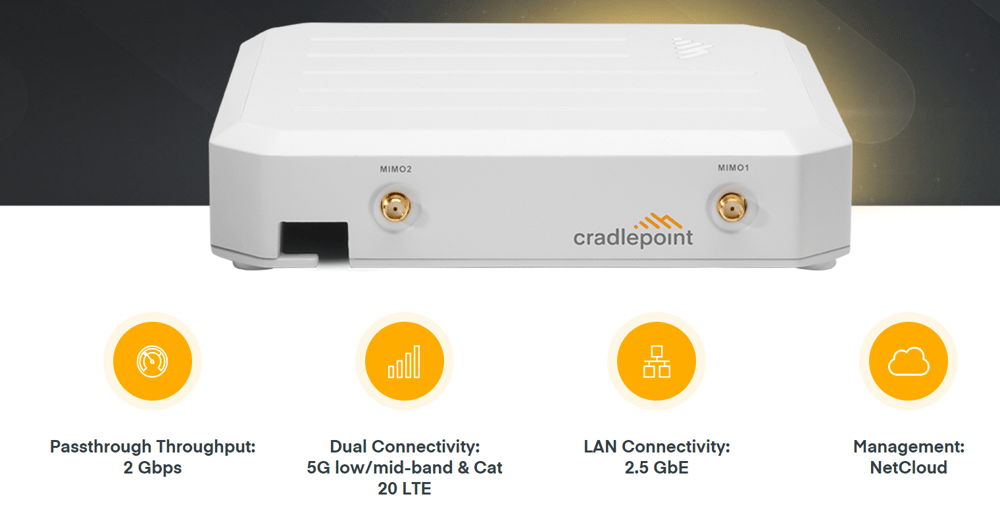 Suited to:
Small to medium-sized retail and hospitality businesses that need to provide secure guest Wi-Fi access. Its easy-to-use interface allows business owners to customize the guest Wi-Fi experience and set up splash pages, vouchers, and social login.
Locations requiring the benefits of 5G's higher bandwidth and faster speeds that require the boost provided by a wideband adapter capturing an optimal LTE/5G signal
For primary or failover connectivity
For permanent and semi-permanent fixed locations
Features and Benefits:
The product allows for Dual Connectivity, which means that it can simultaneously connect to 5G and LTE networks.
The "captive modem mode" enables singular router/adapter control and management.
Deep wireless analytics are available, assisted by machine learning.
The product offers carrier-class connectivity with multiple levels of test and recovery.
The product is adaptive to any networking and SD-WAN environment. (Cradlepoint)
Bonus mention: Cradlepoint E102
The only reason the E102 is not in the top 5 list, is because it operates only in the 4GLTE spectrum, and not 5G.
The E102 is specifically designed for work-from-anywhere VIPs, Executives and mission-critical employees who need high-performance, strict security, and agile cloud management of their connectivity.
Using a dedicated wireless WAN connection, Cradlepoint can extend secure connectivity to the employee's home with the same IT capabilities and end-user experience as the office network.
The E102 features a next-generation, fast 4GLTE cellular modem (CAT7), that doubles downlink speeds for added performance and triples uplink speeds to support applications such as videoconferencing.
The portable, compact form factor includes full-featured routing, security, traffic shaping, and Wi-Fi, making it easy to connect and maintain connectivity to the Internet for supporting crucial business applications.
The embedded LTE modem means that reliable, private connectivity is always available from day one without waiting for a wired connection and without having to depend upon consumer-class, underlying networking conditions.
Utilising Cradlepoint's cloud-based management platform – NetCloud Manager — IT teams can monitor, control, and troubleshoot the E102 from a remote location.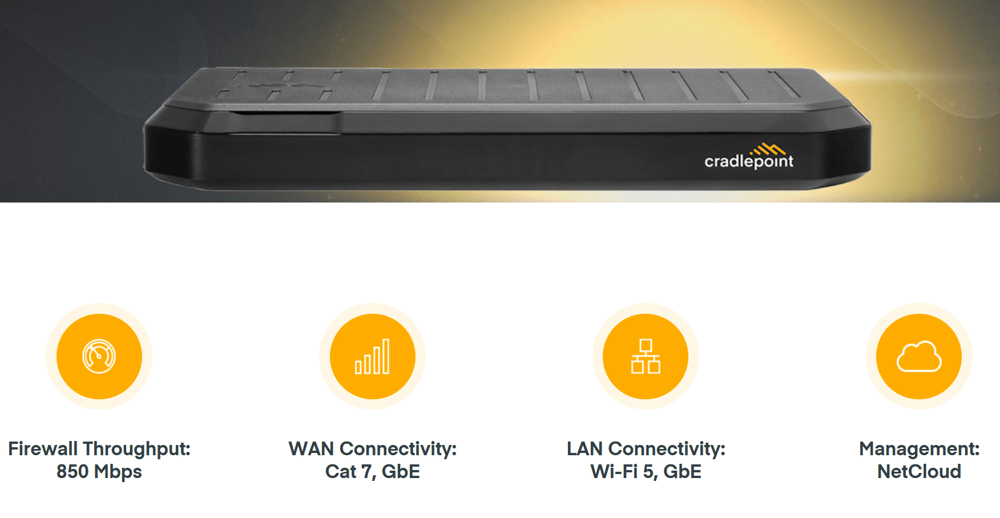 Why choose a Cradlepoint router?
Cradlepoint is widely acknowledged as a global leader in 5G Wireless WAN hardware and software.
While many router manufacturers are just releasing their first generation 5G-embedded endpoints, Cradlepoint has had its second generation 5G devices in market since mid-2021, and has been aggressively advancing its cloud, SDWAN and cybersecurity capabilities ever since.
NetCloud Manager
All Cradlepoint routers and adapters are sold globally with a subscription to NetCloud Manager. This is a platform which provides continuous cloud, modem and router software visibility, as well as policy and configuration management, monitoring alerts, cellular health and remote out-of-band device management.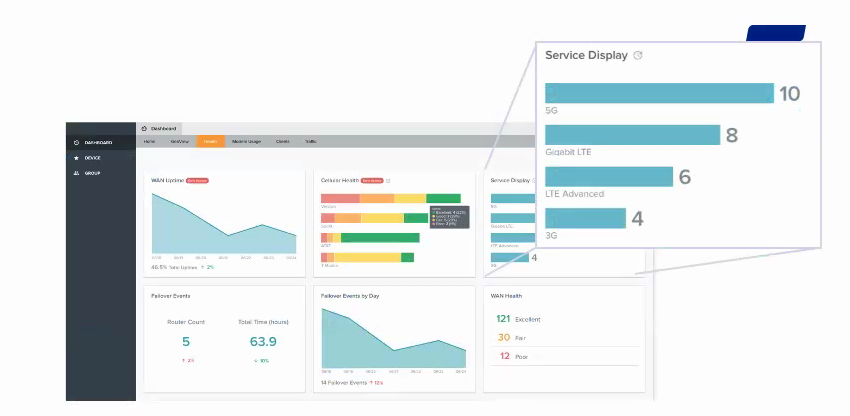 NetCloud Exchange (NCX)
A recent addition to NetCloud Manager is NetCloud Exchange which is a cloud-native WAN architecture that integrates advanced SD-WAN, security, and 5G — sharing common components, policies, and processes — all managed through a single pane of glass.

NCX Secure Connect is a network security solution that offers a simple-to-manage alternative to complex VPN infrastructures for securely connecting sites, vehicles, IoT, and remote workers. NCX Secure Connect provides any-to-any connectivity and drastically reduces the attack surface by building undiscoverable network resources. Secure Connect unlocks operational agility through built-in tunnel orchestration and simplifies configuration with name-based routing and overlapping IP addressing.
NCX SD-WAN service delivers SD-WAN with a specific focus of optimising traffic over Wireless WANs. Organisations can easily enhance application quality of experience and optimise traffic across redundant cellular providers and across hybrid WANs. Secure Connect service is a pre-requisite for the NCX SD-WAN service.
NCX ZTNA service leverages fine-grained policies, identity and context information to grant users zero trust access to corporate resources. Instead of providing shared access to network segments, connections are defined to corporate resources and are only built upon authentication. NCX ZTNA proactively maintains the security posture with continuous verification. Organisations can protect commonly unprotected devices by placing them into trust segments using Cradlepoint routers and access is provided using a selection of agentless and agent-based options.
Ready to talk about Cradlepoint and 5G Wireless WAN?
At MobileCorp we are Cradlepoint aficionados. We love to chat about innovative use cases utilising 5G and are happy to share our knowledge.
Doug Mears
MobileCorp Business Development Manager
M. 0459 972 675
E. douglas.mears@mobilecorp.com.au
Book a Meeting here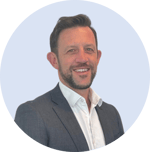 ---
About MobileCorp
MobileCorp is an enterprise ICT solutions company with a mission to deliver our customers a communications technology edge. We provide Managed Mobility Services, Enterprise Mobility Management, Complex Data and IP Networks, and Unified Communication solutions. We have a proven track record providing managed services for Australian enterprise and business, and we are a Telstra Platinum Partner.

Subscribe to our fortnightly newsletter