SURF LIFE SAVING AUSTRALIA
5G for network 'failover' at emergency response helicopter rescue base
29 Mar 2023
OUTCOME
5G has enabled Surf Life Saving Australia to protect the critical communications out of its La Perouse helicopter base with an intelligent business continuity solution. MobileCorp has deployed a Cradlepoint 5G adapter connected to the Telstra 5G network to enable automated failover and failback should the primary wired link be compromised. The connection is consistently delivering over 850Mbps download and 70Mbps upload to site.
Surf Life Saving Australia and Westpac Banking Corporation have been saving lives since 1973 through the operation of the Westpac Rescue Helicopter Service. Over 80,000 missions have been completed in the past 48 years. The service is Australia's longest running corporate sponsorship.
The emergency response service is on standby to respond to critical rescue missions 7 days a week, 365 days a year. In Sydney, the helicopter operates from a purpose-built base at Cape Banks on the northern headland of Botany Bay at La Perouse.
Locations: 1
Solution: 5G network failover
What was the challenge?
The Sydney Westpac Rescue Helicopter Base is situated at Cape Banks in the Kamay Botany National Park, La Perouse, on the northern headland of Botany Bay.
The purpose-built operational facility opened in 2006, and is situated less than 200 metres from the ocean which gives the helicopter quick access to coastal waters and cliffs. The Base serves the Greater Sydney region from the Central Coast in the north to the Illawarra in the south. Flight time to reach Sydney Harbour is 6 minutes.
Risk of network outages
When communication can be a matter of life or death, any network outage will have critical consequences. The Base required a business continuity solution which would eliminate downtime for its emergency response communications network.
Lack of Link diversity
Inground infrastructure can be susceptible to weather events such as floods and fires, as well as man-made impacts such as digging up of wires, or carrier network outages. Having a second wired link would likely lay in the same channel as the primary link and be exposed to similar risk factors. Also, running an additional cable to the base situated on an isolated headland would be time-consuming and expensive.
Lack of network connection visibility
Ensuring 'always on' connectivity requires visibility of existing network connections with 24/7 monitoring and alert protocols. Configurations regarding WAN connections and VPNs alone require constant attention and frequent adjustments, which is expensive at best and very difficult with a lean IT team.

Image: Kamay Botany Bay National Park with Westpac Rescue Helicopter Base
Images: Westpac RescueHelicopter Base, Cape Banks, Kamay Botany Bay National Park, La Perouse.
What solution was deployed?
Cradlepoint and Telstra 5G
As a Cradlepoint Elite Partner and a Telstra Platinum Mobility Partner, MobileCorp was uniquely positioned to deploy a 5G network failover solution for the helicopter base. Cradlepoint is the global leader in cloud-managed 5G routers and Telstra has Australia's leading 5G network.
Cradlepoint W2005 as secure 5G gateway
MobileCorp proposed Cradlepoint's NetCloud Service for Branch and W2005 wideband outdoor adapter supporting 5G and LTE. The W2005 wideband adaptor works with Surf Life Saving Australia's existing on-premise router - in this case a Cisco device. The Cisco router was configured for automated failover to the Cradlepoint-enabled 5G link in the event of a primary link outage. It then automatically fails back when the primary link is back online.
5G for link diversity
Wireless provides valuable link diversity and 5G provides the speed and bandwidth to be a viable alternative to a secondary fixed line.
The first step in the deployment of this 5G solution was to complete a desktop survey by a certified radio engineer and a physical survey to determine signal feasibility. The nearest Telstra 5G tower was 1.15km away in the nearby suburb of Little Bay, and at 49.93m above sea level provided clear line of sight to the helicopter base.
MobileCorp 5G certified deployment and managed service
Procurement of the Cradlepoint W2005 is restricted to certified Cradlepoint Partners with the 5G for Enterprise Branch accreditatopm. MobileCorp was the first partner in Australia to hold this specialism.
MobileCorp's W2005 deployment service includes:
desktop 5G site feasibility survey by certified radio engineer and physical onsite assessment to determine installation barriers
installation of the Cradlepoint adapter and Mimo 4x4 directional antenna above roofline, including wind and water-proofing and cabling to the comms room.

set-up of the Cradlepoint NetCloudTM Manager instance which is utilised to ascertain optimal device positioning, and for ongoing cloud management

configuration of the W2005 to ensure the port handles the 5G bandwidth

testing of automated failover/failback
MobileCorp provides an ongoing managed service which includes 24/7 network monitoring, alerts, proactive notification of planned outages, out-of-band remote troubleshooting, firmware updates, and reporting.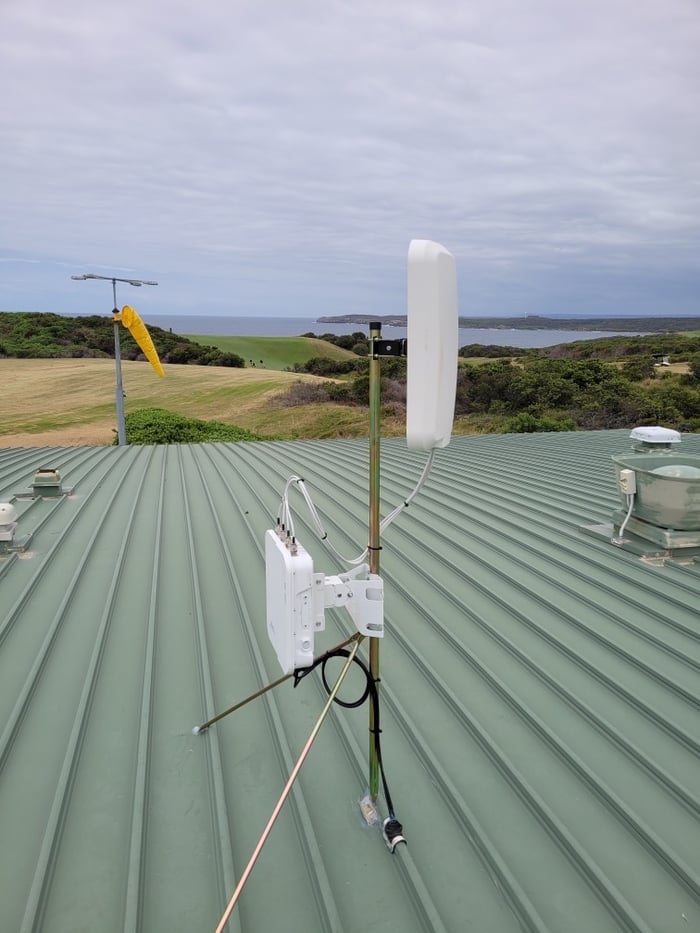 Image: Cradlepoint W2005, Mimo 4x4 directional antenna, Cape Banks, Botany Bay, La Perouse.
What were the results?
💎 Faster speeds than fixed line
The Westpac Rescue Helicopter base in the Botany National Park at La Perouse is accessing a strong signal from the Telstra tower and experiencing fast upload and download speeds and strong signal throughput. The speeds are significantly superior to the fixed line primary connection at 883 Mbps downlink and 70 Mbps up.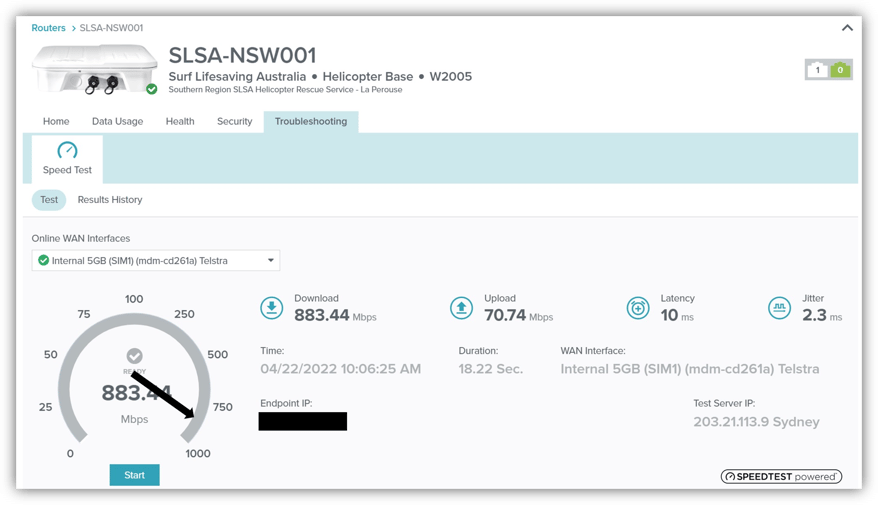 Image: NetCloudTM Manager speed test March 2022
💎 Business continuity with seamless failover and failback
Utilising the Cradlepoint W2005 5G wideband adapter with Surf Life Saving Australia's existing on-site Cisco router, MobileCorp has configured automatic failover from the primary wired link to Telstra 5G, and failback when the primary link comes back online.
💎 Link Diversity for risk management
Using 5G as an additional connection provides link diversity removing the potential for outages in the 'last mile'. There are no line-of-sight barriers between the Telstra tower and the helicopter base, with a golf course and the national park taking up the land use separating the two. While this space is simple to transverse wirelessly, it is however difficult and expensive to run wires to, and any secondary wire would undoubtedly rest in the same physical trench as the primary line.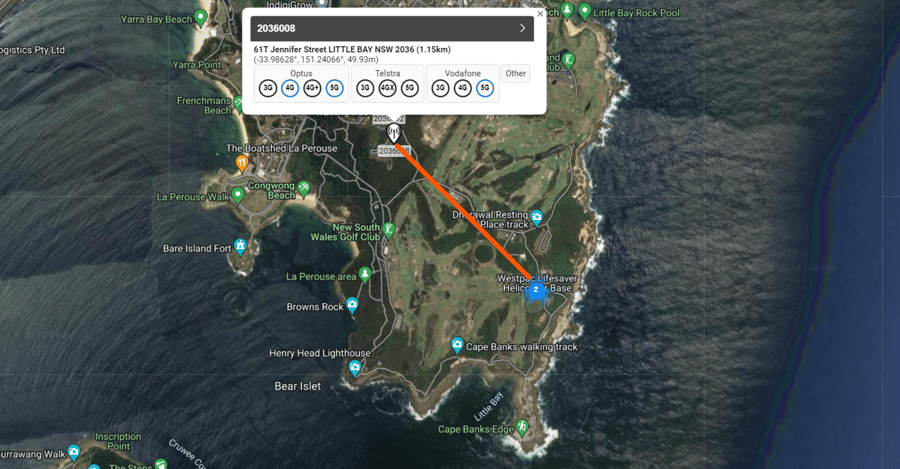 Image: Telstra 5G tower provides signal to Westpac Life Saver Helicopter Base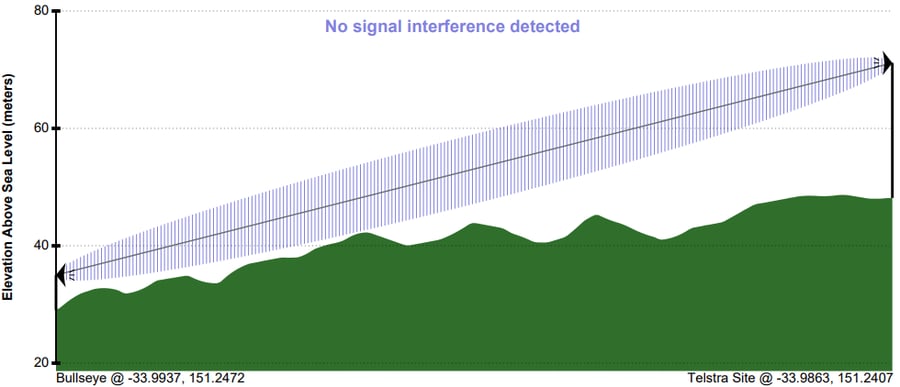 Image: MobileCorp 5G Site Assessment Line-of-Sight barrier report
💎 Comprehensive built-in security
The Cradlepoint wireless edge routers have built-in application-aware, zone-based firewall, IPS/IDS, content filtering, and VPN capabilities that can be configured from anywhere. A various set of security policies can be configured for custom requirement and can be applied to support the many subnets that are spread across widespread offices.
💎 MobileCorp centralised network monitoring and control management
Ongoing visibility and flexibility is provided via the Cradlepoint NetCloudTM Manager cloud instance. NetCloudTM enables Surf Life Saving Australia to continuously monitor connectivity uptime, and provides out-of-band management which in turn allows remote trouble-shooting."
MobileCorp provides a Cradlepoint Managed Service for which includes configuration changes, firmware updates, and remote troubleshooting based on notification alerts triggered by NetCloudTM logs.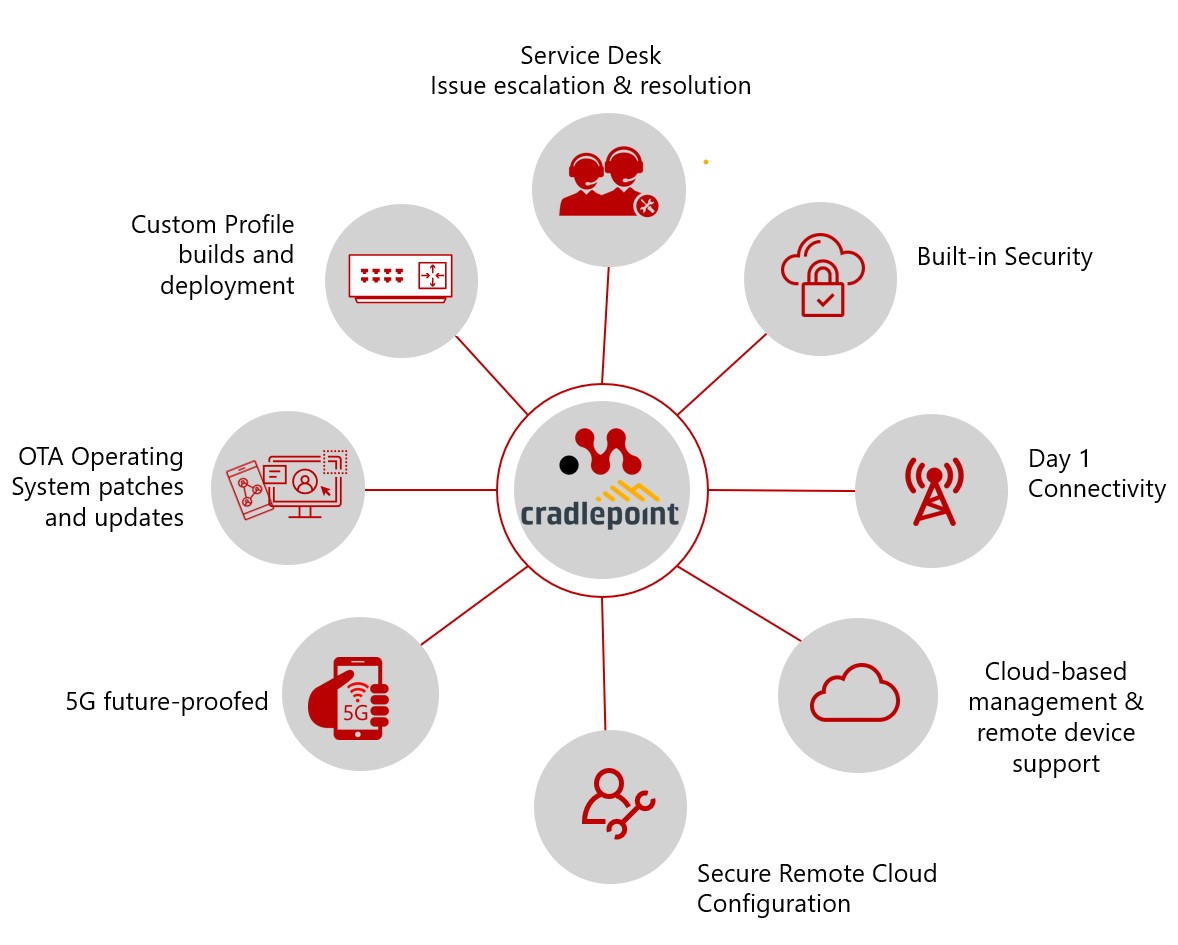 To discuss Wireless WAN solutions with MobileCorp contact

Peter Jonson

m. 0400 299 909
Subscribe to our fortnightly newsletter