What is a 5G Site Assessment?
A 5G site assessment will determine if the 5G signal received at a specific location is sufficiently strong enough to provide a viable access technology for primary or failover connectivity. It is undertaken by a certified radio engineer and provides the testing and technical data required to quantify a location's 5G availability.
What is included in a 5G Site Assessment Report ?
A certified radio engineer will prepare a comprehensive feasibility assessment report which will
identify optimal 5G base station - carrier agnostic
provide diagrams detailing the optimal base station(s), GPS coordinates, aligned carrier
measure 5G signal strength and throughput
provide diagrams of Line Of Sight findings
provide details of observed challenges e.g. signal contention, installation points.
recommend whether an external antenna would be required
provide an overall Site Feasibility Finding
determine if a 5G or LTE wireless WAN solution is feasible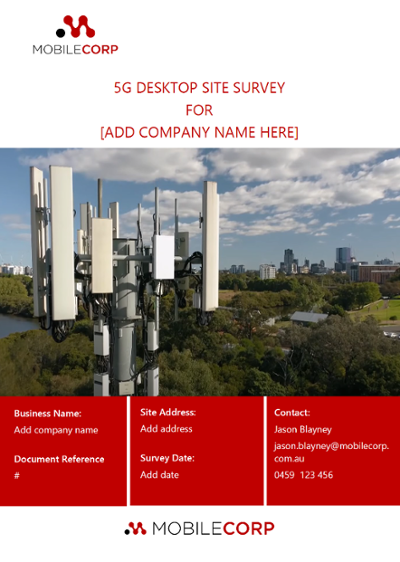 Key Outcomes of a 5G Site Assessment
Identify Optimal 5G Signal
Identify the location and carrier providing the optimal 5G signal. Gain an understanding of likely throughput and speed.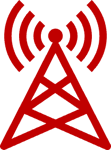 Understand 5G Signal Barriers
Understand barriers such as Line of Sight impediments and potential contention.

5G Hardware Recommendation
Understand if an additional external antenna will be required to boost signal strength.

5G Site Feasibility Recommendation
Is 5G a feasible connectivity access technology for this site? Will it enable your use case.

Use Cases for 5G in Australian organisations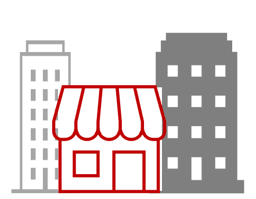 New Site Connectivity
Enterprise customers setting up new retail branches, warehouses and other sites requiring a strong reliable connection which can be provisioned faster than a suitable fixed access.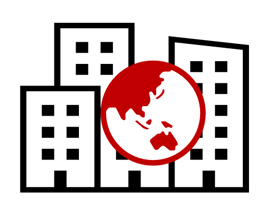 Wide Area Networks WAN
Customers with both fixed and wireless links can utilise EEW in an active/active routing/SDWAN setup as a means to distribute traffic / load balancing.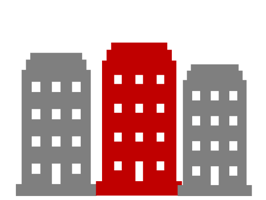 Existing site connectivity
Enterprises wanting to complement an existing fixed connection in an active/active setup to provide more resilience, being confident that the full load of that site can be carried for extended periods. E.g. enterprise retail, wholesale suppliers, logistics, hospitals.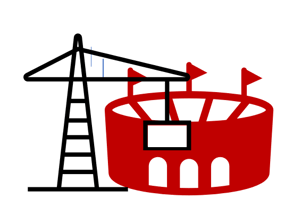 Enterprise customers requiring a strong reliable connection for sites that may have a tenure of 6 months to 2 years and can be deployed much faster than a fixed access. E.g. construction huts , retail kiosks. event venues
Do you have a site you want to assess for 5G?
A 5G site assessment will provide you with an expert evaluation of whether a site is eligible to proceed to a 5G Proof of Concept.
The first step is to understand the availability of 5G at the location and ensure there is access to a signal strength that meets your connectivity needs.
Cost: $350 inc.GST
Duration: 2 weeks from order to completion
Outcome: Validation of 5G feasibility at identified location.
Complete the form and we will contact you to discuss your 5G Site Assessment requirements.
How a 5G Proof of Concept works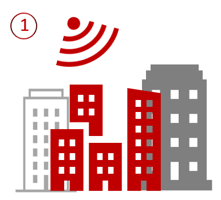 Get a 5G Site Assessment Report
We will help you determine your site eligibility through a desktop survey.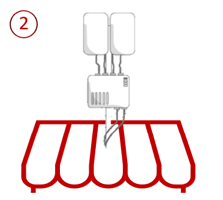 Get an Onsite Installation Quotation
A certified technician will assess the optimal location and provide commercials for installation.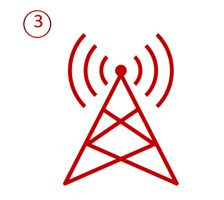 Connect to the optimal 5G Network
We will provision your 5G carriage ensuring the most suitable plan.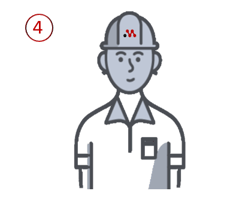 Self-manage or MobileCorp managed service
We provide a cloud managed service including 24/7 monitoring, OOB troubleshooting, and support desk.
How does MobileCorp assist?
MobileCorp is a mobile-first enterprise ICT managed service provider.
We offer independent agnostic recommendations for the best solution to fit your 5G business requirements.
Our services include
5G solution architecture
5G site feasibility assessment
5G on-site installation of hardware
Licensing
5G device procurement, configuration, SaaS environment build
5G device/connectivity monitoring and alerts management, remote troubleshooting via out-of-band management
24/7 network performance monitoring

Device hot swap program

Monthly reporting

Cloud-based portal

for visibility and reporting (dependent on device chosen).
Why MobileCorp?
We have made it our business to be at forefront of the enabling technology that is 5G.
We have all the industry accreditations that you would expect to reflect our expertise.
We also have early adopter experience deploying 5G network solutions with Marine Rescue NSW and Ticketek Enterprise Group.
MobileCorp is the only Telstra Partner selected by Telstra Enterprise to provide the Telstra 5G Enhanced Enterprise Wireless managed service.
MobileCorp was Australia's first Cradlepoint Elite Partner, and was named the Cradlepoint APAC Growth partner of the year for 2020.
Why Cradlepoint 5G hardware?
MobileCorp recommends Cradlepoint, the world's leading 5G edge devices incorporating
built-in security including zone-based firewall, threat management and web/content filtering. Meeting the Payment Card Industry Data Security Standard enabling the highest standards of protection for credit card data and transactions.
intelligent traffic routing using NetCloud to set policies to optimise bandwidth and enhance application performance. NetCloud starts by providing traffic steering, application-awareness, and management tools to enhance WAN performance.
optimises cellular use providing special insight into wireless usage, how carriers are supported (even dual modems and multiple carriers), overall data usage, and layer 7 information, such as what applications are used across the WAN.
automatic failover and failback with the 5G endpoints sensing the primary connection failure and switching over to the secondary connection — often without the onsite personnel noticing the change. Once the primary connection is restored, the NetCloud Service switches the connection back without any disruption.
out-of-band management to mitigate the effects of an unreachable router. With a direct connection from the console port of the LTE adapter to the router, network administrators can connect to the router over the air, even if IP and Ethernet are not functioning or available on the router.

dynamic routing protocols, VPN support and Data centre support


What else do I need to know about 5G?
Fact #1. 5G is currently available across 75 percent of the Australian population and in all of our cities and regional centres.
Fact #2. 5G is a small cell network with signal strength degraded by line of sight obstacles. Indoor reception usually requires an external antenna.
Fact #3. Through-put - up and down - will vary. Factors that could impact through-put include network congestion, weather conditions, line-of-sight barriers.
Fact #4. 5G wireless WAN is already being utilised by a number of Australian organisations for both primary and failover links.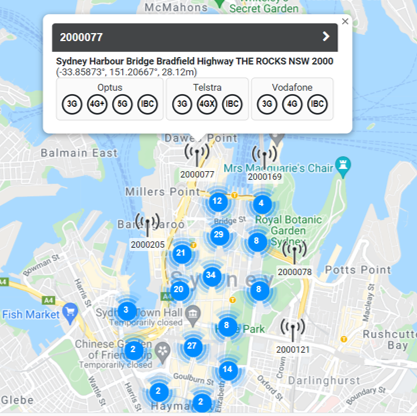 Our Services
where we have expertise and experience to offer