5G for Business is here
We have shifted past the hype.
5G is spreading across the globe. A January 2020 report says 5G networks have been deployed in 378 cities across 34 countries. The rollout has accelerated in many countries during the pandemic.
More than 10 million Australians are already living, working, or passing through a 5G network footprint every day.
Early adopters are evaluating and deploying enterprise-grade wireless 5G solutions now, with select Australian organisations at the forefront of global 5G innovation.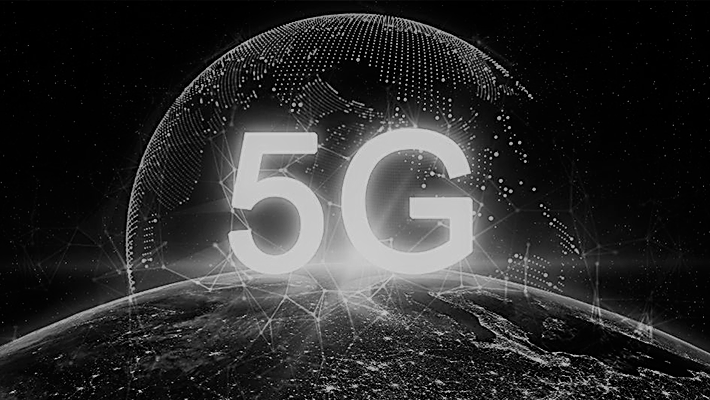 Australia's 5G early adopters deploying in 2021
The Covid pandemic has accelerated the rollout of the 5G network across Australia's urban seaboard. By June 2021 Telstra expects 75% of the population to have 5G access, with other carriers signalling similar reach.
Early adopters are future-proofing their organisations by evaluating and deploying enterprise wireless 5G-enabled solutions now. Leading industry verticals already deploying 5G in 2020 are
construction
banking
retail
education
health
mining
agriculture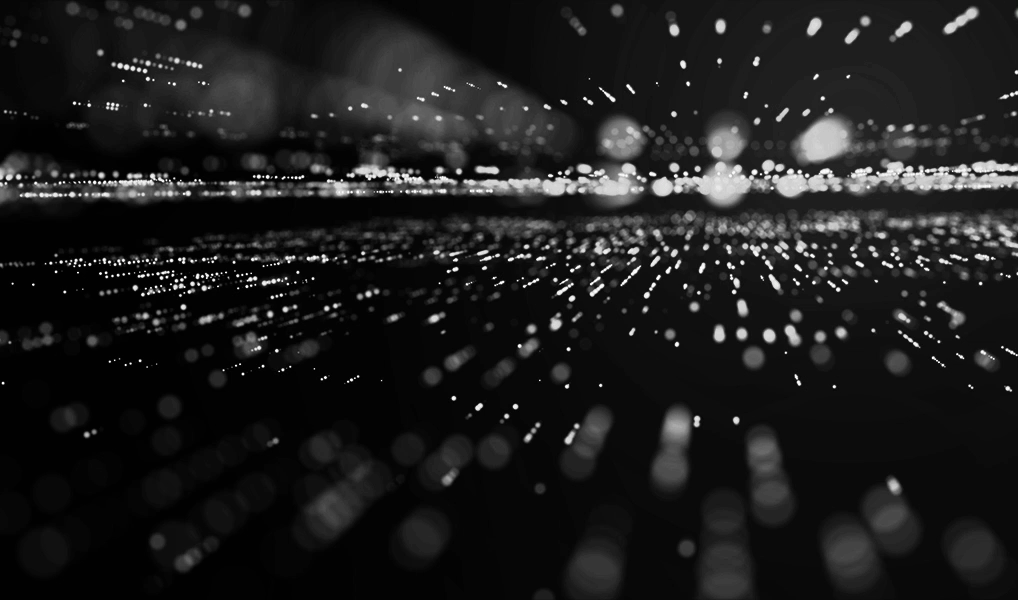 Telstra Enterprise Wireless 5G solutions
Australia's 5G landscape is continuing to emerge, but Telstra is pushing ahead and has claimed a global first in going to market with an enterprise-class 5G product.
The solution was launched in May 2020 and is a collaboration with Cradlepoint and select Telstra Partners including MobileCorp.
The solution includes
5G-embedded intelligent hardware
cloud management environment
5G connectivity plans
managed service of monitoring, remote device management, carrier management, reporting and data analytics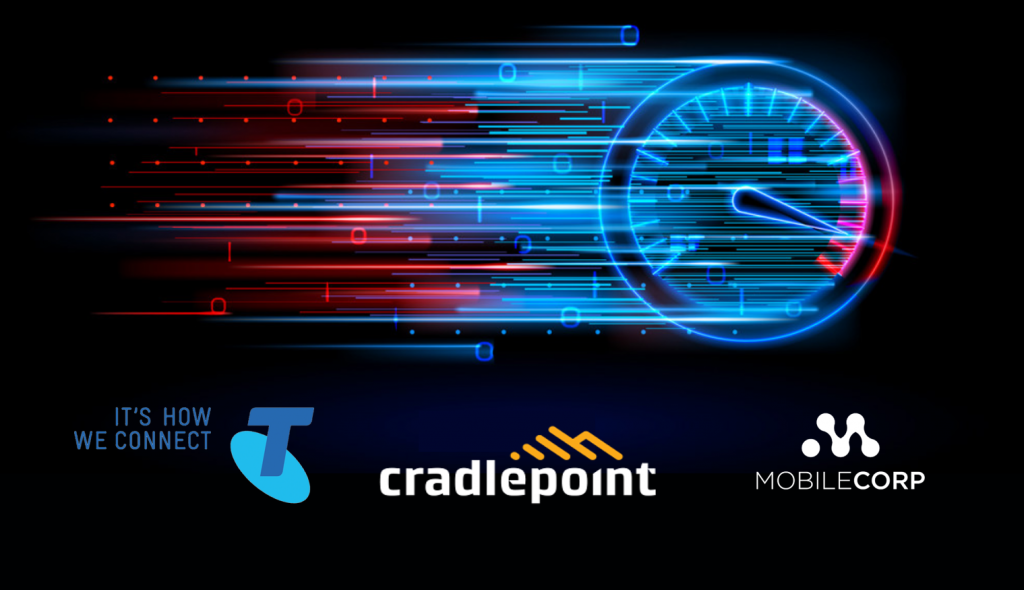 Cradlepoint 5G solutions
Cradlepoint is leading the world in producing enterprise-class 5G-embedded routers and modems. The vendor was also first to combine cloud management and software-defined modem technology with software-defined networking, unified edge security and cloud-controlled router endpoints. But that is only the beginning…
In 2017 Cradlepoint presented its revolutionary Pathway to 5G program which allows organisations to take advantage of LTE while providing a clear and investment-protected pathway to 5G as it becomes available to them.
In May 2020, Cradlepoint delivered the world's first 5G for business solution.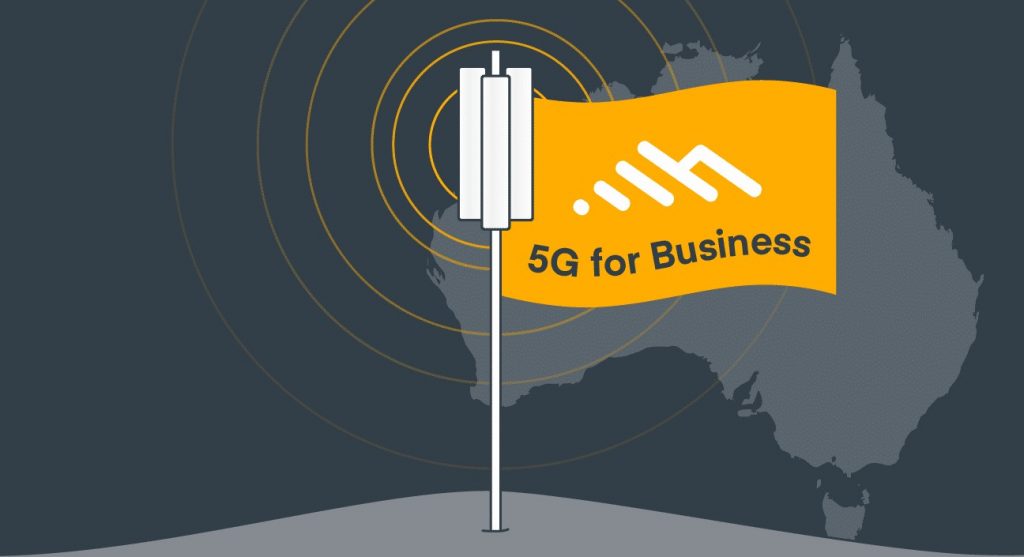 5G Action Plan for Australian Business
As 5G gains momentum, CIOs and business leaders need to evaluate the technology which will enable a new era of intelligent connectivity.
This guide is an Action Plan for Australian Business. It describes the pathway to 5G, exposes the industry verticals which will be most disrupted by 5G, and outlines the first steps to take to evaluate 5G for your organisation.
This is a technology worth investing time to review, as early adopters will be positioned to gain a competitive edge.
**Updated September 2020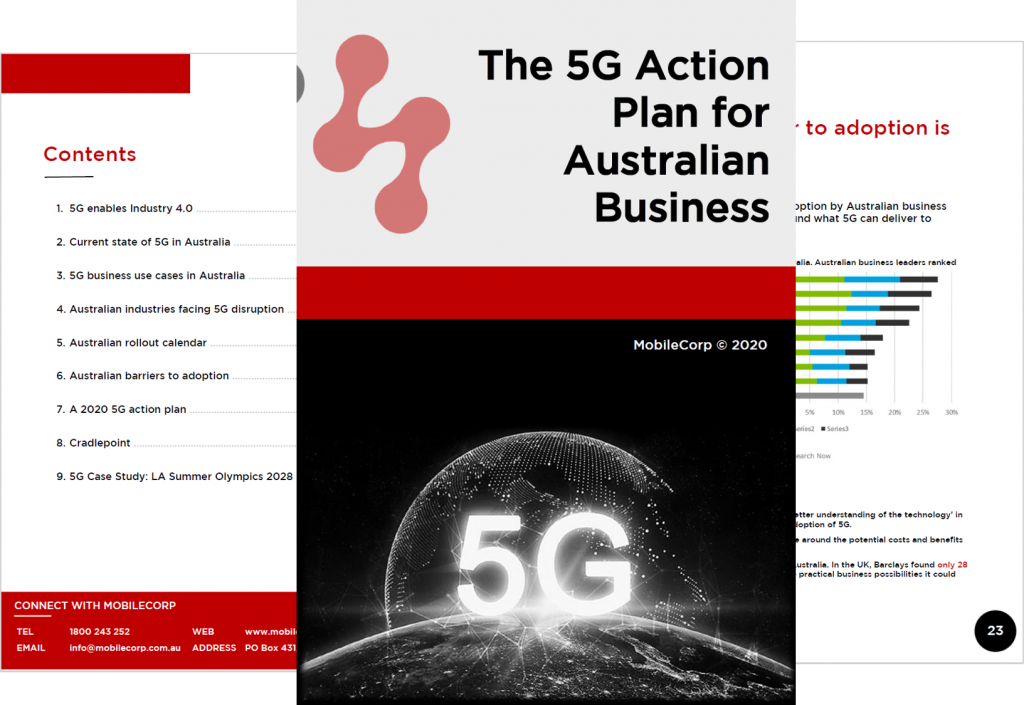 MOBILECORP 5G TECHNOLOGY PARTNERS
MobileCorp is a certified partner and trusted adviser for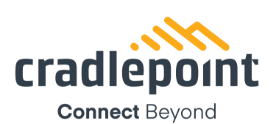 Cradlepoint is a global leader in 5G embedded router technology. The Cradlepoint 3000 series is the first 5G-enabled router to be available in Australia. The devices are carrier-agnostic although Cradlepoint has collaborated with Telstra for a 5G wireless solution available on the Telstra 5G network. Cradlepoint was also first to introduce a cloud platform – NetCloud – allowing real time monitoring and remote management of devices. MobileCorp is a Cradlepoint Signature Partner. We are a hardware and licence reseller and deliver a range of Cradlepoint professional and managed services.

Telstra is Australia's leading telecommunications carrier and MobileCorp is a Telstra Platinum Partner – Mobility; and a Telstra Accredited Partner – Data & IP. Our shared history spans 31 years and MobileCorp provides solutions and support to hundreds of Telstra Enteprise and Business customers. MobileCorp's 5G professional and managed services can be charged as a monthly fee on the Telstra bill. In 2020 MobileCorp was awarded the Telstra Enterprise Partner 'Deal of the Year' for a 5G future-proofed cellular network solution developed for Marine Rescue NSW.
our Services
where we have expertise and experience to offer