MobileCorp Managed Service for Telstra MSTeams Calling
Rely on MobileCorp for Telstra Calling for Office 365 and Microsoft Teams. Our Managed Services includes:
Telstra Calling for MSTeams scope, solution architecture, procure and deployment service
Telstra Calling for MSTeams Migration project implementation





Microsoft 365 licensing

Telstra voice network project management including Telstra calling plan implementation





Integration with Microsoft Office 365 instance





Office 365 managed service including technical support desk, tenancy management, adding and removing services, licence management, and security monitoring
Managed by MobileCorp, Telstra platinum partner
MobileCorp will provide guidance and support at every stage of the move to the cloud from consulting and design to deployment, management, and around-the-clock support.
The combined brilliance of Microsoft, Telstra and MobileCorp
Microsoft – the creators of the world's leading cloud-based business suite, Office 365 incorporating the popular Teams collaboration app.
Telstra – Australia's market leader in voice and network.
MobileCorp - your Telstra Platinum Partner and trusted MSP
Together – an innovative and swiftly deployed solution using Telstra Calling for Microsoft Teams to unified your communications.
Telstra calling for Microsoft Teams is the best of Microsoft's cloud collaboration tools underpinned by Telstra's world-class network and voice capability.
Telstra Calling for Microsoft Teams empowers a connected workforce
Telstra Calling for Microsoft Teams delivers a more productive and connected workforce by enabling calls to landlines or mobiles directly from within Microsoft Teams.
Telstra is Microsoft's preferred calling provider for Microsoft Office 365 and tightly links its voice network with the Microsoft cloud for anywhere access.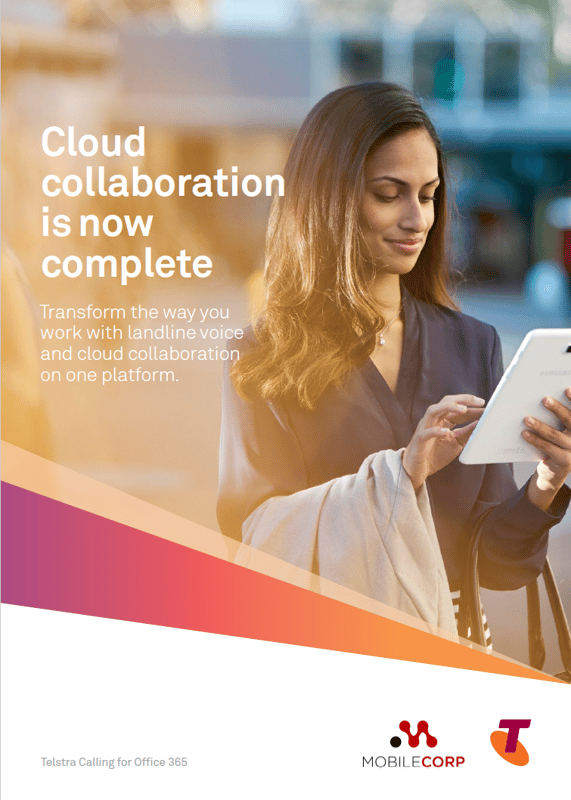 Telstra Calling for Microsoft Teams by MobileCorp
MobileCorp knows Microsoft solutions and the Telstra voice network inside out.
We have adopted Microsoft 365 as our internal UC tool. This practical day-to-day management experience, as well as our expertise as a Telstra partner for over 30 years, allows us to leverage our hard won knowledge to seamlessly deploy the Telstra Calling for Microsoft Teams integrated solution.
Our professional service, along with any hardware requirements, may be charged on the Telstra bill and may also qualify for MOTIF funding.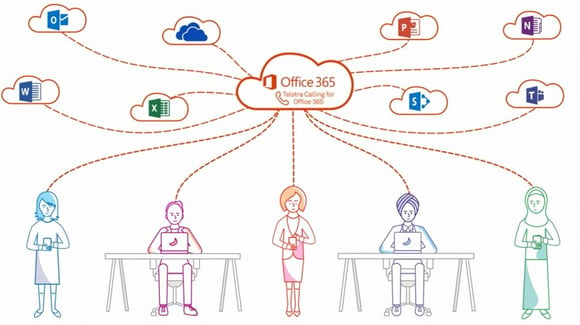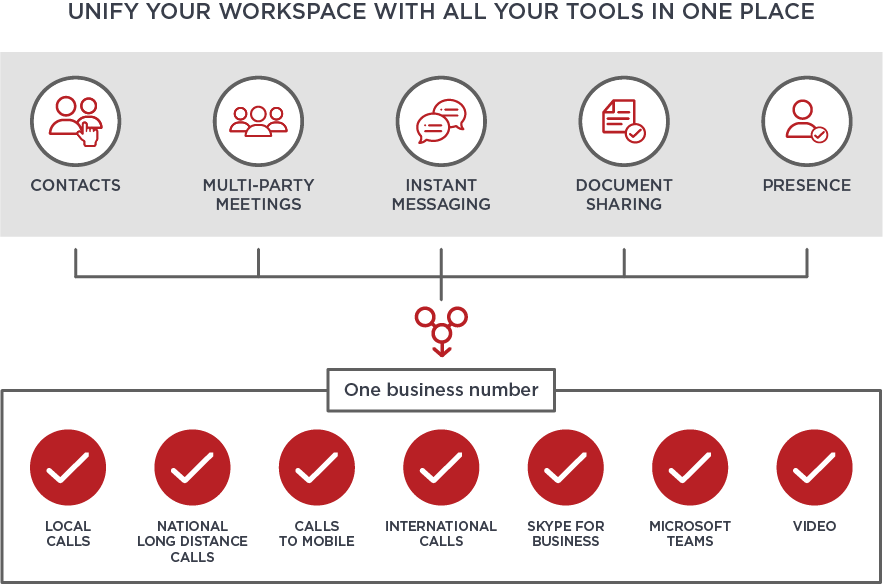 Benefits of Telstra Calling for Office 365 and Microsoft Teams
Enjoy voice in the cloud: Have traditional call handling functions like hold, transfer, forwarding and voicemail in the cloud.
Unify your workspace with all your tools in one place: Telstra Calling for Microsoft Office 365 brings together key business tools under a single business number.
Communicate efficiently: See who's available and make contact on the most appropriate channel: voice, video calling or chat.
Promote a professional image… and never miss a call: One business number lets you make and receive calls whether in the office or on the road.
Simplify calling: One business number to make or receive local, long distance, mobile, audio or video calls.
Deploy, manage and scale with ease: Utilise the self-service portal to simply scale and manage the environment, or trust the job to a Telstra Partner and managed service provider like MobileCorp.
To find out more about how MobileCorp's Telstra Calling for Microsoft Teams service can benefit your business.
How Telstra Calling for Microsoft Teams works
A fully managed link into Microsoft Office 365
Telstra Calling for Teams removes the complexity of managing a dedicated PSTN network.
Telstra provides a fully managed link directly into Microsoft 365, so all the organisation needs is an adequate internet access. Each user is allocated a phone number associated with their O365 client. The business chooses to either migrate or port its existing landline numbers, or allocate new ones
Choose an option for connecting
Not ready to move voice completely to the cloud? Host complex users in the Telstra private cloud and move those who are cloud-ready to the Microsoft public cloud. Alternatively, Telstra can provide a managed gateway to connect an on-premises voice environment to the Microsoft Cloud.