What began as MDM
Has since evolved through EMM
To arrive as Unified Endpoint Management (UEM)
Mobile Device Management [MDM] – while a familiar label – no longer accurately describes the capabilities of these cloud-based SaaS environments, which are now referred to as Unified Endpoint Management [UEM] solutions.
The technology has shifted from being device-centric to offering a holistic endpoint management environment covering authenticaton and identity, security, and a range of endpoint devices including laptops, desktops, routers and IOT devices.
MobileCorp supported Unified Endpoint Management (UEM) platforms
MobileCorp provides management of all leading Unified Endpoint Management platforms including VMWare, Intune, MobileIron and SOTI, as well as Jamf for Apple-centric fleets.
Our solution specialists and engineers will design, build, deploy and manage custom UEM instances.
From building a UEM instance, through testing and deployment, to ongoing management and service desk, MobileCorp has accredited highly skilled UEM engineers to deliver your UEM environment.
Our Unified Endpoint Management solution services include:
audit and remediation of existing instances
design and build of new instances, configuration of profiles
deployment of environment, enrolling and deploying bulk devices
security management including device wipe, kiosk mode, profile sync
remote application management
proactive monitoring and technical support service desk
data and asset management and reporting
To learn more about how MobileCorp can assist your business, call us on 1800 253 242 or email info@mobilecorp.com.au.
Unified Endpoint Management Key Benefits: automation and security
As UEM has followed a trajectory of growth from MDM to EMM to UEM, its features and capabilities have expanded.
However, the key benefits of our Unified Endpoint Management solutions have remained remarkably consistent and relate primarily to automating and securing endpoint management.
Specifically key benefits include:
simplified IT security administration
push-based and instant delivery of policies, apps and updates
fully automated enrolment, pre-configuration and retirement for any device
end user profile enforcement
amplified visibility of assets
Internet of Things management
single-pane endpoint management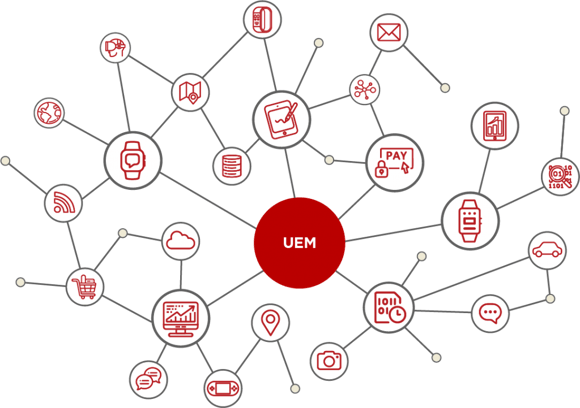 Technology shifts from MDM to UEM
Mobile device management technology has shifted from on-premises to cloud delivery, while the device types under management have expanded from mobile phones and tablets, to include laptops, desktops, and IoT endpoints, whether they have a SIM card or not.
Management has also expanded from management of the physical device, to include the management of applications and content.
With each shift in technology the language to describe the product has shifted from MDM, to EMM, and now to UEM.
Unified Endpoint Management Solutions – Timeline
MDM We started with MDM in 2010 around the time of iOS 4 and the focus was all about remotely managing devices, and allowing users to perform only certain prescribed tasks on their devices. MDM includes features like device provisioning, enrolment, device security and location tracking. It also allows wiping the data in case the device is stolen or lost. A basic MDM tool has the ability to enforce security policies, track inventory and perform real-time monitoring and reporting.
EMM Then along came the explosion of the applications market. MDM needed to expand its capabilities to not only manage the device but also mobile applications and content. We saw the emergence of vendors that provided both MDM and mobile application management MAM. This evolution was referred to as enterprise mobility management or EMM. EMM vendors sought to cater to all enterprise mobility needs, and in more recent years, the rise of cloud apps has prompted many EMM vendors to also offer identity management features like federation and multi-factor authentication.
UEM In 2021 we now have unified endpoint management solution, UEM. Over the last few years, desktop operating systems like Apple macOS and Microsoft Windows 10 have added mobile device management features, and in response, EMM and MDM vendors started supporting desktops and laptops. The trend today is to unify the management of as many aspects of the end user experience as possible. Platforms seek to manage laptops, mobile devices, mobile apps, browsers, authentication and identity, and virtual desktops, all from one platform, with security policies that can span the whole stack. This UEM feature is also called 'workspace' management.