What is a Microsoft 365 migration?
The migration to Microsoft 365 and Microsoft Teams collaboration has been a significant move for many SMBs in the past two years to accommodate the pandemic-inspired remote workforce. However, there are many organisations who are still struggling along with legacy systems.
A migration - or move - to Microsoft 365 will consolidate all your data including mail, files and chat in one Cloud-based instance improving security, performance and accessibility for end users.
MobileCorp will take responsibility for the operational workload and the security of data during your migration to M365.
Microsoft 365 includes all the Microsoft Office apps we have grown to know and love – like Word, Excel, and PowerPoint; as well as a number of communication and collaboration tools such as Exchange, SharePoint, and Teams. It is delivered as a monthly subscription licence.
MobileCorp Microsoft 365 Migration managed service
MobileCorp offers two migration packages – for SMB and more complex enterprise migrations.
SMB Office 365 Migration managed service
A package of Migration Services for on-premises Exchange, Google Mail and IMAP mail services. We migrate mailboxes, public folders, distribution lists and can perform the required desktop changes. Our services are priced either per mailbox or on a per user/month contract, starting from as few as 10 mailboxes.
Complex Microsoft 365 Migration managed service
Our 365 migration specialists will work with you to understand the required business outcomes. We will scope and design the solution and information architecture. We will devise an end-to-end migration plan, setting up Identity, Active Directory, migrating Exchange, and files; and demonstrate the wider unified communications capabilities of the 365 platform.
DirSync/SSO ADFS Configuration
MobileCorp will manage identities, authorisation, and authentication. MobileCorp will synch on-premises Active Directory with Windows Azure Active Directory, and configure Active Directory Federation Services (ADFS) and the Directory Synchronisation (DirSync) appliance.
Establish A Home Environment
Whether a portal or a fully-fledged Intranet, MobileCorp will build a ready-made home environment complete with links to files in OneDrive, and the tuning of Delve.
Email Migration
MobileCorp will migrate emails to the new Exchange system, from Exchange 2003, 2007, 2010, 2013 and 2016, Gmail and POP/IMAP. We will provide a solid foundation via Active Directory and introduce the benefits of Teams and Skype for Business.
Data Migration
MobileCorp will migrate existing files into OneDrive, relieving internal IT resources of this time-consuming process.
Information Architecture
MobileCorp can help decide what to keep and migrate vs archive, develop security permissions, and re-validate the folder structure.
Complete O365 configuration
MobileCorp will demonstrate the wider capabilities of the Office 365 platform including: Planner, Teams, Yammer, Staff Hub, Flow, PowerApps, and SharePoint.
What does an M365 migration cost?
The cost of migrating to M365 will depend on a number of factors but we will try to give you indicative pricing.
Factors influencing the cost include:
Microsoft Licensing
If you do not already have an M365 business licence this will cost between A$8.20 per user per month for M365 Business Basic to A$30.20 per user per month for Business Premium.
Migration Cost
This is a one-off fee to complete the technical workload of migrating your user profiles, email mailboxes, files and data to M365. This will vary according to the number of users, the volume of data, and the complexity of the new build. As a general guide this will usually be structured as a fixed price for a minimum number of users, then a set fee for the next tier of users with the cost diminishing as numbers increase. An example could be $2,500 ex GST to migrate up to 10 users + Microsoft license; then $50 + license for each additional user.
Ongoing Managed Service
Some IT MSPs may not charge an upfront migration fee and instead will incorporate this expense into a monthly ongoing managed service fee which is usually around 10-25% of the monthly license fee.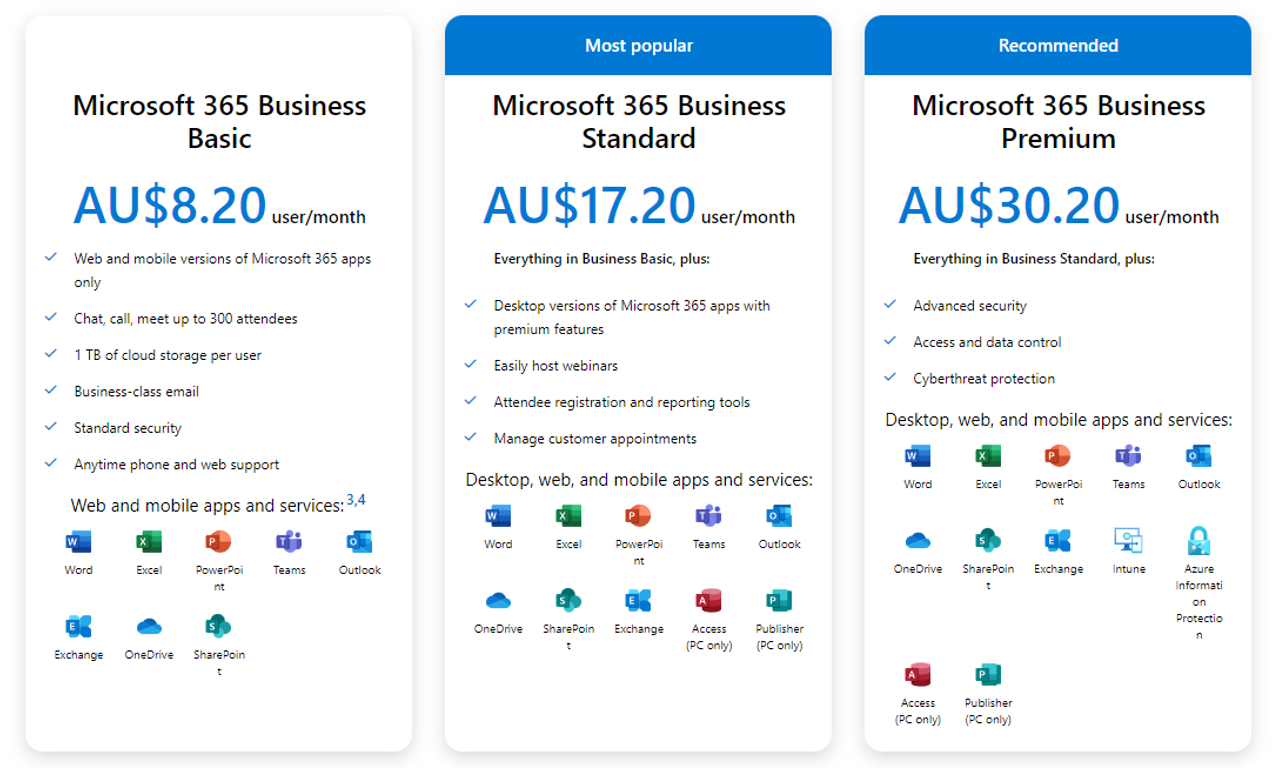 What's included in Microsoft 365?
Microsoft 365 is a cloud-based collaboration platform including Office productivity tools and applications.Most of us will be familiar with office suite of apps like Excel, Word, PowerPoint, and Outlook, but what about the others on offer?
There are a series of Microsoft 365 subscription licences which include various of the apps.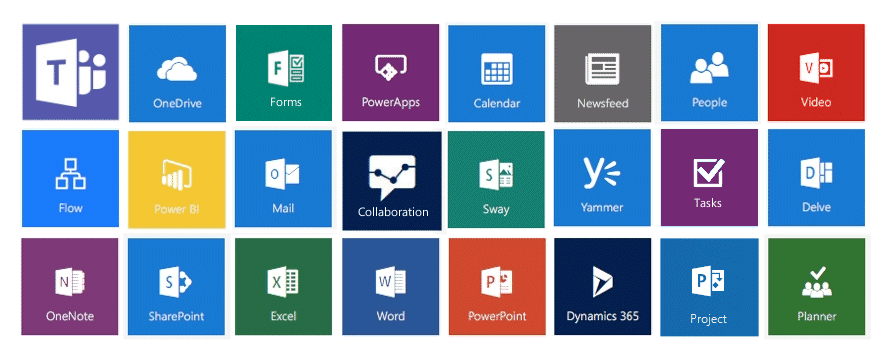 Teams
Microsoft Teams is a cloud collaboration application that brings together people, content, conversations and apps together in one space. With the onset of mass remote work due to the coronavirus pandemic the adoption of Teams has skyrocketed.
With the onset of mass remote work due to the coronavirus pandemic the adoption of Teams has skyrocketed.
As of 14 June 2020, use of Microsoft Teams had grown by 894% compared with its base usage during the week of 17 February, surpassing 75 million daily users.
New features have been quickly integrated to increase the number of users in a call to 1,000, provide virtual backgrounds and a Together mode.
Teams is integrated with other O365 services like SharePoint, Word, Excel, Delve, PowerBI, PowerApps, Flow, and Yammer. Third-party services like Facebook, GitHub, and RSS feeds can also be integrated.
Microsoft is also enhancing Teams Rooms, with support for Cisco WebEx and Zoom meetings. Microsoft Teams works across Windows, iOS, Mac, web and Android platforms.
Should you require, MobileCorp will also provide a full Microsoft Teams migration service for your business, including Telstra Calling For Microsoft Teams, or Access4 Microsoft Teams Calling.
Onedrive
OneDrive is a cloud-based data (file) storage solution. It is popular for synchronising files between PC and mobile devices using the OneDrive app or web browser; and for sharing or collaborating on files with internal or external team members.
Forms
This is a new app aimed at teachers and students. Teachers can create quizzes and questionnaires on a topic and invite students to respond. Microsoft Forms has built-in analytics features to evaluate responses. Results can be exported to an excel file. As of Q1 2020, Microsoft Forms is available only for an Office 365 education subscriber. However, this service will be rolling out for Office 365 business subscribers in future.
Powerapps
Microsoft PowerApps is an enterprise service that allows the development of "no-code" apps. PowerApps is available to install on iOS, Android and Windows devices. PowerApps is based on Microsoft Azure, and it offers built-in connections to integrate apps with other cloud and on-premises services including Azure, Dynamic CRM, Salesforce, OneDrive, SharePoint, SAP, Oracle, SQL Server etc.
Dynamics 365
Microsoft Dynamic 365 is a cloud-based platform that offers Customer Relationship Management (CRM) and Enterprise Resource Planning (ERP) capabilities to streamline businesses for customers including modules on Sales, Customer Service, Retail, Marketing and Product Service Automation. Microsoft Dynamic 365 has a Common Data Model that allows integration with other Office 365 apps or any other customised business apps.
Flow
Microsoft Flow allows you to create and automate workflows across multiple applications without needing any custom code from developers. Use Microsoft Flow to automate email, set alerts, copy files from one source to another, synchronise files across applications, collect data from one service and store in another. Microsoft Flow is accessible on any browser or mobile device.
Power BI
Power BI is a cloud-based analytics service that enables users to create interactive reports and monitor the health of the business using a live dashboard. Users can access Power BI on a web browser, mobile, tablet, PCs and other devices.
Sway
Sway is a digital storytelling app that allows users to create presentations quickly, easily and clearly. Share a presentation with colleagues and customers by sending links. You can use this app on a web browser, mobile, tablet, PC and other devices.
Yammer
Microsoft Yammer is a cloud-based service that predominantly offers a private social network for an organisation – sort of like a personalised Facebook-style newsfeed for sharing information, ideas, files, updates, images, and videos. An external Yammer network can also be created to allow non-employees, like partners, customers, and suppliers to connect and communicate with the organisation. In November 2019 Microsoft announced that Yammer will be integrated into Teams and Outlook, too, so users can respond to messages directly from the inbox.
Delve
Office Delve is a cloud-based solution that displays personal content. It is a collaboration tool that helps users find colleagues to create, edit and share documents. It allows users to embed documents, videos, and images. It is powered by Office Graph (a database that collects information on user identity and activity). From OneDrive for Business to SharePoint to Exchange, it provides information based on what is being worked on and with whom.
Onenote
Microsoft OneNote allows you to take meeting notes in a digital notebook and share within your team and with others. You can access saved notes from anywhere using your mobile, tablets and PCs.
To Do
Microsoft To Do is a task management app which can be integrated with Outlook. To Do is free with work or education plans. It can make shopping lists or task lists, take notes, record collections, share tasks, plan an event, or set reminders.
Sharepoint
Microsoft SharePoint Online is a cloud-based service that allows the creation, design and management of sites, contents, and workspaces. It enables sharing of digital documents securely with team members within or outside of an organisation, across Mobile, PCs and Apple devices.
Project
At the risk of stating the obvious, Project is a project management app.The application is designed to assist project managers in developing plans, assigning resources to tasks, tracking progress, managing budgets and analysing workloads. It has dynamic scheduling based on effort needed, project duration and allotted team members.
Planner
Microsoft Planner is a tool that offers a simple and highly visual way to organise teamwork. It enables users to create new plans, organise and assign tasks, share files, set due dates, and get updates on progress. Microsoft Planner can also be used to manage data for events, attaching documents with a task; track a school project; brainstorm new project ideas; or even organise a customer visit.
Stream
Stream is an enterprise video service that allows you to upload and share video in an intuitive way. It makes it easier for everyone to engage and collaborate productively. It provides intelligent features to give more ways to find and interact with your videos, so everyone can access them quickly and easily. Microsoft Steam is available in all subscription of O365. From March 1, 2020 Stream will replace Microsoft Video.
Myanalytics
Microsoft MyAnalytics helps users to understand how they spend their time at work. MyAnalytics uses information from Office365 mailbox and calendar. Also, it looks at information about different recipients, and meetings duration. The dashboard helps to prioritise work and spend time more effectively.
M365 hosts your data in Australia
Data centres in Sydney and Melbourne
Since 2017, Australian business users of Microsoft 365 have been hosted at Microsoft's local data centres in Sydney and Melbourne, instead of Singapore.
The new local hosting service offers several benefits for Australian customers. One advantage is that the use of dual data centres provides a geographically diverse and redundant backup solution. If there's an outage at the Sydney data centre, services will automatically fail over to Melbourne, and vice versa.
Another benefit is compliance with Australian data storage laws. Also, local hosting reduces latency, resulting in faster data transfer to and from the cloud.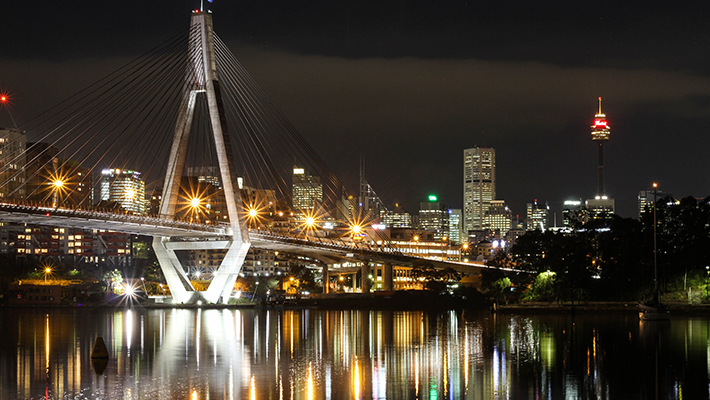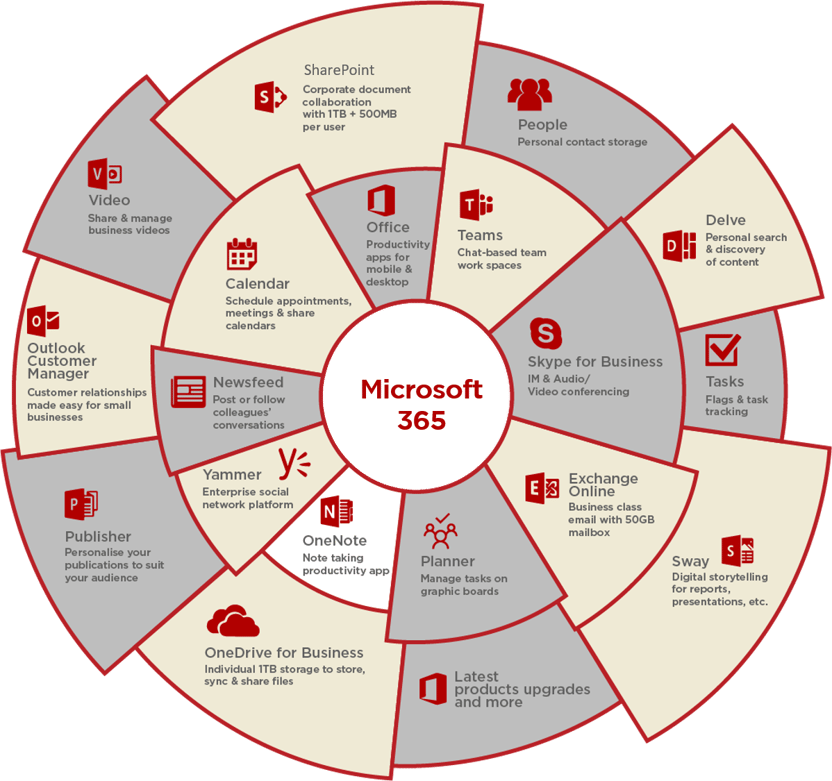 Our Tech Partners
Leaders we are proud to partner with.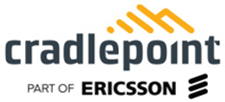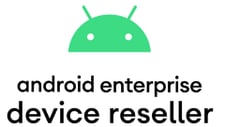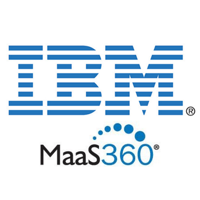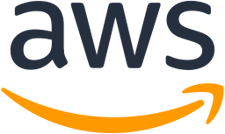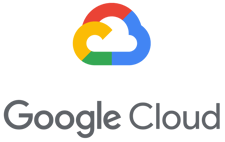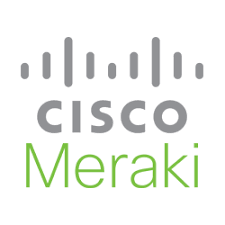 News and Insights from MobileCorp
Speak to our MobileCorp Representative
To get started with a technology solution, call us on 1800 243 252