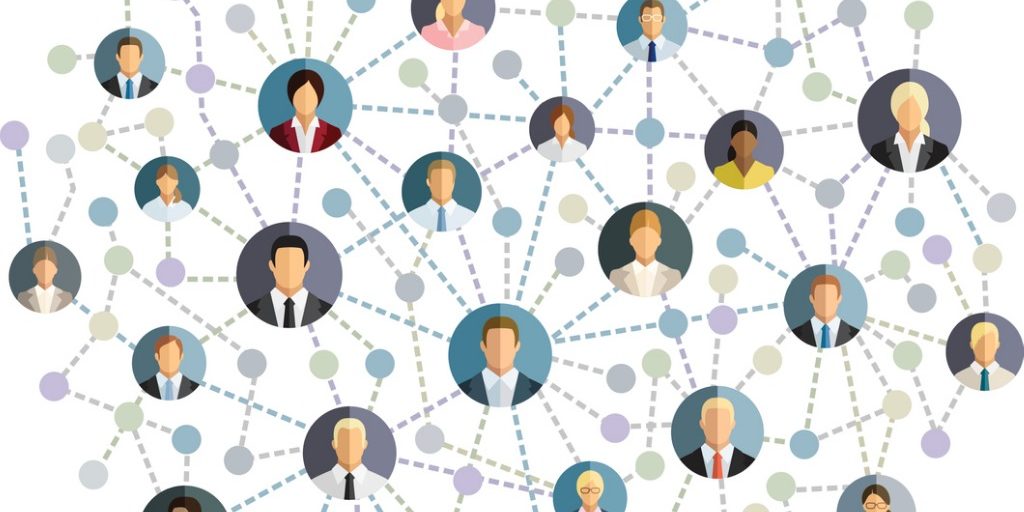 The pandemic-inspired shift to remote working has increased demand for Unified Endpoint Management (UEM) and will accelerate moves to consolidate UEM to a single console, says Gartner.
As research consultancy, Gartner, was evaluating UEM vendors for its 2020 UEM Magic Quadrant, the coronavirus pandemic was wreaking havoc across the globe.
It was also delivering a boon to the UEM marketplace as IT leaders searched for a way to manage and secure endpoints that had left the office environment in the remote work pivot.
Gartner sees continued room for growth in the UEM market; and predicts strong demand for consolidation to a single console for all endpoints and associated management tasks:
"By 2024, more than half of organisations will consolidate to a single console for endpoint management and security tasks, up from less than 5% in 2020."

Gartner UEM Magic Quadrant. 10 August 2020
Pandemic highlighted critical flaws in device management
Gartner says the pandemic highlighted critical flaws in traditional client management tools (CMT)  as device provisioning, deployment, patching and management  failed to scale and support remote clients.
"Many organisations were ill-prepared to handle the number of devices connected and the volume of data being transmitted over VPN."
These flaws were publicly exposed by cyber criminals who were quick to take advantage of inexperienced end users and unsecured endpoints to gain access to enterprise networks and critical data. For attackers the shift to remote work was an unprecedented opportunity to target unsuspecting individuals in multiple ways as the network perimeter extended to the home.
There is good news however. With the likelihood of remote work continuing - and in many cases more popular than traditional work environments - IT leaders have scaled quickly to meet the immediate demand and will be better prepared moving forward.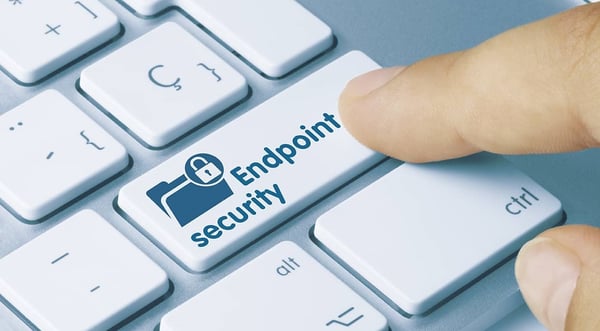 Unified Endpoint Management comes of age in pandemic
The adoption of modern endpoint management and the migration away from client management tools was in progress before the pandemic — hastened by the end of Windows 7 support.
However, the sudden shift to remote work accelerated the need for change and exacerbated some challenges.
All unmanaged devices — without an endpoint manager or device profile — suddenly needed to be accounted for to mitigate risk and protect both the enterprise and the end user.
Bring your own device (BYOD) programs had to be accelerated and enhanced to provide management for the influx of personal devices used for work as a large roster of employees were accessing work applications and content from home for the first time.
IT leaders needed to deliver remote management and support of endpoints; secure access to networks and data; transparency into endpoint and application performance; and the ability to measure and improve user experience.
This played into the strengths of UEM platforms and opened up opportunities for faster UEM adoption. .

Gartner cautions consolidation with care
Most organisations currently use UEM tools predominantly for management of computers or mobile devices; however, Gartner is observing a rapid increase in endpoint management tool consolidation.
The promise is a single pane-of-glass to manage and secure all user endpoints, mobile and otherwise.
Achieving a single-console approach to endpoint management promises many operational benefits says Gartner, but advises organisations to carefully consider the feasibility of the approach.
Gartner cautions IT leaders consider workability taking into account  technical debt, endpoint and infrastructure complexity and diversity,  policies and processes, use cases, and application catalog.
At the same time, the consultancy acknowledges it is unlikely that organisations will find the will perfect consolidation tool
"Clients should avoid waiting for the perfect tool that addresses all of their requirements as this is rarely found. Waiting often results in increased complexity, administrative overhead and total cost of ownership.

"It is common, and recommended, for an organisation to choose a UEM tool that addresses the majority of its requirements, then fill remaining critical gaps with an add-on or another product."

Focus also shifts from device-centric to user-centric UEM
The pandemic-inspired mass adoption of remote working has shifted the focus of endpoint management from the device to how the device it is being utilised and the employees' digital experience.
Endpoints provide the apps and interfaces employees use to get their work done and stay connected — but focusing solely on the device is a narrow approach. It is not enough to provide an application without ensuring that the employee experience of that application is delivering the desired productivity results in a secure manner.
The pandemic has increased the volume and variety of devices and applications that employees might access to fulfill their job role.
The need changes from a device-centric methodology to a user-centric model that takes a harder look at risk and employee experience, says Gartner.
In the Gartner UEM Magic Quadrant 2020 the research consultancy has evaluated vendors on whether they provide a user-centric approach. This evaluation included

providing a user-centric view of devices across device platforms

enabling PC management through native Windows 10, macOS and Chrome OS controls

enabling MDM through native iOS and Android controls

and aggregating analytics and telemetry from users, apps and devices to inform policy and related actions, among other capabilities.
The leading vendors, Microsoft Endpoint Manager, VMWare Workspace ONE and IBM MaaS, have a focus on the user says Gartner.
Microsoft has been investing in improving end-user and IT admin experience, integrating UEM with endpoint security and identity solutions, and expanding analytics, AI and machine learning.
VMware's Workspace ONE product focuses on improved employee experience through UEM, virtualisations, analytics, applications, and workflows. The vendor is working to help employees implement zero trust solutions and improve employee experience with Workspace ONE Intelligence and Carbon Black endpoint security integrations.
IBM Security MaaS360 with Watson focuses on AI-enhanced UEM, with investments in AI, new device alignment, and integration with security and identity products.
Gartner UEM Magic Quadrant 2020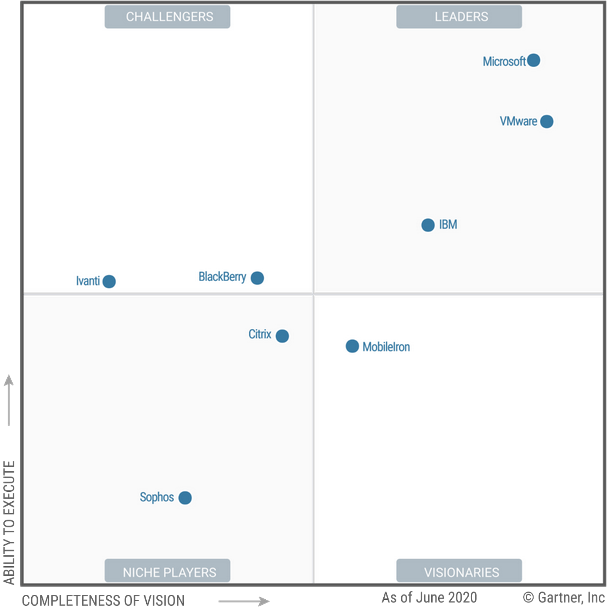 MobileCorp UEM managed service
MobileCorp provides management of all leading UEM platforms including VMWare and Microsoft, as well as Jamf EMM for Apple-centric fleets.
From building a UEM instance, through testing and deployment, to ongoing management and service desk, MobileCorp has accredited highly skilled UEM engineers to deliver your UEM environment.
Our managed service includes:
audit and remediation of existing instances
design and build of new instances, configuration of profiles
deployment of environment, enrolling and deploying bulk devices
security management including device wipe, kiosk mode, profile sync
remote application management
proactive monitoring and technical support service desk
data and asset management and reporting
Read more
About MobileCorp
MobileCorp is a Sydney-based communications technology company. We support companies by providing managed mobility and ICT services including UEM and EMM, mobile device security, expense management and managed connectivity solutions.