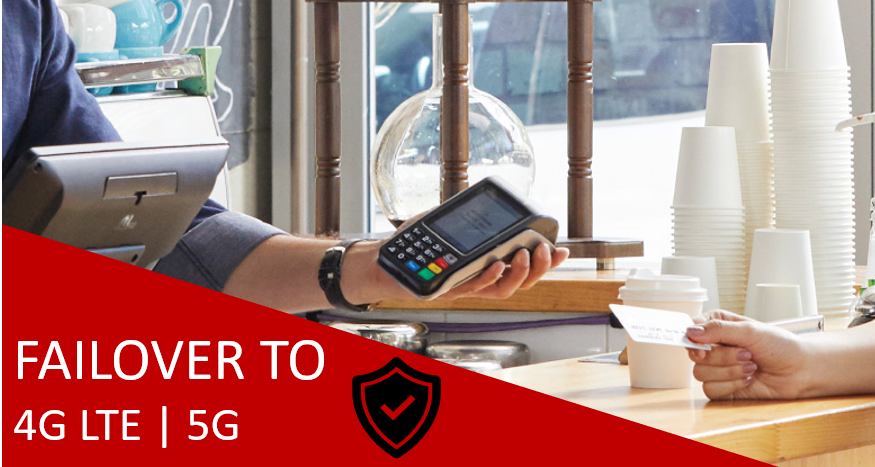 There is a compelling case for Wireless WAN as the 'go to' solution to provide emergency backup when wired networks fail.
Traditional wired Wide Area Networks (WAN) are complex, slow to adapt, and only applicable to fixed locations.
As businesses reinvent the way they work and increasingly use cloud-based applications, there is a compelling case for turning to Wireless WAN technology as a failover solution.
How does failover Wireless WAN work?
WAN outages are simply a fact of life whether they are caused by natural or man-made disasters, a power outage, configuration error, or ancient and unreliable fixed networks.
A WAN typically relies on a single wire to connect your branch or corporate network to your Internet Service Provider, who provides access to the Internet. Failover refers to the ability to maintain internet connectivity when the main - primary - link goes down, by routing traffic through the secondary failover link.
In a typical failover configuration with two routers, one is configured as primary and the other as backup. These two devices are coupled by a redundancy protocol and continuously monitor each other and the wide area network links for any sign of disruption.
If the primary router or network connection fails or is unresponsive, the backup automatically takes over. Network parameters, such as the gateway address and DHCP table, are shared so that other devices on the network can continue operating as if nothing has changed.
When the primary router or WAN link is restored and stable, the connections 'failback' to it.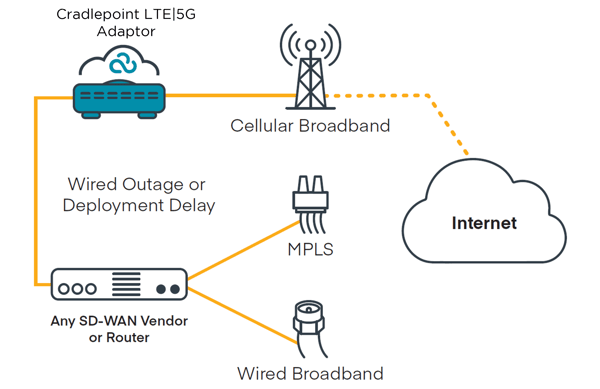 Why use wireless instead of a second wired link for failover?
Many organisations introduce failover capabilities by adding a second wired link to an existing branch router.
While this is a good start, it still leaves the router and the wired links as potential weak points. Often the second wired link is using the same physical pathway to the location and exposed to the same risk scenario as the primary link.
For a higher level of resilience and continuity, two routers, each with a different type of WAN connection is the way to go.
LTE and 5G wireless data links add both backup and diversity to the network, reducing any single point of failure.

Wireless WAN can be more than just failover
There are many causes of a network outage, including hardware and cable issues, configuration errors, software update failures, security attacks, and construction accidents.
High-bandwidth wireless connections can carry just mission-critical traffic or a full branch network load.
Besides a failover scenario, wireless WAN can help:
Manage Traffic spikes:

Another benefit of having a secondary WAN connection is the ability to quickly accommodate traffic spikes for security or performance reasons. During peak times, the secondary link is activated and both routers coordinate to dynamically route traffic to the best available path. When traffic returns to normal levels, the secondary link is released, so that you only pay for what you need.
Segregate application traffic: An organisation can choose to use an affordable wireless link continuously, separating sensitive or mission-critical applications from more generic web traffic or guest networks. Sophisticated traffic management capabilities enable policies to define when the wireless links are used, with full awareness of wireless services and any restrictions or caps.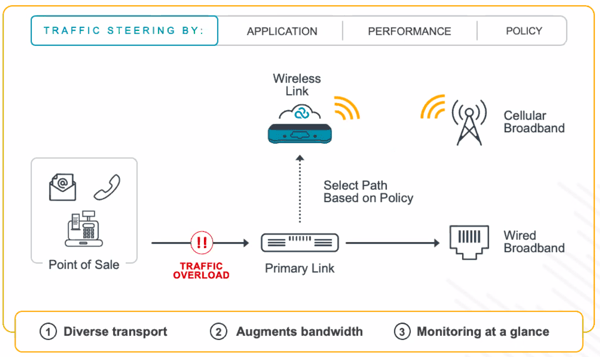 Alternate pathway for IT support: Wireless connections can also provide an alternative line into the branch for network and IT operations, enabling remote management and troubleshooting of branch equipment. Wireless WAN capabilities can be added to branch networks with an external adapter on an existing router, or by dropping in a purpose-built wireless router.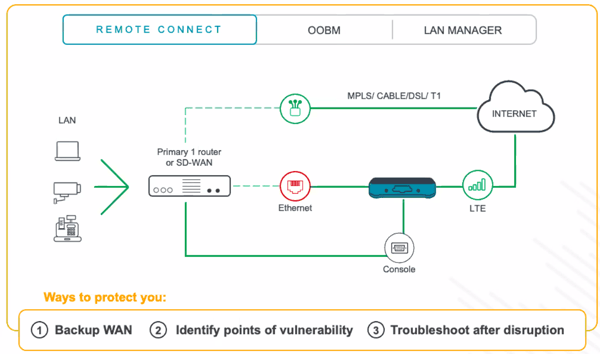 Failover is the gateway to 5G and primary Wireless WAN
In September and October 2020,
Nemertes Research
conducted detailed interviews with technology leaders at 12 companies across a range of industries in the United States and
Australia
who had adopted
Cradlepoint
wireless WAN utilising 4G LTE.
For most companies in the study, the entry point to wireless WAN was as a backup link to provide failover services when primary wired links go down. However, over time, organisations found themselves leaning on WWAN as
long-term DR connectivity when wired services go down for months, e.g., after natural disasters
startup connectivity for branches, so they can get online weeks earlier than when waiting for wired links
ultimately a primary connectivity, permanently replacing wired links
Most study participants now use WWAN in at least two of these use cases:
75% of participants use WWAN for failover
67% of participants use WWAN for primary connectivity
45% use WWAN for startup connectivity



Australian enterprises are embracing Cradlepoint wireless solutions
MobileCorp is working with a number of Australian enterprises who have embraced the philosophy of Cradlepoint's wireless WAN solutions for failover and also for segregating mission critical traffic utilising Telstra LANES.
"We always knew this was coming. It was only a matter of time before wireless WAN became a viable option for enterprise business and we are on the cusp of real uptake.

"The use cases are many - from temporary or pop-up connectivity, to scalable branch networks, remote working connectivity, and edge IOT device networks.

"The benefits are also considerable led by agility of scaling locations and bandwidth. As a bonus any connectivity solution that utilises Cradlepoint routers will be future-proofed for 5G. This is the outcome we want for our customers - a wireless network solution that works brilliantly now with LTE and will integrate with 5G as it becomes available."

MobileCorp CTO, Phill McSherry
MobileCorp's Cradlepoint managed service
MobileCorp is a Cradlepoint Elite Partner and the APAC Growth Partner of the Year.
We offer Cradlepoint network solutions and a managed service which is carrier agnostic and includes:
network solution architecture
hardware procurement or leasing
router configuration and deployment
NetCloud portal configuration
24/7 monitoring of equipment and links
level 2 service desk including:

fault diagnosis and resolution
remote equipment diagnostic and reprogramming
phone support
response and restoration targets

priority replacement program for hardware

device retrieval/redeployment program for security of hardware

monthly reporting

Telstra customers may have hardware and managed service fees charged against the monthly Telstra bill



Download White Paper
---
About MobileCorp
MobileCorp is an enterprise ICT solutions company with a mission to deliver our customers a communications technology edge. At MobileCorp we believe in being at the forefront of ICT technology shifts so that we can bring trusted insights and innovative solutions to our customers.
We provide Managed Mobility Services, Enterprise Mobility Management, Complex Data and IP Networks, and Unified Communication solutions. We have a proven track record providing managed services for Australian enterprise and business, and are a Telstra Platinum Partner.