The new iPhone SE is $450 cheaper than the iPhone 11. How do the two devices compare and is the cheaper device a viable choice for business use?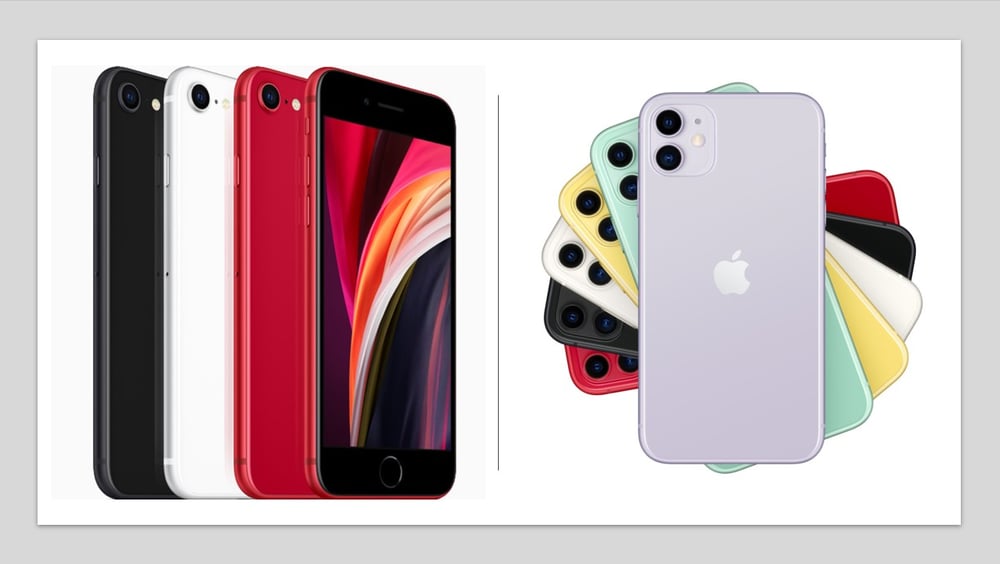 iPhone SE v iPhone 11
iPhone SE v
iPhone 11
from a business perspective
Now that the iPhone 8 has been discontinued, businesses who want an Apple device will have to choose between the newly released iPhone SE and the iPhone 11 (or its stablemates the 11 Pro or 11 Pro Max).
With a starting price of $749, the iPhone SE is the least expensive iPhone to be launched since the first generation SE in 2016. The new device was quietly unveiled at the peak of the pandemic in Australia, on April 15.
In contrast, the iPhone 11 was released seven months ago in September 2019. It was the flagship iPhone for last year and the cheapest variant is $1,199.
How do the two devices compare, and which is the better buy for business?
Screen Size
The iPhone 11 clearly has the advantage when it comes to screen size being a little over 20 percent larger than the iPhone SE. Both devices however have the same LCD display. The iPhone 11 has a "Liquid Retina HD display" while the iPhone SE has "Retina HD" but they will look the same to the user with identical pixel density.
Verdict: For business users a larger screen will be preferable if the employee is required to read and review complex or lengthy documents on the device or is regularly communicating through video conferencing utilising screen sharing. For most employees, the smaller screen size should not hinder productivity. In general, larger screen size is usually considered a consumer benefit as it provides a more immersive experience for streaming Netflix, gaming, or propping the device up at the gym to watch while exercising.
Design
In terms of design, the iPhone SE is a replica of the iPhone 8. It has a bordered screen rather than the 'infinity - but notched' screen of the iPhone 11. Now the iPhone 8 is EOL, it is also the only iPhone available that has a physical home button. Some users find having a home button more intuitive and it also houses a fingerprint reader, but more on that in security. There are more colour choices with the iPhone 11 which comes in pastel yellow, green and purple; as well as the three iPhone SE colours of black, white and red.
Verdict: The iPhone 11 looks like the latest iPhone currently on the market. The iPhone SE does not. Without the infinity screen this is easily discerned at a glance. If appearances are a factor this is a distinction between the two devices.

Durability
For durability both devices are built on aluminium frames with gorilla glass front and back and should be equally durable. The iPhone SE has a slightly lower dust resistance, and also water rating at IP67 compared to IP68. An IP67 level of certification means the iPhone SE can survive in up to a metre of water for about 30 minutes, so unless the device is going to be very heavily exposed to the elements in practice this should not be an issue.
Verdict: Equally durable
Performance
Both the new iPhone SE and the iPhone 11 feature the same A13 Bionic processor and similar amounts of RAM. They are both shipped with iOS13. It's safe to say that performance in a day-to-day sense is equal across the two devices, and neither should have any issues running the latest business applications including streaming video conferencing.
Verdict: Equal processing performance
Battery Life
Battery life is the feature where the iPhone 11 has the biggest advantage over the iPhone SE. The iPhone SE with its smaller body size houses a less powerful battery at 1821mAh compared to 3100 mAh. Apple does not provide a guide to battery capacity but third parties have estimated that in real world terms this equates to 40% less audio playback time and almost 25% fewer hours of video playback time - or a day and more of solid battery life. This sounds dramatic but it does not mean the iPhone SE has poor battery life. Initial testing by CDNet found both phones lasted about the same amount of time - 15.5 hours - running continuous video playback on Airplane mode, which is not too shabby. Both devices also offer fast charging up to 18W, as well as wireless charging — but neither are obtainable except with the purchase of additional charging hardware.
Verdict: The iPhone 11 has a distinct battery life advantage over the iPhone SE, however it is video streaming that chews up battery charge. Given most business users have a limited requirement to stream video as part of their role, from a business perspective this is more than manageable. Overnight battery charging is likely to easily see a business users through a day of use.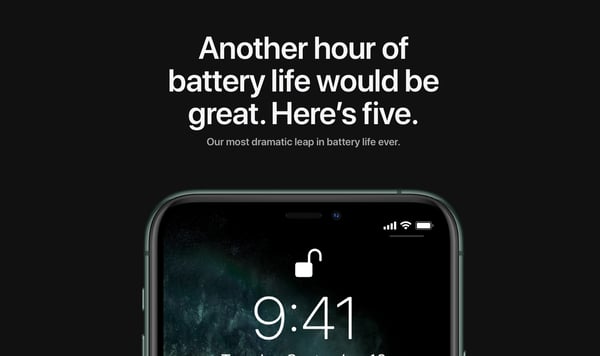 Source: iPhone 11 apple.com
Camera
OK so this is where the iPhone 11 has it all over the iPhone SE. The iPhone 11 has a vastly superior camera. The iPhone 11 comes with dual 12-megapixel ultra-wide and wide-angle camera lenses, as opposed to the iPhone SE's single 12-megapixel wide-angle camera.
The iPhone 11 also has a second wide-angle camera. That translates to sweeping landscape photos or creative, more dramatic pictures at close distances. The iPhone 11 also has Apple's low-light Night Mode which reduces graininess and motion blur and brightens up images taken in dim lighting.
As for the front-facing camera, the iPhone 11 has 12 megapixels compared to the iPhone SE's 7 megapixels. It can also capture 4K video, compared to the iPhone SE's 1080p video; and the iPhone 11 has slow-motion record video, too.
Verdict: The iPhone 11 has a vastly superior camera setup. If the employee's role requires detailed high-quality photography or video capture this device will deliver quality results. If not, the camera on the iPhone SE is perfectly sufficient for everyday business and personal use including family snaps and selfies.

Software
Both the iPhone SE and iPhone 11 run the same version of iOS and function identically where updates are concerned. iOS 13 has been one of the most reliable to date, and auto-updates are programmed to occur overnight while the phone is charging.
Verdict: Nothing in this one. Identical setup.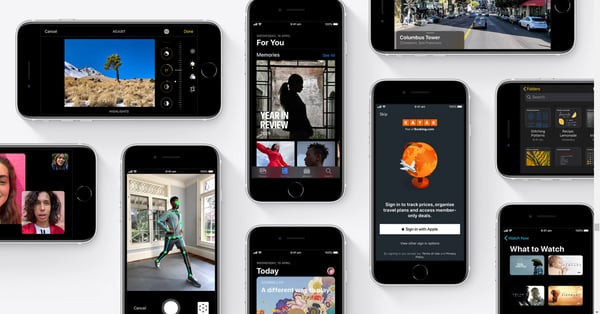 Security
The iPhone SE uses fingerprint scanning technology that Apple calls TouchID to open the device and authorise electronic payments. This is facilitiated through the mechanical home button. The iPhone 11 uses facial mapping sensors on the front-facing camera for biometric security, known as Face ID, to unlock the device. Apple says 1 in 50,000 people could unlock your iPhone using TouchID but only 1 in a million could do so with FaceID. FaceID also works more reliably under more conditions. Both TouchID and FaceID can be bypassed using passcodes. So neither feature is any more secure than using a passcode.
Verdict: These two devices are equally secure from Apple's perspective. As with all mobile devices it is employee behaviour that most often compromises devices. Enforcing a passcode is a base corporate security requirement and will over-ride reliance on Touch or Face ID features. There are also a number of other ways that business can secure corporate-owned iPhones including applying an Mobile Device Management profile that will enforce compliance with security policies, block malware, and lock the device if lost or stolen.
Price
The base iPhone SE 64GB model is $450 cheaper than the base 64GB iPhone 11. This represents a 38 percent price reduction. This price differential is maintained across the range of models. In fact price is a leading feature of the iPhone SE. It is Apple's cheapest iPhone at launch since the first generation SE was launched in 2016. Falling global sales and losing ground in emerging markets to the likes of Huawei and Samsung is the rationale for the lower-priced model.
Verdict: The iPhone SE is significantly cheaper than the iPhone 11 and this can not be ignored by business procurement.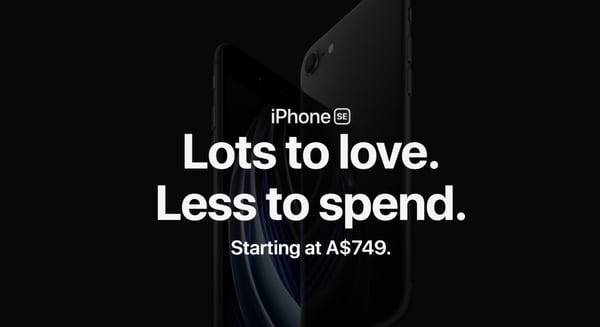 Summary Verdict
In essence, the iPhone SE is $450 cheaper than the iPhone 11, and the trade-off is threefold. It has a smaller screen size, less sophisticated camera, and a less powerful battery.
The iPhone SE is an affordable yet high specification device. In all the most important metrics of performance, durability and security, it is the equal of the more highly priced iPhone 11.
It is suitable for most employees, particularly those who are mainly office-based, or who are remote workers based in a home office.
The larger screen size and longer battery life might make the iPhone 11 a better choice for road warriors or field workers who do the majority of their collaboration and many of their operational tasks on their phone, and who don't have easy laptop or tablet connectivity.
The question to ask is: does everyone in the business need a $1,000+ iPhone and which roles will obtain a productivity benefit from having a device with a larger screen size and longer battery life.