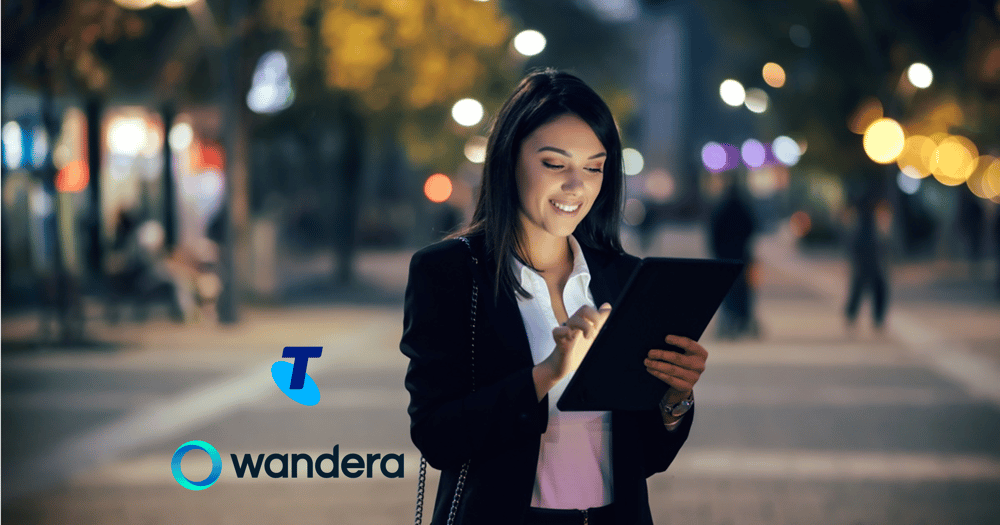 Telstra has responded to the escalating threat to corporate mobile devices by delivering a targeted promotion with its mobile security partner, Wandera.
Telstra has partnered with global endpoint security leader, Wandera, to launch Telstra Enterprise Mobile Protect for Apple corporate fleets. And for a limited time, Telstra is bundling Wandera licences, effectively giving a 50 percent discount off RRP.
What is the Limited Time Promotion?
Until 30 September 2021, Telstra enterprise and business customers with iOS devices will be eligible to purchase two Wandera product licences - Mobile Threat Defence, and, Data Policy Manager (Content Filtering) - for the price of one.
RRP for each licence is $3.00 per iOS service per month. Both licences will cost a total of $3.00 inc.GST.
Telstra has bundled Wandera Mobile Threat Defence & Wandera Content Filtering licences to give iOS customers protection against external threats at the device and network layer, as well as reliable and secure access to business applications.
As a Telstra Platinum Partner, and also a Wandera Partner, MobileCorp is able to leverage this offer for Telstra iOS customers.
What is Telstra Enterprise Mobile Protect?
Telstra Enterprise Mobile Protect is an endpoint security software-as-a-service solution powered by Wandera and specifically designed for iOS devices on Telstra's mobile network.
Telstra Enterprise Mobile Protect combines the power of the iOS platform with the additional security of Wandera.
It is designed to help keep employees personal and corporate information secure, while also delivering a best-in-class user experience.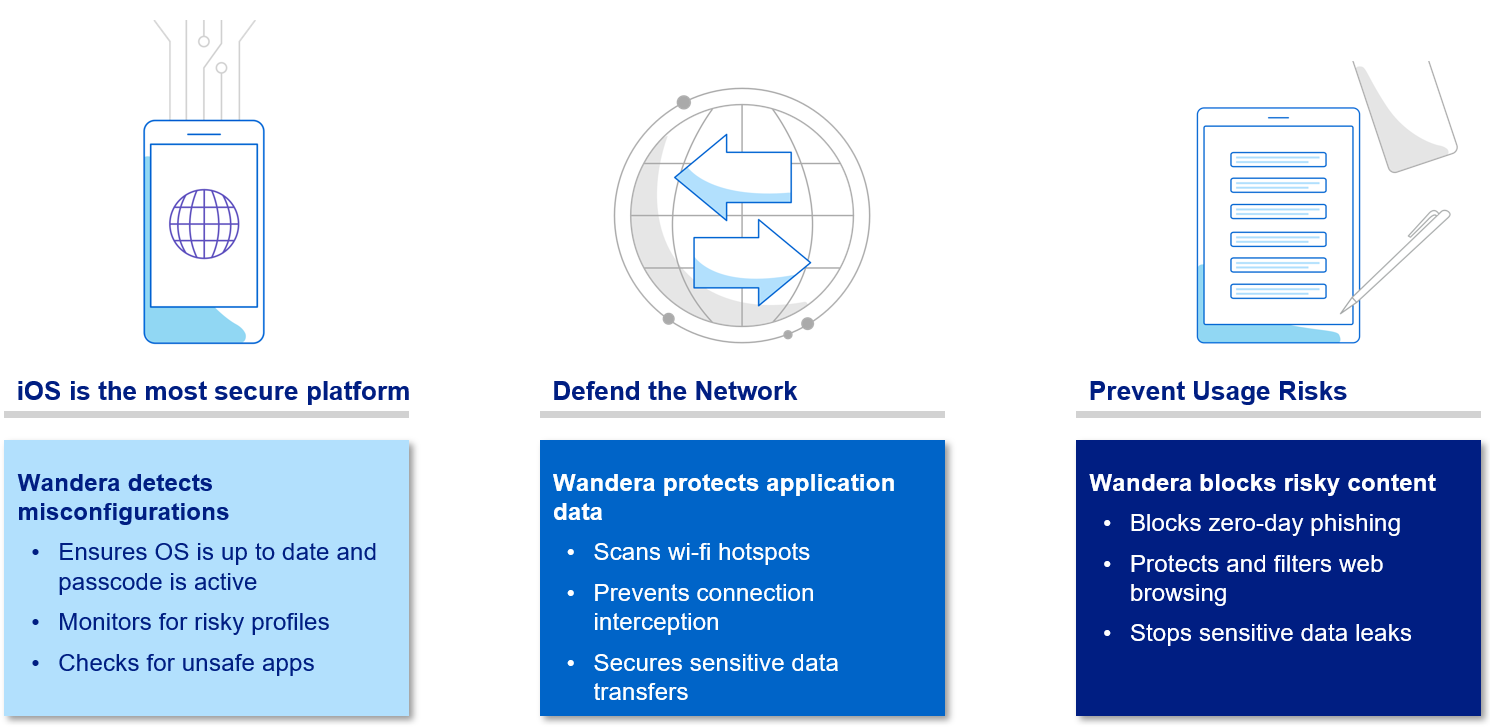 The threat has never been greater
The shift to remote working has exposed what we have known for some time - the endpoint and the end user are the weak links in the security mesh. Continuing to ignore this reality is no longer an option for organisations as cyber attacks have skyrocketed in the past 12 months.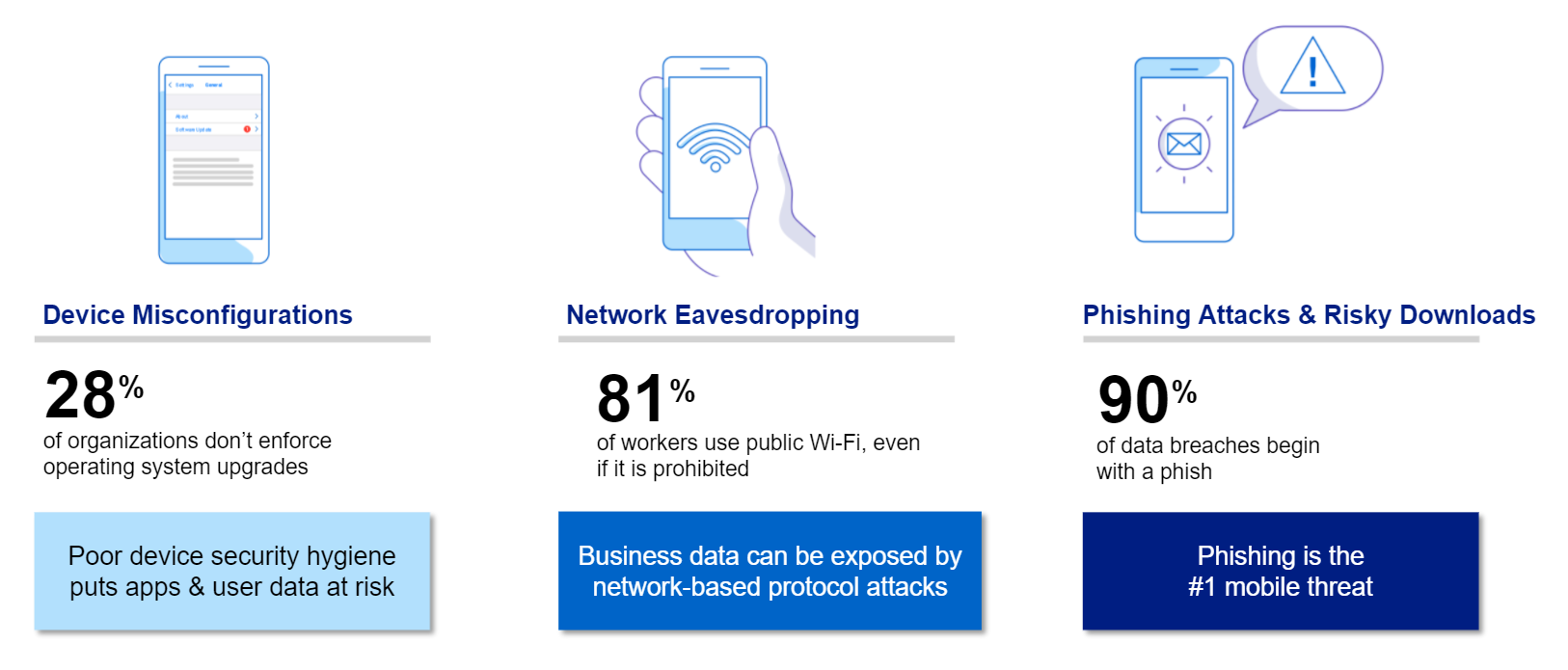 How does Telstra Enterprise Mobile Protect Work?
Wandera provides security at both the device and the network layer.
The solution is enabled though the Wandera Security Cloud delivered across a global network and managed through a customer administration console called RADAR.
Telstra Enterprise Mobile Protect leverages Wandera's threat intelligence engine MI:RIAM to protect against cyber threats to iOS mobile devices and users, such as phishing, man-in-the-middle and network attacks, malicious traffic and websites, and unsafe applications.
As well as protecting against threats, Wandera helps organisations identify vulnerabilities, flagging potential risks such as outdated OS versions, vulnerable apps, or risky profiles. It also provides web content filtering across all remote user traffic (both cellular and Wi-Fi).
Threats are detected at the endpoint via Wandera's endpoint application, and also prevented in the network via Wandera's Secure Access Layer or Cloud Gateway.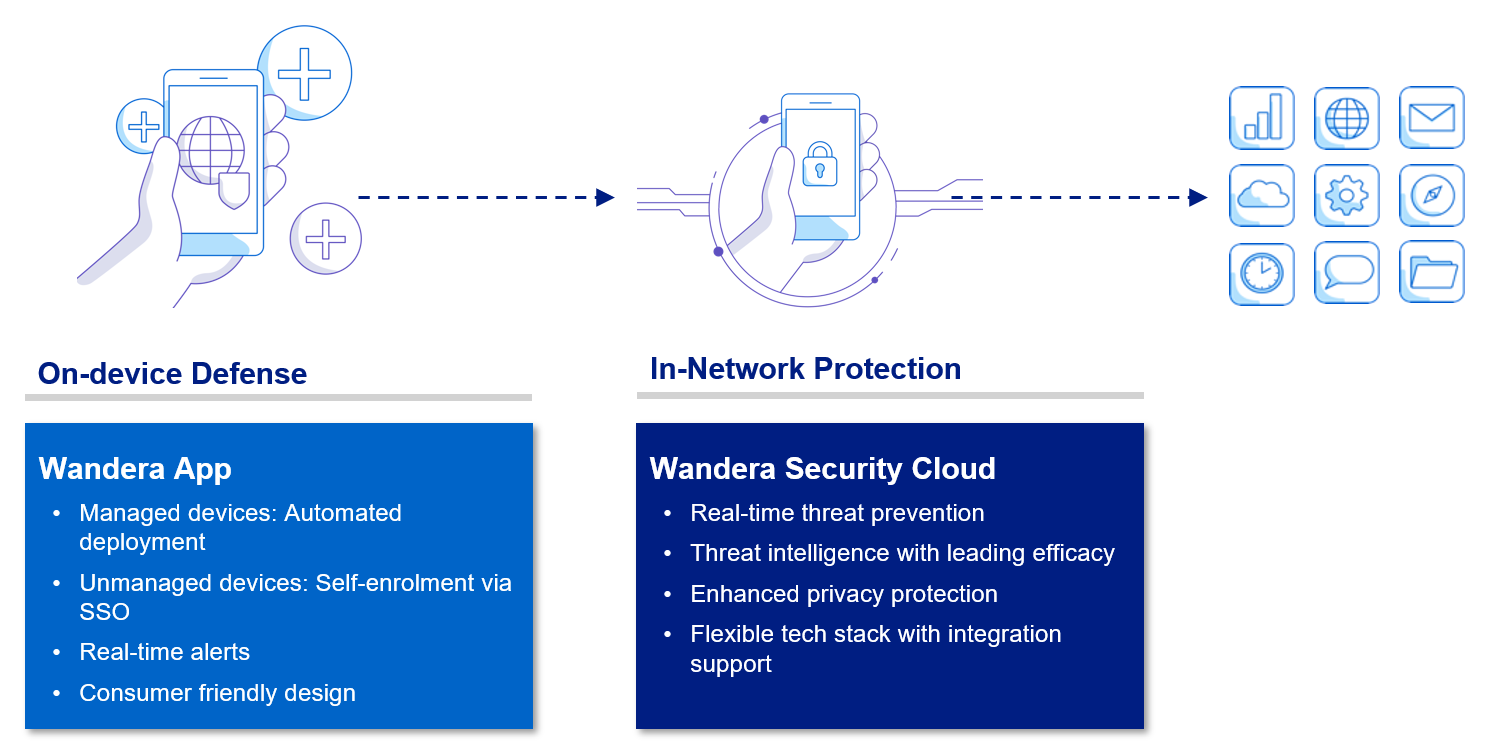 Native Integration for zero touch deployment
Telstra Enterprise Mobile Protect has native integrations across IdP, UEM, SIEM and EDR.
The Wandera app is downloaded to each Apple device - either as an automated deployment for managed devices via MDM platforms like Microsoft Intune, VMware Workspace ONE, or MobileIron; or via self-enrolment via single sign on for unmanaged devices.
The SaaS configures dynamic traffic steering options to the Wandera Security Cloud, and provides active detection of threats and device risk, real-time notifications and reports to employees.
Device deployment, policies, groups, service settings and reports are all managed through a single administrative portal named RADAR. RADAR supports SSO and MFA for industry leading security.

Telstra Enterprise Mobile Protect bundles two Wandera licences
This solution has bundled two Wandera licences for comprehensive security and also providing visibility and management of employee behaviour and data consumption.
Wandera Mobile Threat Defence - is powered by a global threat intelligence engine that ingests information from 425 million mobile sensors daily to protect against the broadest range of known and zero day threats.
monitors endpoints for vulnerabilities
performs continuous app risk assessments
detects man-in-the-middle attacks and opens a fail-safe VPN tunnel to ensure business continuity
protects against known and zero-day phishing threats
stops malicious downloads and connections to third-party app stores
monitors for data leaks and prevents sensitive data loss
applies a continuous risk assessment of endpoints before enabling access. If an endpoint is compromised or at high risk, access can be denied
integrates with UEM to automatically apply risk-based access policies for endpoints
Wandera Content Filtering - provides visibility of mobile data consumption and enables optimisation through data capping, content filtering and even tethering (mobile hotspot) management.
ensures that remote users only access only approved sites, applications and services.
enforces acceptable online behaviour with intelligent content filtering rules
mitigates legal exposure from non-compliant or illicit use
prevents sensitive corporate data from being exposed on personally enabled cloud apps
blocks unsanctioned services via the browser and application
prevents excessive data usage by providing visibility of data consumption with real-time analytics and detailed reporting
prevents bill shock by capping and limiting non-business data usage
reduces roaming charges with overseas data management controls (not super useful right now but...)
Outsource deployment and management to MobileCorp
MobileCorp has deployed and manages a Wandera instance for a number of our customers including Masterton Homes and Makita.
MobileCorp is both a Telstra Mobility partner and a Wandera partner. We can leverage our knowledge and experience to assist customers to make the most of Telstra's promotional offer on Wandera licensing through
solution consultancy
licensing procurement
solution implementation
integration with UEM environments
integration with identity and access management (IAM) solutions and single sign-on (SSO)
We also offer an optional ongoing managed service to monitor, manage and provide relevant reporting from the Wandera environment.
Read more about Wandera by MobileCorp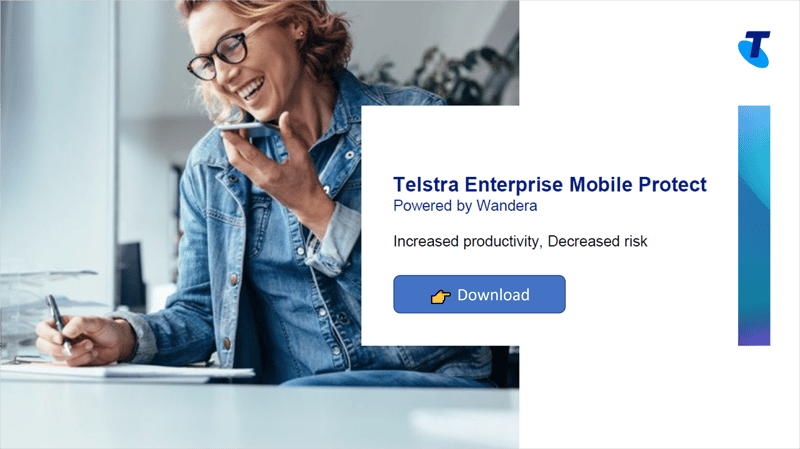 ---
About MobileCorp
MobileCorp is an Australian communications technology company providing Mobile Device Management, Managed Mobility Services, Mobile Security, Complex Data and IP Networks, and Unified Communication solutions. It has a proven track record providing solution architecture, build, deployment, and managed services for Australian enterprise and business.