To be a business that is not proactively minimising its exposure to mobile endpoint risks in 2020 is unforgivable
Covid-19 has brought home to many organisations just how critical it is to secure and manage enterprise endpoints.
It doesn't matter how locked down your network is, if you have unsecured 'invisible' corporate devices sitting outside and accessing that network, the risk is real.
Data breach and data consumption are the two key flash points for commercial and reputational risk.
MobileCorp recommends Wandera
MobileCorp's preferred mobile security and data policy compliance vendor, is Wandera .
There are three critical components to the Wandera solution:
Mobile Threat Defence –

effective endpoint security and real-time prevention of network attacks

Mobile Data Policy –

enforce acceptable use and prevent excessive data usage

Co

nditional Access – zero trust network access

Wandera mobile threat defence
Wandera is powered by a threat intelligence engine that ingests information from 425 million mobile sensors daily to protect against the broadest range of known and zero day threats.
monitors endpoints for vulnerabilities
performs continuous app risk assessments
detects man-in-the-middle attacks and opens a fail-safe VPN tunnel to ensure business continuity
Stop attacks from reaching endpoints in the first place
protect against known and zero-day phishing threats
stop malicious downloads and connections to third-party app stores
monitor for data leaks and prevent sensitive data loss.
Apply a continuous risk assessment of endpoints before enabling access. If an endpoint is compromised or at high risk, access can be denied.
integrate with UEM to automatically apply risk-based access policies for endpoints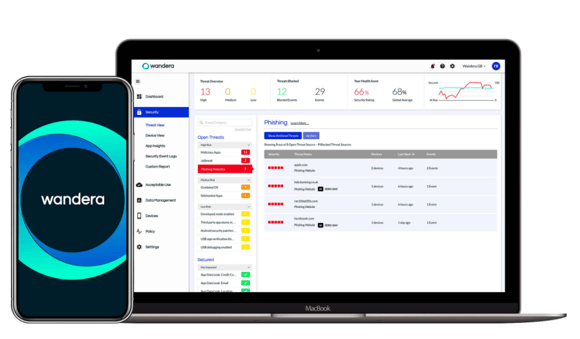 Wandera mobile data policy compliance
Ensure that remote users only access only approved sites, applications and services.
enforce acceptable online behaviour with intelligent content filtering rules
mitigate legal exposure from non-compliant or illicit use
prevent sensitive corporate data from being exposed on personally enabled cloud apps
block unsanctioned services via the browser and application
Prevent excessive data usage
get clarity of data consumption with real-time analytics and detailed reporting
prevent bill shock by capping and limiting non-business data usage
reduce roaming charges with overseas data management controls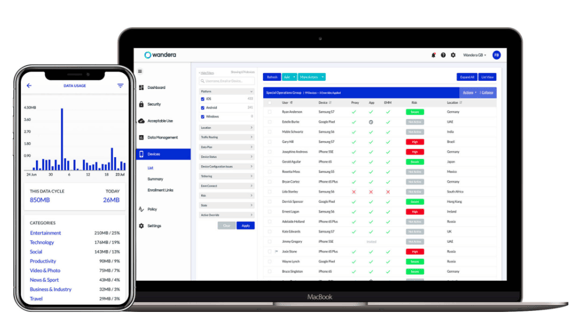 Wandera conditional access
Zero-trust network access
provide remote workers with fast, encrypted access to private resources, while reducing the risk of lateral attacks
enable contractors with access to corporate resources from specific applications or web domains, defined using role-based access control
empower DevOps with access over any protocol – without complicated firewall setup
reduce the risk of data leaks by ensuring only authenticated, secure devices are able to access corporate SaaS resources
Adaptive access based on risk
broker access to cloud applications through Wandera for sanctioned endpoints only, while reducing friction and requirements for step-up authentications
ensure a consistent user access experience, regardless of user location
continuously assess risk at the endpoint, even during active user sessions, before enabling access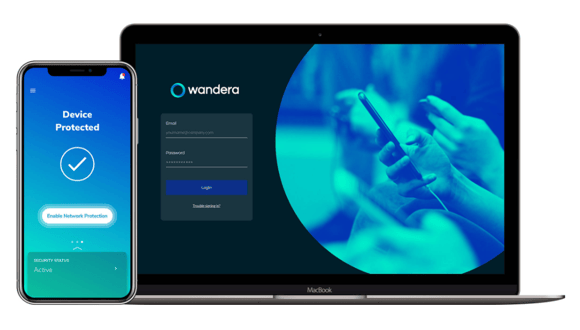 MobileCorp and Wandera professional service
MobileCorp is a Wandera partner. We offer Wandera professional services including:
solution consultancy
licensing
solution implementation
integration with UEM environment
integration with identity and access management (IAM) solutions and single sign-on (SSO)
We also offer an ongoing managed service to monitor, manage and provide relevant reporting from the Wandera environment.
Wandera for Telstra customers
Leverage MobileCorp's expertise as a Telstra Platinum Partner to understand the options for purchasing Wandera with a Telstra service.
Through MobileCorp, Telstra customers may be able to obtain Wandera licensing and MobileCorp Wandera professional services at no additional charge with selected Telstra corporate plans.
Telstra customers may also be eligible to use Loyalty funds for Wandera licensing and MobileCorp Wandera services.
Alternatively, any ongoing licensing or managed service fee may be charged to a corporate Telstra account.