Language is important. It denotes knowledge. That's why it is so confusing to hear IT leaders still talking about mobile device management in 2020. The technology has moved so far past MDM.
It's time to stop talking about MDM
Mobile Device Management, usually shortened to its acronym MDM, is a familiar label. It's been around 16 years, since 2004, even before the first iPhone. It no longer accurately describes the capabilities of the cloud-based SaaS environments which remote manage our endpoint devices, but it is a label that has persisted past its prime.
It has become a phrase which is used very loosely by those in IT to describe any form of endpoint management.
And this is a problem.
Technology has shifted from MDM to EMM to UEM
Mobile device management technology has evolved and with each shift in technology the language used to describe the product has also shifted.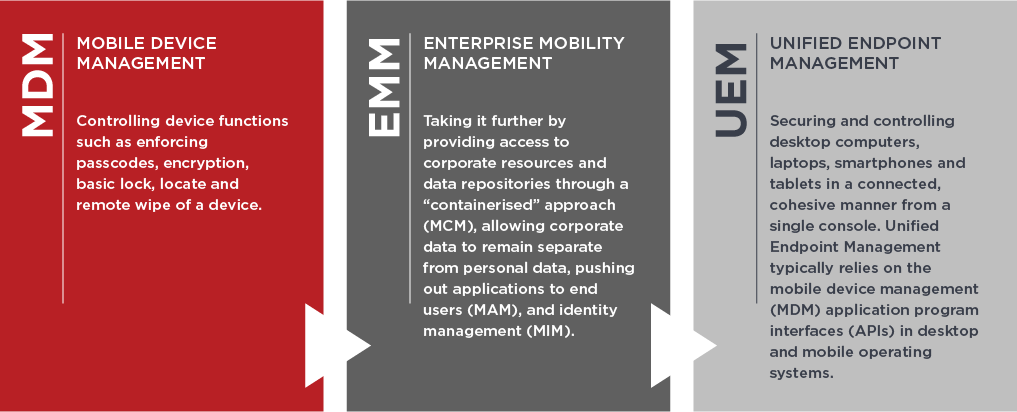 The first major shift occurred in 2014 when MDM vendors renamed their products as Enterprise Mobility Management [EMM]. This reflected the expansion in management from the physical device, to include applications and content, authentication and identity, privacy and security.
The next significant shift in 2018 saw device types under management expanded from mobile phones and tablets, to include laptops, desktops, and IoT endpoints, whether they have a SIM card or not. At the same time most solutionsmoved to cloud delivery, rather than on-premise. This shift was the emergence of Unified Endpoint Management [UEM].
Why it's important to get the la
nguage right
It can be confusing when people use the phrase mobile device management or MDM, when they really mean something that is far more than MDM.
The fact we are still talking about mobile device management in 2020 is probably contributing to slower adoption of the latest UEM suites which have evolved to a whole new level of endpoint management, says MobileCorp CTO, Phill McSherry.
"Prior to the pandemic, no one wanted to talk about mobility. It was an after-thought in a lot of cases, or a 'nice to have'. There was a gap in knowledge about what UEM can do, what the full features are. And because people still call it MDM instead of UEM, many don't realise it's not just about phones."

"There are two main reasons so many Australian companies have not adopted an EMM or UEM solution. Either they do not perceive mobile devices are a significant risk to the business, or they don't realise the security and automation features that are now provided and which greatly reduce IT workload."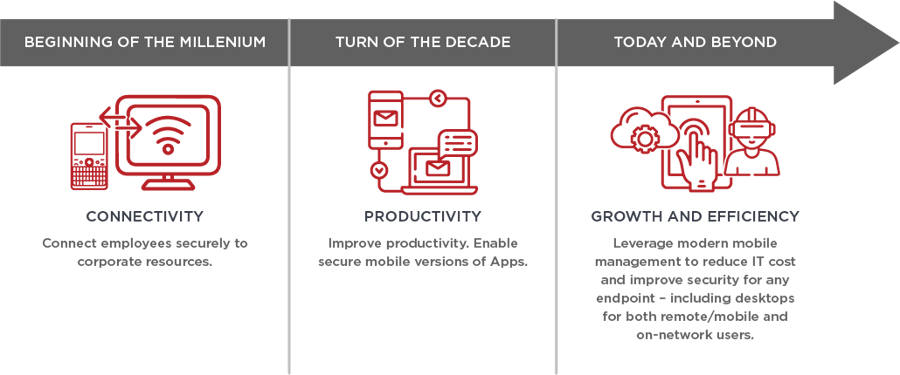 The story so far
in the beginning there was MDM...
We started with MDM in 2010 around the time of iOS 4 when the focus was all about remotely managing mobile phones, and allowing users to perform only certain prescribed tasks on their phones. MDM includes features like device provisioning, enrolment into manufacturers' device programs, device-centric security and location tracking. It also allows remote wiping data in case the device is stolen or lost. A basic MDM tool has the ability to enforce security policies, track inventory and perform real-time monitoring and reporting. Read more
...then MDM begat EMM...
Having secured the device, MDM vendors began turning their attention to what was on our devices. The explosion of the mobile applications market had created a need to deploy, update and secure applications on corporate devices and MAM was born. End users also wanted to access and share content such as corporate files and photographs on their mobile devices and mobile content management MCM emerged. With access into the corporate network came the need for identification and access management or MIAM. MDM was now only one aspect of the control required.
Leading global research consultancies, like Gartner and Forrester, sought to find a new label for the evolution of MDM to also include MAM, MCM, and MIAM. In 2014, Gartner renamed its world-renowned MDM Magic Quadrant, to the Enterprise Mobility Management or EMM Magic Quadrant.
...which led to UEM
Then came the next big pivot. Apple macOS and Microsoft Windows 10 added mobile device management features to their desktop operating systems, and in response EMM vendors started supporting desktops and laptops. Rather than strictly managing mobile devices which had a SIM card and connected to a mobile network, there developed one unified platform capable of managing any endpoint device, whether or not it had a SIM.
This shift became known as Unified Endpoint Management and in 2018, Gartner's Magic Quadrant and Forrester's Wave both moved to that label.
UEM platforms manage laptops, mobile devices, mobile apps, browsers, authentication and identity, and virtual desktops, all from one platform, with security policies that can span the whole stack. This UEM feature is also called 'workspace' management.
Technically there is nothing wrong with saying you are seeking an MDM solution, but the more specific we are with our language the more likely we are to successfully communicate what we need. The language we use should reflect accurately what we are trying to achieve.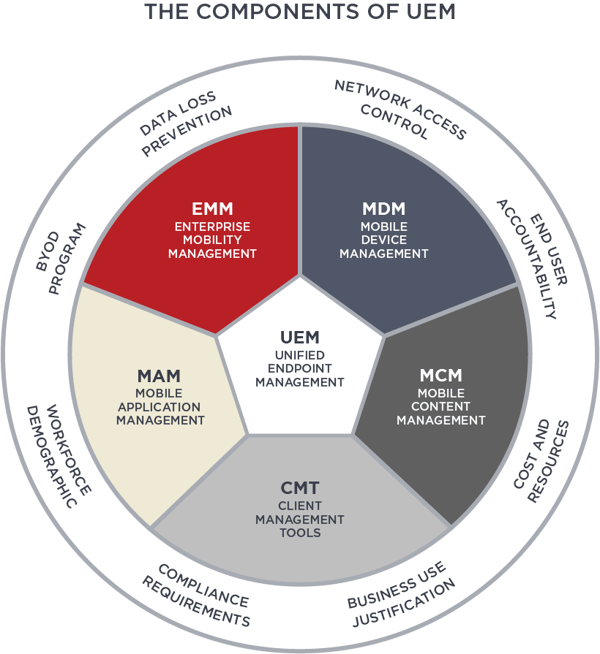 Top EMM solutions in 2020
It is getting more difficult to make a differentiation between some vendors being labelled as EMM solution providers or whether they have evolved to a UEM capability. Jamf has no ambition to be a UEM player given it works solely in the Apple eco-system. The other vendors are at various stages along the journey to offer more features but predominantly still label themselves EMM solutions.
1. Jamf Pro for Apple-centric mobile fleets
2. ManageEngine
3. 42Gears
4. SOTI
5. Sophos
Top UEM solutions in 2020
Two of the world's leading technology research companies, Forrester and Gartner, independently review UEM vendors each year. The latest results from Q4, 2019, differ somewhat in the order of leaders, but all the main players are represented in both. These are:
1. VMware
2. Microsoft
3. IBM
4. Blackberry
5. Citrix
6. MobileIron
7. Ivanti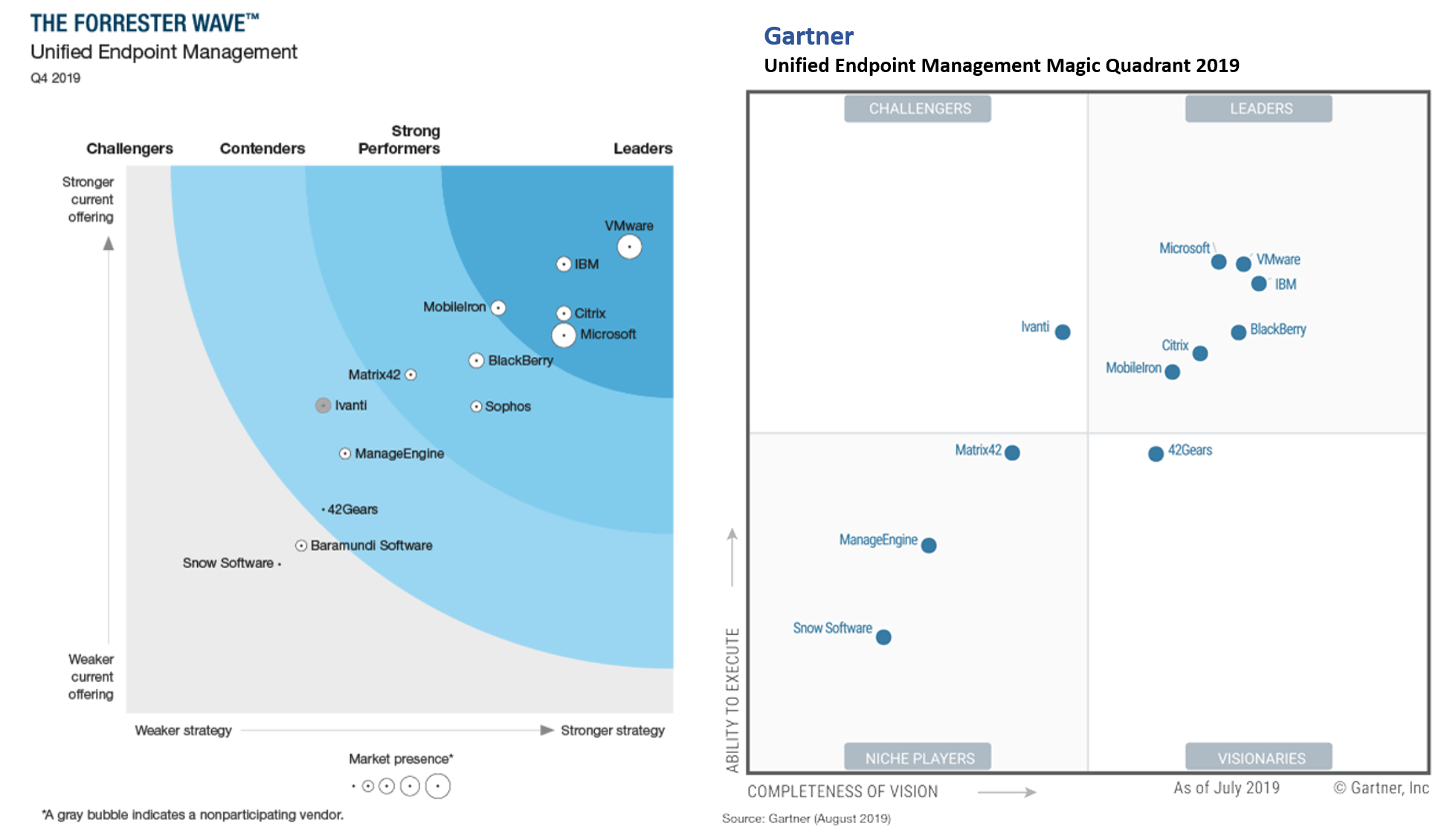 UEM - key benefits are automation and security
The key benefits of UEM relate primarily to automating and securing endpoint management in a flexible, agile manner utilising the cloud.
Specifically key benefits include:
simplified IT security administration
push-based and instant delivery of policies, apps and updates
fully automated enrolment, pre-configuration and retirement for any device
end user profile enforcement
amplified visibility of assets
Internet of Things management
single-pane endpoint management
extended to all endpoint devices

MobileCorp managed UEM and EMM service
MobileCorp provides management of all leading UEM platforms including VMWare and Microsoft, as well as Jamf EMM for Apple-centric fleets.
From building a UEM instance, through testing and deployment, to ongoing management and service desk, MobileCorp has accredited highly skilled UEM engineers to deliver your UEM environment.
Our managed service includes:
audit and remediation of existing instances
design and build of new instances, configuration of profiles
deployment of environment, enrolling and deploying bulk devices
security management including device wipe, kiosk mode, profile sync
remote application management
proactive monitoring and technical support service desk
data and asset management and reporting
Read more
About MobileCorp
MobileCorp is a Sydney-based communications technology company. We support companies by providing managed mobility and ICT services including mobile device security, mobile device management, expense management and managed connectivity solutions.