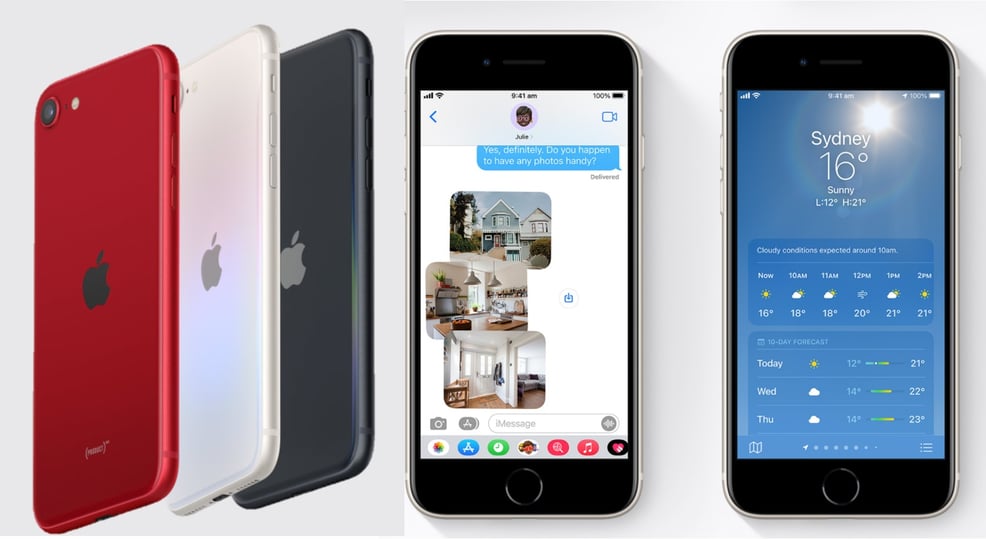 The new iPhone SE 2022
is '

all the iPhone'

that most Australian businesses will need at around half the price tag of the cheapest iPhone 13.
The third generation iPhone SE 2022 released to the Australian market on Friday 18 March 2022 with a starting price of AUD$719. This is AUD$630 - or 47 percent - less than the cheapest iPhone 13 with an RRP of $1,349.
It is also just $40 more than the iPhone SE 2020 despite receiving a major feature upgrade.
The iPhone Australian business has been waiting for
Businesses now view mobile phones as a required tool of trade. They are less interested in employees having the latest model and more interested in them having the right tool for the job at the most cost-effective price point.
The iPhone SE 2022 ticks a lot of boxes for business customers and will be a very popular choice for corporate fleet upgrades, predicts MobileCorp managing director, Stephen Aravopoulos.
"MobileCorp has a number of corporate customers who have been sitting back and waiting for several months for the release of this new iPhone SE22. This iPhone ticks a lot of corporate boxes. Not only is it a more affordable choice, it also delivers all the smarts that most business users need.

"It has less camera functionality and no infinity display, but that won't be a concern for business. Much more importantly it has a powerful processor and improved battery life. It is also 5G compatible which is a bonus."

Stephen Aravopoulos, Managing Director, MobileCorp

Verdict: Dated but durable design
In essence, the third generation iPhone SE 2022 is a device with a dated design but a significant upgrade in functionality.
The design of the iPhone SE 2022 is unchanged from the iPhone SE 2020, which, in turn. is essentially the same design as the iPhone 8 which launched in 2017.
This, almost 5-year old design, means a 4.7-inch retina display with the stripes of black top and bottom of the screen to hold the Touch ID fingerprint reader. It also means only the one 12 megapixel rear-facing camera, compared to the two you'd get on an iPhone 12 and 13, or the array of three cameras on an iPhone 13 Pro.
A design positive is the glass that is used on the back panel and the display of the phone is the same glass that's used on the back of the iPhone 13 - and Apple claims this the toughest glass used on a smartphone. [To be clear, it's not the same as the Ceramic Shield glass that's used on the iPhone 13 screen.]
The iPhone SE 2022 is available in three colours - midnight (black), starlight (white) and red - and in 64GB, 128GB, and 256GB models.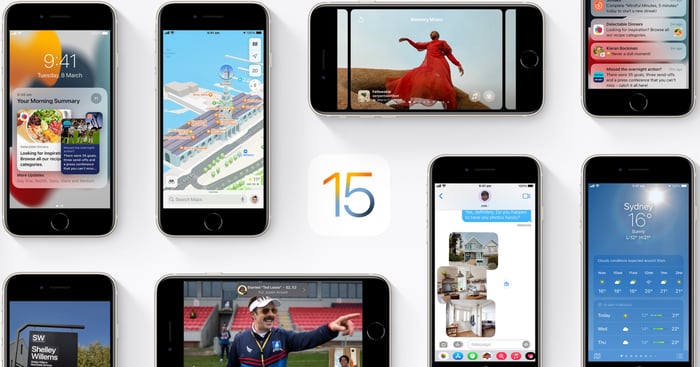 Verdict: Forget the cosmetics, the specs are superb
But for business the shape, screen size, materials, are all cosmetic. The beauty of the iPhone SE 22 for businesses is the upgrade is all in the specifications.
The most important upgrade of the iPhone SE 2022 is its A15 Bionic - the very same chip found in Apple's iPhone 13 line. It enhances almost every operation from loading applications, to delivering faster graphics, allowing 4K video editing, and powering advanced photography features, despite having just that one rear camera.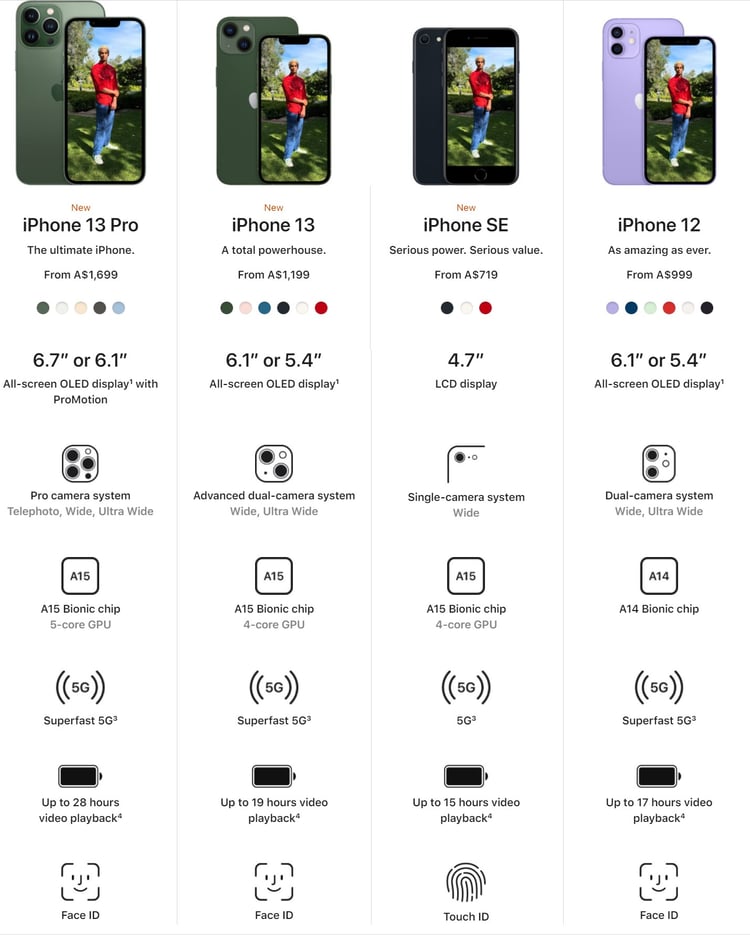 iPhone SE22 versus the iPhone 11, 12, 13 series
If it's all about the price, the iPhone SE22 wins hands down. There is a slick $2,000 difference between the cheapest iPhone SE22 and the most expensive iPhone 13 Pro Max.
At a starting price of $719, the iPhone SE22 is $130 cheaper than the next price point in an alternate model. This is the iPhone 11 at $849, and this device is powered by the legacy A13 Bionic chipset, compared to the A15 Bionic chipset in the sien iPhone SE22.
| | | |
| --- | --- | --- |
| Device | Storage | AUD RRP |
| iPhone SE 22 | 64GB | $719 |
| | 128GB | $799 |
| | 256GB | $969 |
| iPhone 11 | 64GB | $849 |
| | 128GB | $929 |
| iPhone 12 Mini | 64GB | $999 |
| | 128GB | $1079 |
| | 256GB | $1249 |
| iPhone 12 | 64GB | $1279 |
| | 128GB | $1449 |
| | 256GB | $1249 |
| iPhone 13 Mini | 128GB | $1199 |
| | 256GB | $1369 |
| | 512GB | $1719 |
| iPhone 13 | 128GB | $1349 |
| | 256GB | $1519 |
| | 512GB | $1869 |
| iPhone 13 Pro | 128GB | $1699 |
| | 256GB | $1869 |
| | 512GB | $2219 |
| | 1TB | $2569 |
| iPhone 13 Pro Max | 128GB | $1849 |
| | 256GB | $2019 |
| | 512GB | $2369 |
| | 1TB | $2719 |
Australian release date and supply chain woes
The iPhone SE 2022 releases to the Australian market on Friday March 18. Pre-order with MobileCorp.
Businesses wanting to purchase will need to pre-order or at least order well in advance of anticipated deployment as fulfilment of orders through business channels is traditionally slow for the first few weeks with devices generally available in small numbers.
There is also some concern over Covid lockdowns impacting manufacturing in China and the ongoing global supply chain disruption. As we wait for the iPhone SE 2022 to become available, we are already seeing shortages of iPhone 12 and 13 models, especially in 'business colours.'
It can be tempting for businesses, in these circumstances, to consider purchasing from consumer channels, however there are many downsides to this course of action. Blog: Why business should always buy mobile devices through business channels.
---
About MobileCorp
MobileCorp is a Sydney-based communications technology company. We support enterprise and business by providing managed mobility and IT services including mobile lifecycle management, mobile device security, mobile device management, expense management and networks and managed connectivity solutions. We are an Apple Reseller and Authorised Service provider.