All remaining copper and fibre ISDN services must be migrated by 31 May 2022 as Telstra completes the decommissioning of its ISDN network.
It was four years ago when Telstra announced it would be exiting the ISDN network by mid-2022. To date 9,600 customers with 90,000 services have been migrated. However 2,400 customers with 10,000 services between them still remain on the soon to be decommissioned network.
Final Exit Dates in ISDN shutdown
| | |
| --- | --- |
| 31 May 2022 | Final Exit Date for ISDN2, ISDN2 Enhanced, ISDN 10/20/30 |
| 31 August 2022 | Final Exit Date for DDS Fastway, Megalink, and Frame Relay |
The most relevant deadline is the 31 May 2022 date as this is when the majority of customers will be impacted with ISDN 10/20/30 lines being the most common of those still in circulation.
The August deadline is for less common data-only services which have been built on ISDN infrastructure.
How do I know if I have ISDN lines?
If you are unsure whether you have any remaining ISDN lines, check your Telstra bill where they will show as a line item being billed.
You should also be able to see on your bill if the ISDN line is active or inactive i.e. if it is being used to make voice calls or transfer data.
If the ISDN line is inactive, it is best to proactively disconnect the service rather than waiting for the ISDN shutdown. This will ensure that your business is no longer being billed for the line(s). MobileCorp can manage this activity on behalf of Telstra customers.
Telstra has been posting warning notification letters to impacted customers at intervals over the past 48 months. If it is likely these letters have not been received by the business, please check your bill.
What should I do if I still have active ISDN lines?
If your business still has active ISDN lines, you will need to take immediate action to invest in a different technology before the ISDN network is dismantled and your services disconnected.
It will typically take between six weeks and six months to migrate, so there is no time to waste.
5 Step Checklist
Audit your Existing Infrastructure

- there are a number of devices that may be utilising your existing ISDN lines that may or may not be compatible with IP telephony.

Define your Business Requirements

- this will inform decision-making around what alternate technology to shift to.

Choose your new Connectivity Solution

- time is short so reach out to experts to learn your options. MobileCorp offers a discovery consultation at no cost for Telstra customers.

Engage the Solution Provider

- migration can take a number of weeks so time is of the essence here. It is not enough to have a plan, the time to execute is now.

Prepare the Business

- your new solution may mean changes to how employees typically communicate. It is important to understand any impact on business process, inform stakeholders, and prepare a transition training plan.
What happens if I do nothing?
Your ISDN services will be discontinued as the network equipment is physically removed from the Telstra Exchange. When this occurs you will no longer be able to make or receive calls.
You will have received postal reminders at intervals over the past 24 months that this is occurring.
Is this relevant to me if my organisation has already migrated to NBN?
It could be. NBN replaced ADSL, so it is possible that ISDN lines in play may have been missed during a migration to NBN.
Where might ISDN lines still be used?
After reviewing your Telstra bill and discovering you still have active ISDN lines, you will need to ascertain how/where the line is being used.
Lines that commonly get missed when migrating include
Fax machines or fax lines
Fire alarms
Monitored Security alarms (CCTV) cameras
Lift emergency phones
Medical alarms
EFTPoS terminal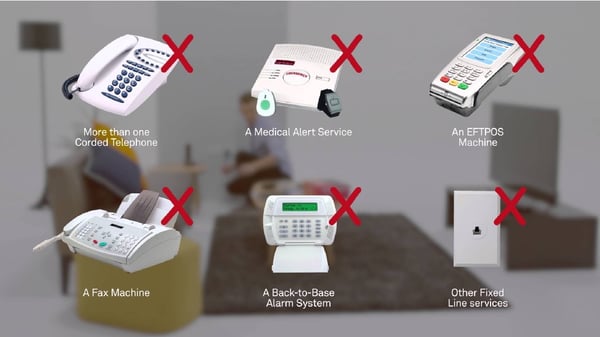 Will I be able to keep my existing phone numbers?
You will be able to keep your existing phone number(s) if you migrate to a new technology before being disconnected.
If your business is disconnected, you will lose your telephone number...and there is no way to retrieve your number.
Should this occur, your existing numbers will need to be diverted to a mobile or new number. This works okay for voice but can be very expensive and unreliable for data consumption.
What does it cost to migrate off ISDN?
Typically the ongoing monthly costs for a SIP solution are around half the cost of existing ISDN plans.
Meanwhile, the business benefits offered by SIP are significant, allowing for remote seamless working, scalability of users, and business continuity.
Moving to cloud-based telephony also negates the need for expensive handsets or PABX hardware.
What are the best alternatives to ISDN?
Telstra has a range of IP, Ethernet and Unified Communications solutions to replace legacy ISDN products.
What will best fit your business will depends what the ISDN lines were being used for and the business outcomes required.
Most businesses will migrate to a SIP product and/or NBN for VOIP that connects to a PABX, or to a cloud-hosted telephony solution that removes the need for ongoing maintenance and support of a physical environment.

Both solutions will result in higher quality signals, faster speed, and improved features to support remote working, scalability, security, reliability, and it also costs less than ISDN.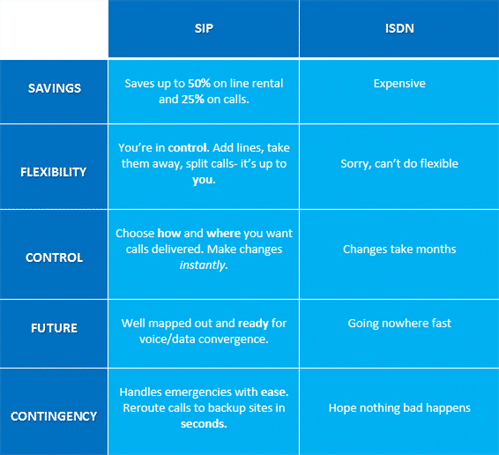 MobileCorp offers rapid migration off ISDN
The key word here is RAPID.
One of the biggest difficulties organisations have faced in moving off ISDN to NBN and other solutions over the past two years, has been the length of the migration window.
Typically it has taken months to complete a migration project with significant delays due to misalignment between NBN and carriers like Telstra. When an organisation has more than 1-2 sites, the complexity is magnified and delays exacerbated.
MobileCorp is an Accredited Telstra Data +IP Partner and can provide you with a migration transition that can deliver you a rapid migration resulting in enhanced business capability, often at a lower cost.
We can manage a complex port in 6-8 weeks and a simple port in 2 weeks.
We can also set up a hosted telephony system in 5 days due to our partnership with Access4, and with diversions in place can still present your existing numbers until the ports take place.
Why use MobileCorp for your Managed ISDN Migration Service?
Some Telstra Enterprise Partners – like MobileCorp – offer a managed ISDN migration product.
This service is particularly popular with enterprise and large business who have multiple sites to migrate and don't want their IT resource to be monopolised by a time-consuming process which takes them away from their core responsibilities.
It is also popular with SMBs who have limited in-house IT resource and no time to spend on the phone to the various parties.
MobileCorp ISDN managed migration inclusions
MobileCorp will manage the entire project driving to a successful completion with minimal input required from the business. Areas of accountability include the following:
Solution Design and Costing
MobileCorp technical specialists will partner with the business to gain a deep understanding of the current infrastructure set-up and the business' requirements, both existing and future. We will collate the business bandwidth and future use requirements to design a new solution utilising our knowledge of replacement technologies, and service providers. We will then prepare a costed proposal for approval.
Validating On-Premise Information


MobileCorp will work with the business to validate the existing infrastructure to ensure hardware and software compatibility so the business is protected from the risk of disruption or downtime during the migration.
Project Management
MobileCorp will manage the entire migration process to an agreed Scope of Works which will include:

liaison with equipment suppliers, NBN Co., RSPs;
co-ordinating on-premise activity including technician visits from NBN, RSP, and potential cabling work;
audit the current infrastructure for connectivity which will be impacted by the disconnection of ISDN lines; and to identify non-compatible devices and technologies;
retrieve a service audit document of record from the current service provider(s) and match it against the known infrastructure to identify variations;
build and submit a complete and accurate NBN Order document if migrating to NBN concurrently, then follow-up to ensure progression; and
can have a dedicated person on-site for technician appointments if required.

Testing and Reporting


MobileCorp will liaise with all parties to ensure the technology cut-over is planned and executed without disruption or downtime. Any issues which may arise will be managed to resolution by MobileCorp.

Benefits of using MobileCorp for your ISDN managed migration
Transitioning from ISDN to a new system is not always complex, but it is always time-consuming.
It pays to have an experienced project manager as there are multiple 'trip points' throughout the process.
MobileCorp's managed migration lets you relax and rely on us to remove all of the risk and deliver a smooth hassle-free shift without disruption or demands on the business.
Some other benefits include:
a single point of contact for all issues relating to the migration
design consultancy skills and scope of works documentation
obtains quotes from third party equipment and service providers
specialist knowledge of Telstra offerings ensuring you get the best value
specialist knowledge of the back-end migration processes followed by Telstra and NBN Co. ensuring your order progresses smoothly
knows how to act proactively to head off disruption and downtime
has a direct line into Telstra network systems
has a proven track record migrating Australian businesses of all sizes nation-wide
relieves your IT team from the operational workload and administration tasks
What next?
Make contact with MobileCorp to discuss your situation and plan your migration.

Asif Mahmud
Senior Accounts Executive
T. 1800 243 252 | 02 9381 9999
---
About MobileCorp
MobileCorp is an enterprise ICT solutions company with a mission to deliver our customers a communications technology edge. We provide Managed Mobility Services, Enterprise Mobility Management, Complex Data and IP Networks, and Unified Communication solutions. We have a proven track record providing managed services for Australian enterprise and business, and we are a Telstra Platinum Partner.