Stranded in the Outback or any of the many places across regional and remote Australia without cellular coverage, and Apple's Emergency SOS Satellite calling could be a lifesaver.
Where has iPhone Emergency SOS via Satellite saved lives?
Apple's Emergency SOS via Satellite was launched in the US and Canada in November 2022, and extended to Australia and New Zealand in May 2023.
Since its inception, it has already helped save lives in the 12 countries where it is available including:
September 2023, Arthurs Pass, Christchurch, New Zealand
Two hikers were rescued after being trapped by rising river waters.
Hiking just northwest of Christchurch in the Arthurs Pass National Park, the two hikers found themselves in a risky situation where water levels in the area were rising and it became unsafe to cross the river. Utilising the satellite service the pair
were able to report their status and their exact location allowing a
West Coast Air Rescue helicopter to attend and lift the hikers to safety.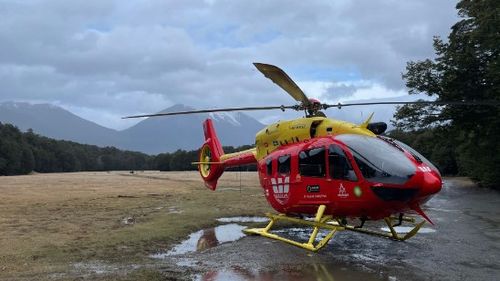 April 2023, San Rafael, Utah
Three university students trapped in freezing waters in the canyons of the San Rafael Swell Recreation area in Utah were rescued after using the SOS satellite feature to call for help. One of the students, Jeremy Mumford, explained: "The canyon was about 500 feet deep of sheer, rock walls but about every 20 minutes a satellite would line up where we were in the canyon and, by holding the phone up, we could get a signal where we could text 911 to Emery County." Hypothermic shock had set in by the time a responding helicopter was able to winch the students to safety, likely saving their lives.
August 2023, Maui, Hawaii
Five members of a family were trapped in a van during the Maui wildfires. According to Michael J. Miraflor's post on X the wildfires "abruptly ignited in their vicinity." Fortunately, one individual among the van's occupants had an iPhone 14, which proved key to their successful rescue from the raging fire. "No cell service, so Apple Emergency SOS was the only way they could get in contact with first responders," he wrote. "Literally saved their lives."
Vehicles caught in Maui wildfires, Hawaii
July 2023, Los Angeles National Park, San Diego
Juana Reyes fell when a trail collapsed beneath her in the Los Angeles National Forest resulting in a broken leg. "All I can remember was yelling, 'My foot,' and trying to get up, but I couldn't. The pain was just so unbearable. Panicked, the group began working to call for help only to realise their cell phones were out of range. Thankfully one hiker had an iPhone 14 and was able to activate the SOS function and a helicopter was sent to the rescue. "It was definitely a lifesaver and worth every investment. It was my saving grace."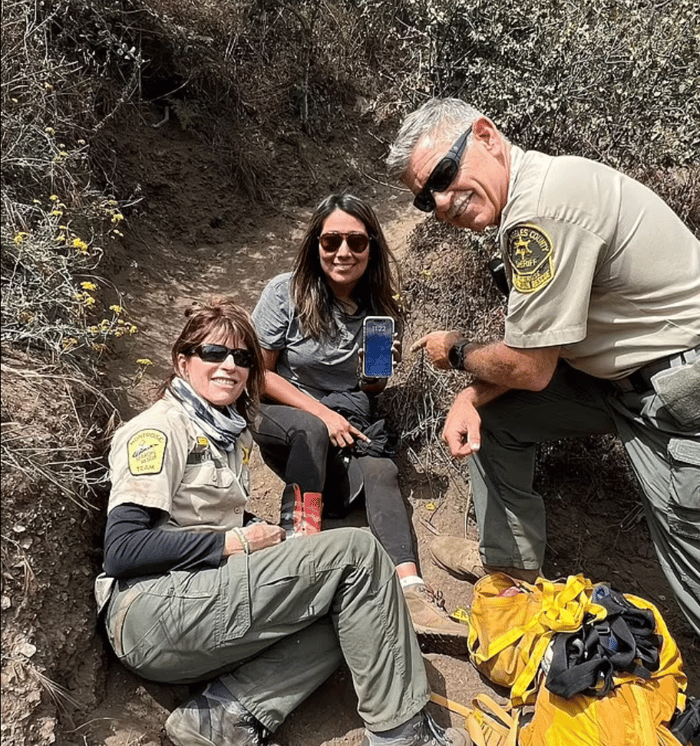 Juana Reyes with rescuers including Mike Leum from LA County Sheriff's Office
August 2023, Grand County, Utah
A 38-year-old woman was hiking in the Mary Jane Canyon with her dog when flash flooding occurred at around 7:22 PM. The woman reported hearing the flood waters coming and desperately tried to reach higher ground. However, she and her dog got swept away by the raging waters, traveling 150-200 feet down the canyon gorge before reaching a sand bank. Realising the imminent danger, the woman quickly activated her iPhone's Emergency SOS feature, which was received as a GPS location but without details about her emergency situation.
Rescuers deployed a search team on foot and a helicopter to scan the canyon. The helicopter crew spotted the woman's dog about two miles downstream from the coordinates sent by the SOS message. However, they were unable to land in the treacherous canyon terrain. After using the dog's location to pinpoint the woman's position, rescuers finally reached her at 9:25 PM, about 1.5 miles from the trailhead. Covered head to toe in mud and missing her shoes, she told rescuers she believed her SOS text had failed to send, so she began making her way out of the canyon on her own.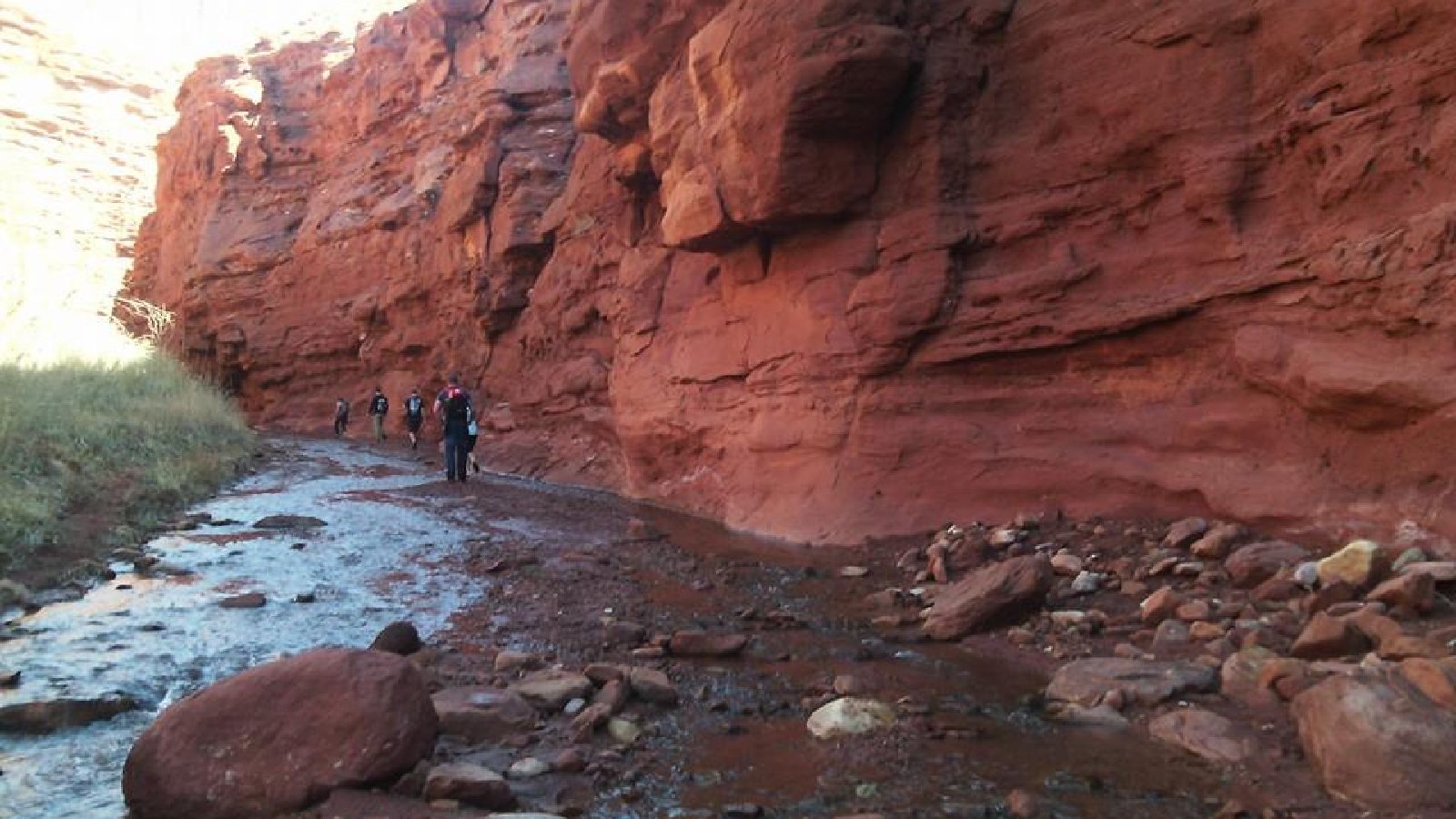 Mary Jane Canyon, Moab, Utah
2023: McBride Canada

How does SOS Satellite Calling work?
Satellite networks are also known as Non-Terrestrial Networks or NTN. NTN uses satellites to enable 2-way interaction over mountains, deserts, or in the middle of the ocean, to eliminate communications blind spots.
For a terrestrial ground-based network your mobile phone connects to the closest cell tower using radio waves. There are many reasons why this connection could be disrupted but in remote and regional Australia the most common case is distance from the nearest tower combined with natural barriers like geography and vegetation.\
With an NTN, when a user initiates a call or SMS their device communicates with satellites overhead. These satellites relay the signals to ground stations and then in turn to terrestrial cell towers for connection with the intended recipient.
The NTN bypasses the terrestrial network barriers of geography and distance from a tower. So long as the user has a 90 degree clear view of the sky, connection with a satellite passing overhead is possible.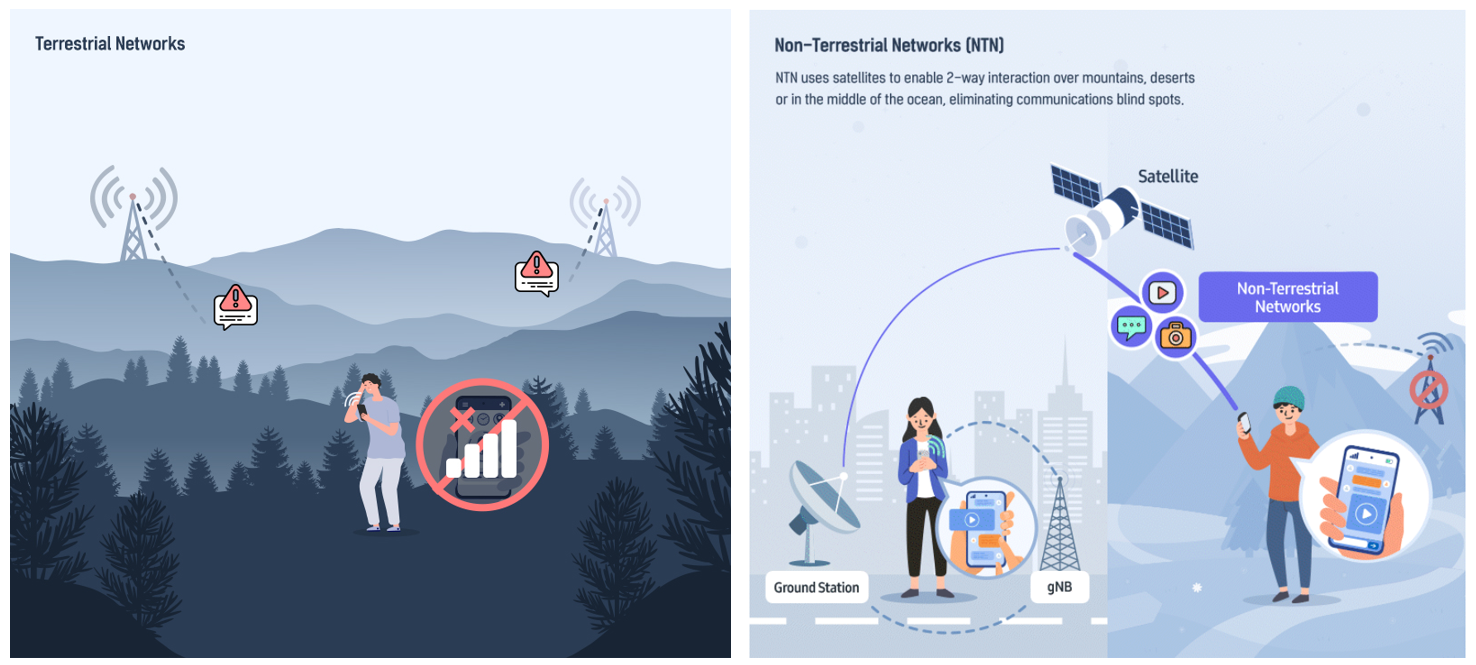 How does SOS Satellite calling on iPhone work?
The Apple Emergency SOS satellite service is run entirely on text message.
When you attempt to call 000 in Australia and are unable to connect, your iPhone will prompt you to try Emergency SOS calling.
There is an application on your iPhone that will walk you through a series of questions to help first responders understand the nature of your emergency. Follow the prompts to answer the questions as below.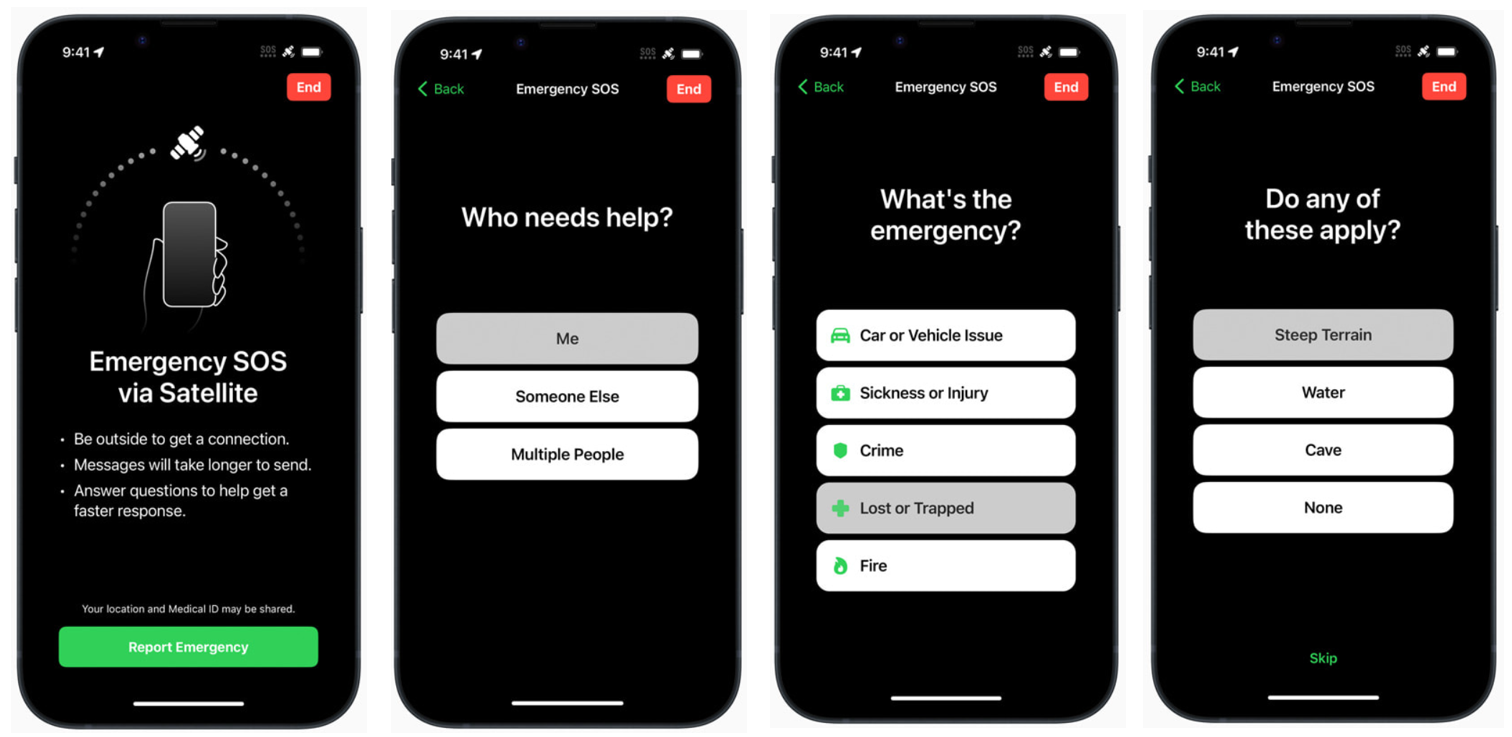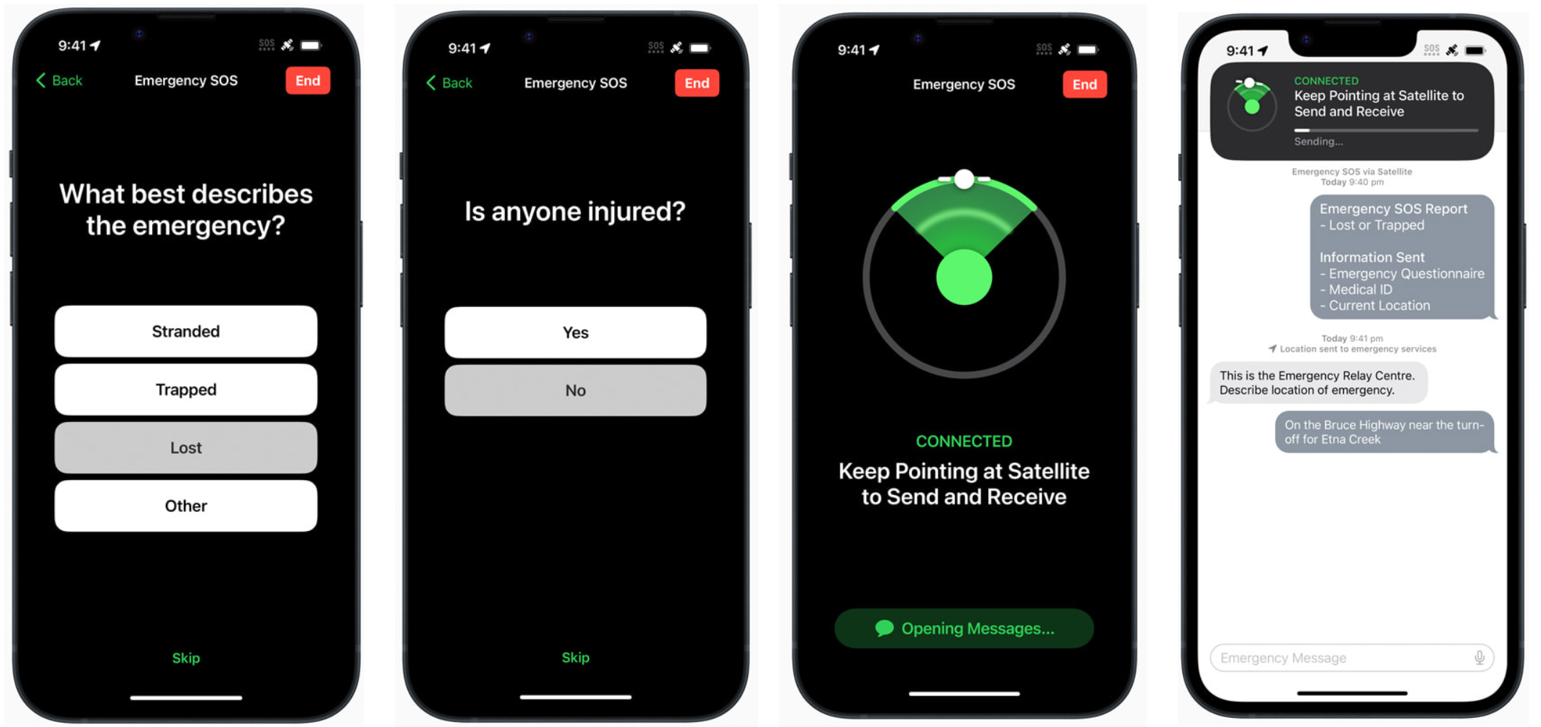 After this, the iPhone helps you to find a satellite.
A text message with the information you have added is sent and retrieved by a relay centre staffed with Apple-trained emergency specialists.
These pass on the information to Public Safety Answering Points (PSAPs) — or emergency services call centres — on the user's behalf to get them the help they need.
This is a technology still in its early stages of development. In many cases the person calling for help may or may not know if the SOS has been received. A response will be dependent on the availability and duration of the satellite connectivity.
When you use Emergency SOS via satellite, you can share your Medical ID and notify your emergency contacts. You need to set up this information before going somewhere with no mobile and Wi-Fi coverage.
MobileCorp - for smart remote connectivity
MobileCorp is a leading Australian MSP for cellular connectivity solutions for your people, places and things.
For regional and remote cellular connections we can offer a choice of
a Connected Vehicle 'network in a box' solution
a cellular + satellite solution
amplified Cel-Fi cellular connection
We have connected a range of locations in regional and remote Australia that have poor mobile reception. These include correctional facilities, defence force sites, national parks venues, and construction sites.
We also provide In-Building cellular coverage solutions for both urban and regional business sites.
Contact us to find out if we can resolve your connectivity issue.
---
About MobileCorp
MobileCorp is an enterprise ICT solutions company with a mission to deliver our customers a communications technology edge. We provide Managed Mobility Services, Enterprise Mobility Management, Complex Data and IP Networks, and Unified Communication solutions. We have a proven track record providing managed services for Australian enterprise and business, and we are a Telstra Platinum Partner.


Subscribe to our fortnightly newsletter