MobileCorp has launched a new 5G Site Assessment service for enterprise and business, that will validate the viability of a location for 5G as a primary or failover link.
This service is a response to the increasing confidence of Australian organisations in 5G and wireless WAN.
"We are seeing a sudden surge in enquiry from enterprise and business about 5G and wireless WAN in the second half of 2021.

"There is a fast dawning realisation from IT leaders that 5G and wireless WAN goes hand-in-hand with SD-WAN and the shift to cloud.

"As an access technology, 5G offers a cost effective, secure and reliable alternative to fixed infrastructure. This 5G Site Assessment will validate the viability of a specific location to access the throughput required for 5G wireless WAN."

Stephen Aravopoulos, Managing Director MobileCorp
What is a 5G Site Assessment?
A 5G site assessment will determine if the 5G signal received at a specific location is sufficiently strong enough to provide a viable access technology for primary or failover connectivity. It is undertaken by certified radio engineers and provides the testing and technical data required to validate a location's 5G availability.
What is included in a 5G Site Assessment?
Certified radio engineerswill prepare a comprehensive feasibility assessment report which will
identify optimal 5G base station - carrier agnostic
provide diagrams detailing the optimal base station(s), GPS coordinates, aligned carrier
measure 5G signal strength and throughput
provide diagrams of Line Of Sight findings
provide details of observed challenges e.g. signal contention, installation points.
recommend whether an external antenna would be required
provide an overall Site Feasibility Finding
determine if a 5G or LTE wireless WAN solution is feasible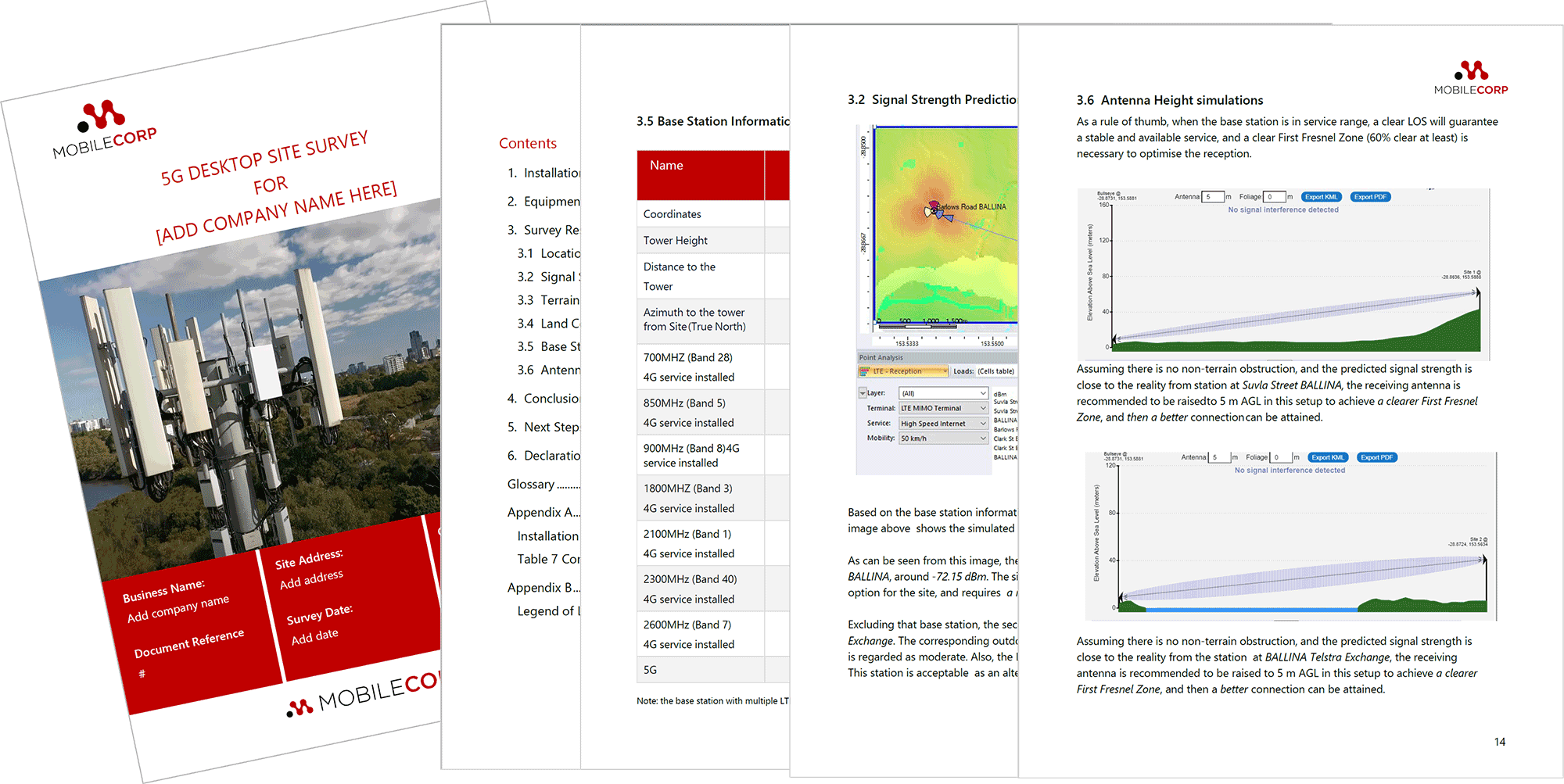 What does a 5G Site Assessment cost?
$350 inc. GST. That's it.
This is the first step in deciding whether 5G is going to be a viable enabling technology at a specific site. This is a one-off fee for a comprehensive 22-page report by a certified radio engineer that will provide 'peace of mind' assurance for planning your 5G solution.
What comes after a 5G Site Assessment?
Once a 5G Site Assessment confirms that 5G is available at a site, the next step is to move to a proof of concept.
On-Site Installation Quote - A certified technician will assess the optimal location to install the hardware. MobileCorp will provide hardware recommendations and commercials for installation.
Connect to 5G Network - Once you have ascertained which carrier provides your site with the best 5G signal, a 5G SIM(s) will need to be provisioned to provide 5G carriage.
Deploy and Manage - Deployment involves the installation onsite of the 5G adapter or router and any external antenna, including cabling to the Comms room. Depending on the 5G device being used - MobileCorp recommends Cradlepoint - a portal will be set up to provide cloud-based visibility of connectivity. MobileCorp offers a 5G Managed Service including 24/7 monitoring, Out-Of-Band management and troubleshooting, and technical support desk.

Five Enterprise Use Cases for 5G
#1. For Business Continuity and Failover
This is the most popular use case for 5G adoption in Australia in 2021. It is applicable to every industry vertical and organisations large and small. The benefits of a secondary access link are obvious to IT teams and having a failover fixed line that will in all likelihood be run in the same physical trench is not idea.
A wireless 5G link is protection against fixed infrastructure downtime due to misadventure, natural disasters, and carrier network outages.

#2. For Reliable Primary 5G connectivity to existing sites
5G is a viable access technology as a primary link for branch locations. Already MobileCorp has deployed 5G wireless WAN across the verticals of retail, hospitality, warehousing and logistics, and manufacturing.
Some enterprises will also utilise a 5G link to complement an existing fixed connection in an active/active setup to provide more resilience, being confident that the full load of that site can be carried for extended periods. A 5G Wireless Wan can
accommodate spikes in traffic by routing specific applications through the wireless link

be utilised to construct resilient VPNs

allow remote troubleshooting of both the wireless and primary router utilising out of band management through the wireless link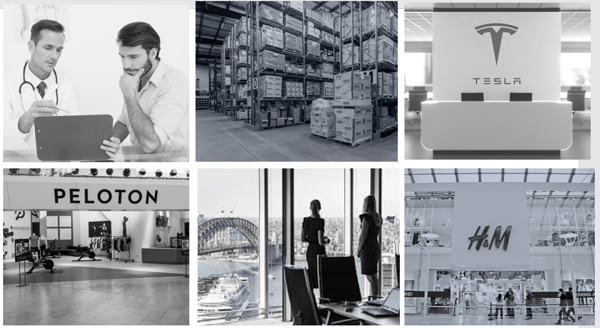 #3. For Fast Deployment of New Site Connectivity
A key benefit of a 5G wireless WAN is speed to deployment. Traditionally, the wait for NBN or fixed infrastructure can easily stretch into months, and that's without factoring in potential civil works. By comparison, a 5G wireless solution can be provisioned in around 4 weeks.
Enterprise customers who are setting up new retail branches, warehouses and other greenfield sites can benefit from a strong reliable connection during set-up and beyond. In many cases, if fixed infrastructure is eventually deployed, the 5G wireless access can be utilised as a secondary business continuity link.

#4. Flexible infrastructure for Semi-Temporary Sites
We are living in an increasingly agile world. The traditional fixed infrastructure is no longer fit for purpose for many business use cases.
Enterprise customers requiring a strong reliable connection for sites that may have a tenure of 6 months to 2 years will see obvious benefits in a 5G wireless solution. Examples could be construction huts, road and rail projects, retail kiosks and event venues.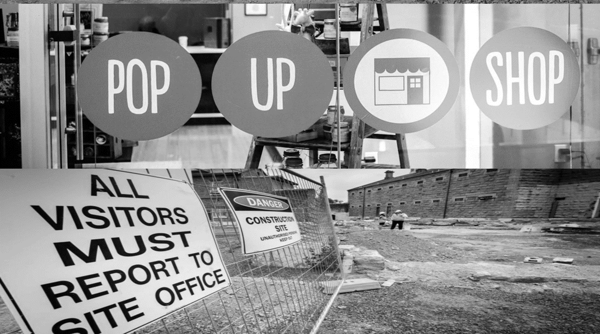 #5. For sites remote from fixed infrastructure
Think road and rail construction, mining, defence force bases, off-shore rigs, maritime, and agribusiness locations.
Telstra, in collaboration with Ericsson, hold the world record for the longest 5G call made to date. In June 2021, on a commercially available 5G phone, a call was made across 113 kilometres with both recipients connected to a single tower in Gippsland, Victoria.
Dependent on line-of-sight factors, it is possible to utilise the 5G public network for remote or regional locations not easily accessible or cost effective for fixed infrastructure.
An alternative is to consider a private 5G cellular network. A private LTE/5G network is a cellular network that is built specifically for an individual enterprise. Such networks are most commonly deployed on a single site, for example, in a factory or a mine.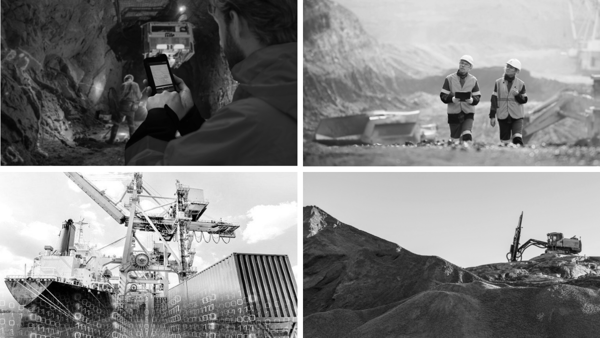 ---
About MobileCorp
MobileCorp is an enterprise ICT solutions company with a mission to deliver our customers a communications technology edge. We provide 5G for Business, Complex Data and IP Network and Security, Managed Mobility Services, Enterprise Mobility Management, and Unified Communication solutions. We have a proven track record providing managed services for Australian enterprise and business, and we are a Telstra Platinum Partner. Contact Us