The first step in considering a wireless WAN solution is to determine the viability of the cell signal strength at your business address.
Until 31 August 2022, MobileCorp is offering preliminary 4G, LTE, and 5G site surveys for enterprise and business customers at no charge.
Sometimes you just need a quick answer.
And you don't want to pay for a certified desktop site survey only to discover your business address is not viable.
Find out quickly if your business address is a candidate for a 4G, LTE or 5G wireless WAN solution without cost or obligation.
What is a Preliminary 4G|LTE|5G Site Assessment?
A preliminary site assessment will determine if the cell signal received at a specific location is sufficiently strong enough to provide a viable access technology for primary or failover connectivity.
NOTE; The Telstra brand name for LTE is 4GX, and the Optus brand name is 4G+.
What is included in a Preliminary 4G|LTE|5G Site Assessment?
A Preliminary Site Assessment is a one page report which identifies
What comes after a Preliminary 4G|LTE|5G Site Assessment?
If your Preliminary Site Survey confirms that 4G, LTE, or 5G is available at your address, the next steps are:

Detailed Desktop Site Survey - This is a 22-page report compiled by a certified radio engineer. It moves beyond the preliminary assessment to also consider line-of-sight barriers, whether an external antenna would be required and what hardware would be optimal. It also provides a document of record for governance and compliance purposes. If the Preliminary Survey delivers a finding that signal strength is optimal with tower(s) in a 1-2km radius, this survey may not be required. Learn more
On-Site Installation Quote - A certified technician will attend on-site to determine the optimal location at the address for the installation of 4G|5G Adapter or Router, and antenna if required. MobileCorp will provide recommendations and commercials for hardware, licensing, installation, connectivity and optional ongoing management.
Connect to 5G Network - Once you have ascertained which carrier provides your site with the best 4G|5G signal, a SIM(s) will need to be provisioned to provide carriage.
Deploy and Manage - Deployment involves the installation onsite of the adapter or router and any external antenna, including cabling to the Comms room. Depending on the device being used - MobileCorp recommends Cradlepoint - a portal will be set up to provide cloud-based visibility of connectivity. MobileCorp offers a 4G|5G Managed Service including 24/7 monitoring, Out-Of-Band management and troubleshooting, and technical support desk.
MobileCorp - your connectivity specialist MSP
MobileCorp is a leading Australian 5G specialist Managed Service Provider. We have deployed some of the first 5G-enabled networks across Australia including for Ticketek and Marine Rescue NSW.
We were successful in receiving Federal Government grant funding for a 5G innovation project with the Gidarjil Development Corporation. This project utilised Telstra 5G to steam high-definition video from underwater and aerial drones operated by indigenous rangers, via the Internet, to a remote location for Elders to view.
MobileCorp is also the Cradlepoint APAC Managed Service Partner of the Year 2022, and the Telstra Enterprise Innovation Partner of the Year 2021.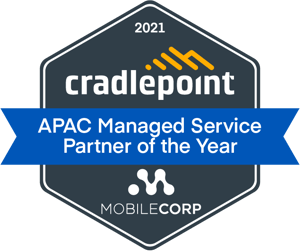 ---
About MobileCorp
MobileCorp is an enterprise ICT solutions company with a mission to deliver our customers a communications technology edge. We provide 5G for Business, Complex Data and IP Network and Security, Managed Mobility Services, Enterprise Mobility Management, and Unified Communication solutions. We have a proven track record providing managed services for Australian enterprise and business, and we are a Telstra Platinum Partner. Contact Us