MobileCorp has been announced as the Cradlepoint Managed Service Partner of the Year for APAC.
The award recognises MobileCorp as the leading Cradlepoint Partner in Australia and for being first-to market with a range of Cradlepoint technical, support and managed service capabilities.
The award also builds on MobileCorp being named the Cradlepoint APAC Growth Partner of the Year in 2021.
Why was MobileCorp chosen as APAC Cradlepoint MSP of the Year?
MobileCorp stands out for their skills and dedication, and the customer success they bring to the Cradlepoint partner eco-system, according to Cradlepoint APAC vice president of partner sales, John Boladian.
"We rely on our partners to architect and manage wireless WAN solutions for our customers, to enable them to innovate with 4G and 5G connectivity. MobileCorp was chosen based on their commitment to developing a wireless WAN practice, dedication to 5G training and customer enablement, as well as their performance over the last year."
The award follows MobileCorp being chosen by Telstra as the Enterprise Innovation Partner of the Year and the only Telstra Partner aligned to deploy and manage the Telstra 5G Enhanced Enterprise Wireless (EEW) solution which utilises the Cradlepoint W2005 5G outdoor adapter.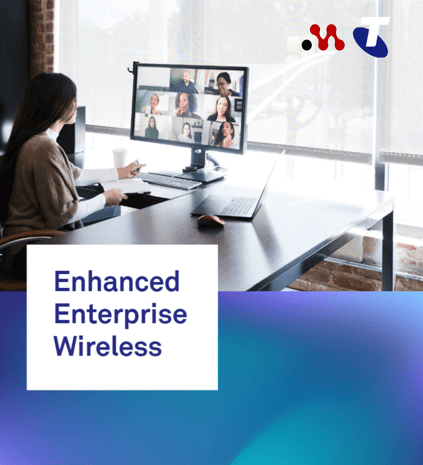 What is included in MobileCorp's Cradlepoint Managed Service?
MobileCorp offers cradle-to-grave management of Cradlepoint devices and Wireless WAN deployments.
These include a range of professional services and an ongoing monthly managed service.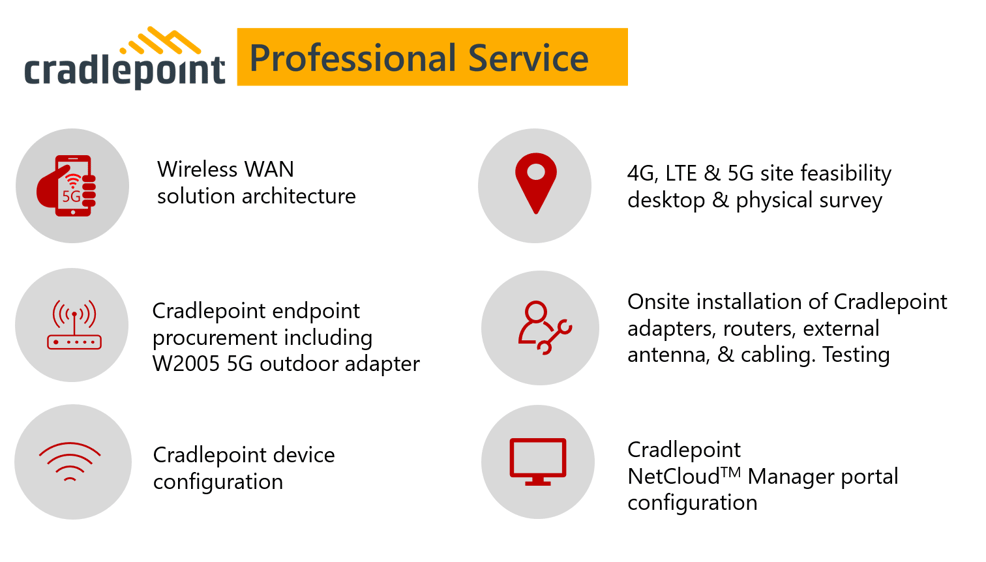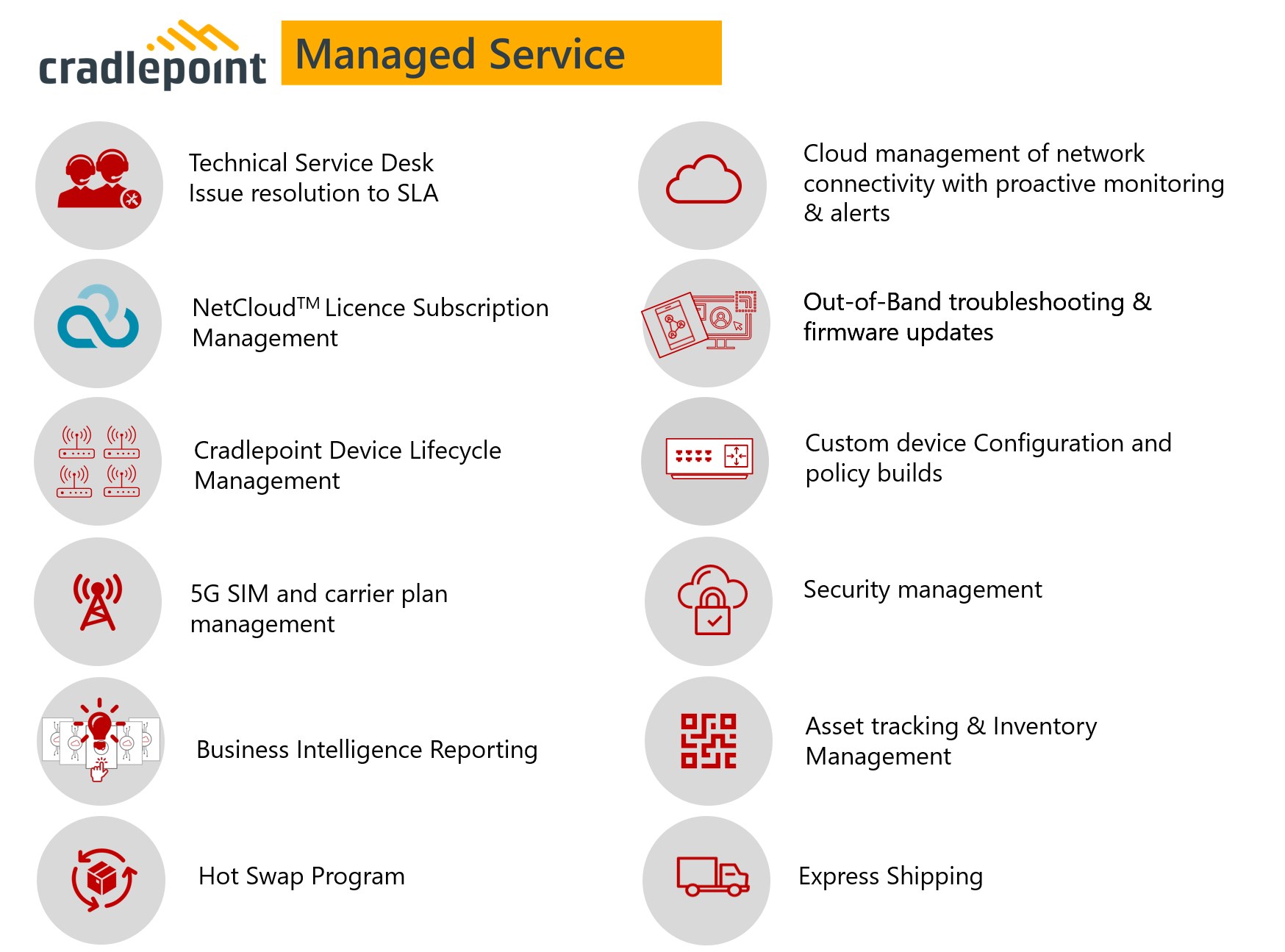 Do I need a Cradlepoint Managed Service?
At MobileCorp we often get asked if we think a Cradlepoint managed service is necessary.
That decision will really depend on several key factors
how you are utilising the Cradlepoint devices

the availability of internal skilled resource

the depth of knowledge around 5G, Wireless WAN, and Cradlepoint device capabilities and management inhouse - or if someone is able to be trained

your budget and ROI
Let's look at each of these key decision-making inputs briefly.
1. How will you utilise your Cradlepoint devices?
Are you utilising the Cradlepoint as the intelligent backbone of your network, for primary connectivity, or for mission-critical business?
Is it being used for bandwidth augmentation or traffic prioritisation, or to provide a secure VPN?
Or is the Cradlepoint providing a back-up link for business continuity, designed as a safeguard to automatically fail over and keep your network connectivity up if the primary link is compromised?
The importance of the role that the Cradlepoint device is playing in your network will be a key factor in determining if it would be beneficial to have an Cradlepoint Elite Partner proactively monitoring and managing for risk mitigation and productivity protection.

2. What internal resource do you have?
Internal IT teams are notoriously lean, and since the pandemic organisations have also had to deal with the Great Resignation. Meanwhile, Cradlepoint endpoints are purpose-built LTE and 5G wireless edge routers that enable the transition to a Wireless WAN. These are not your average 'set and forget' routers - or rather they don't need to be.
The NetCloud Manager provides a complete software platform which allows visibility and management of network, security, connectivity and IOT services.
There is the opportunity for 24/7 monitoring, automated alerts, and out-of-band diagnostics and troubleshooting.
The question to weigh up?
Will your level of internal resource will allow you to do two things - proactively monitor and manage the wireless network, and make the most of the advanced features available through Cradlepoint endpoints and NetCloud Manager?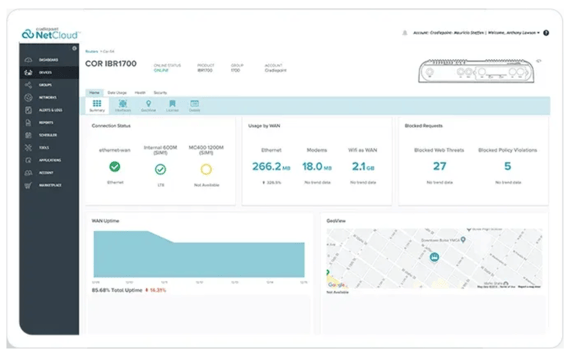 3. How is your internal team's knowledge of 5G, Wireless WAN, and Cradlepoint capabilities?
Cradlepoint endpoints are cloud-managed through the NetCloud portal and allow organisations to move with confidence to a wireless WAN or hybrid Fixed-SDWAN-Wireless environment.
5G and Wireless WAN are relatively new technologies which are constantly evolving. Will your internal team need to upskill its knowledge now and continue to do so to make the most of the possibilities on offer?
In addition, the Cradlepoint endpoints offer a broad range of features that can be enabled - or not - including
Network Services
Security Services
Next-gen firewall
Secure Internet Access
Web filtering
Threat detection
lIOT Services
Device-to-cloud connectivity
Device-centric security
Edge computing
Connection Management
LTE and 5G connectivity
Intelligent carrier selection
Cellular-tailored visibility and analytics
Integrated Wi-Fi
Once you have purchased a Cradlepoint device with NetCloud subscription, you will have access to Cradlepoint University, with a multitude of learning resources. This will provide you with the opportunity and the means to upskill internal team members.
However, it may make more sense for you to work with a Cradlepoint and 5G wireless WAN expert, at least in the beginning, while you are going through the build, configuration, and deployment.
Working with an Elite Cradlepoint Partner would also allow your internal team members to learn on the job while minimising the risk of errors or downtime.
Alternatively, it may be you decide your team does not need to be across this technology and it is more efficient to outsource it to a partner who is a leader in the space on a fulltime basis.
The beauty of the NetCloud Manager portal is, that even if your Cradlepoint management is outsourced, you will still retain visibility of the devices and network, and be able to make changes directly via NetCloud Manager if you wish.
4. What budget do you have available?
Whether you procure an outsourced managed service or decide to keep the workload inhouse, there is always a cost incurred.
A Cradlepoint Managed Service will usually be charged on a per device per month basis.
The price will be dependent on the Managed Service inclusions, the level of expertise required, and the number of devices being managed.
An indicative price range is $100-$200 per device per month.
MobileCorp is a Cradlepoint Elite Partner with the 5G for Enterprise Branch specialisation. We are also the Cradlepoint APAC Managed Service Partner of the Year 2022. As an enterprise ICT solutions company, our mission is to deliver our customers a communications technology edge. We provide 5G wireless WAN solutions, Managed Mobility Services, Enterprise Mobility Management, Complex Data and IP Networks, and Unified Communication solutions. We have a proven track record providing managed services for Australian enterprise and business, and we are a Telstra Platinum Partner.

Subscribe to our fortnightly newsletter