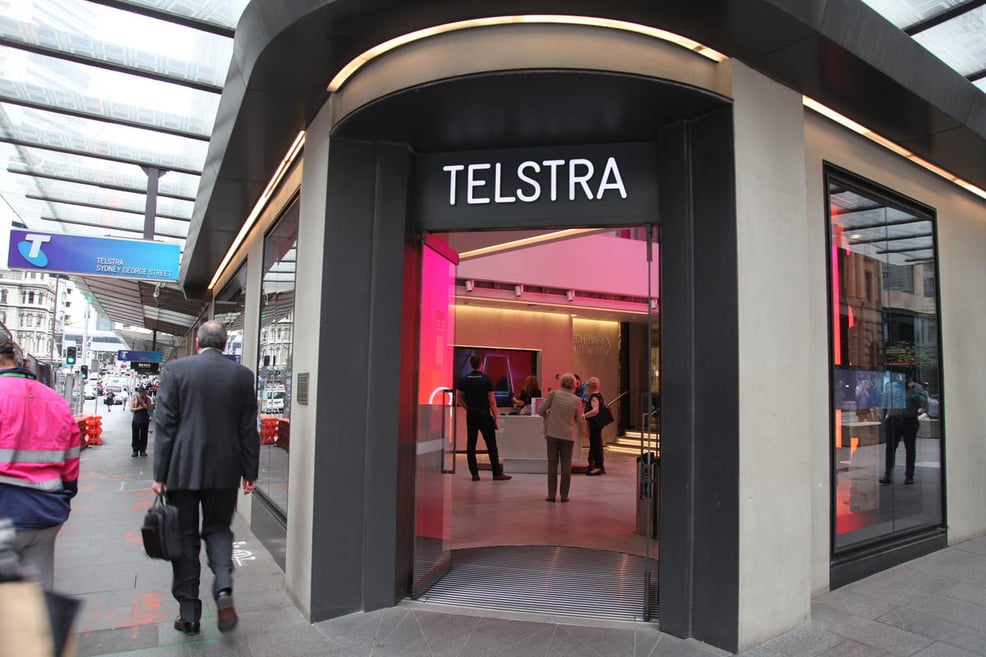 Telstra's new Adaptive Mobility plans are offering enterprise and business customers a new level of flexibility for a new era of accelerated digital change.
At the height of the lockdown period in mid-2020, Telstra made significant changes to its mobile plans for enterprise, business and government customers, introducing Adaptive Mobility.
What is Adaptive Mobility?
Adaptive Mobility is the name that Telstra has given to its new voice, data and mobile service plans for enterprise, business and government customers.
There are three Adaptive Mobility plan categories - Mobile, Mobile Broadband, and Enterprise Wireless.
Within each category there are three plan tiers - Essential, Enhanced and Epic. The only difference between the plan tiers is data allowance and data speed.

How does Adaptive Mobility compare to previous enterprise plans?
Adaptive Mobility signals a major shift in mindset from Telstra.

It is a move from a culture of 'carriage as a product', rigidly defined and locked-down for an inflexible contract term; to a culture of 'carriage as a service' able to be quickly scaled to enable mature and emerging technologies.
The new positioning of mobility as an agile, adaptive service has meant significant changes compared to previous Telstra enterprise, government, non-profit and business plans.
The main changes are:
the move from a traditional plan construct with minimum contract term, minimum spend commitment and minimum number of services; to a plan with no lock-in contract term and no minimum spend nor minimum service number.
moving from multiple plan types with never-ending fine print, to a choice of

three core plans which vary only by data allowance and download speed.
moving from comprehensive plans with prescribed service inclusions, to a simplified core mobile plan with optional add-on modules.
What are the key features of Adaptive Mobility?
The main feature differences of Adaptive Mobility compared to the previous traditional Telstra corporate plans are:
no lock-in contract term

only three plans - Essential, Enhanced, Epic - with varying data allowances and download speeds

more data and data sharing pool available on the data plans

no excess data charges in Australia on any plan, speeds capped instead

5G included on all plans

unlimited standard national calls and SMS on all mobile plans
monthly loyalty reward replaces upfront loyalty fund
self-service management unless opting for Adaptive Care module



What are the key benefits of Adaptive Mobility?
Adaptive Mobility is essentially a modular service model.
First select a Mobile, Mobile Broadband or Enterprise Wireless core plan, then choose from optional add-on features or services.
The key benefits are
Simplicity: Month to month commitments with no lock in contracts, radically simplified plan options to choose from and a modular construct that is easy to deploy, use and manage.
Adaptive: Change plan tiers, speed caps and add or remove users to meet seasonal requirements; customise with Add-ons and rapidly scale your connectivity requirements up or down to remain agile and responsive.
Cost Control: Control your monthly spend. There's no excess data charges within Australia, simple plan pricing and pay only for the features and services you need and none of the things that you don't.
What do the new Adaptive Mobility plans include?
Adaptive Mobility Fund: Get rewarded for your loyalty with 10% of the net monthly subscription commitment automatically banked into a Mobility Fund which you can then draw on to help offset the purchase of eligible devices or services.
Flexible Hardware options: Choose to purchase handsets either outright or with an adaptive mobility repayment, or decide to lease your devices.
Data Sharing: Data inclusions can be shared with other mobile and mobile broadband users on your same billing account, helping to balance the needs of heavy users with lighter users.
5G Mobile Network compatible: Adaptive Mobility plans are all 5G mobile network compatible so the solution you build today will be ready to benefit from the enhanced 5G technology .
Modular options: Pay only for what you need. Select from a wide range of Telstra mobility products and services to add in including mobile device management, mobile security, expense management, unified comms products, and more.
Tailored Support Options: Match your support model to your inhouse organisation and capacity. A self-service support portal is included in the plans, while co-managed or fully-managed support is also available from experienced Telstra partners like MobileCorp.
Managed Mobility Services: Have access to accredited Telstra Mobility and Services partners like MobileCorp and outsource mobility management and fleet operations to experts allowing you to focus on your core responsibilities.

Why has Telstra shifted to Adaptive Mobility ?
Being able to adapt to a changing environment with agility, rapidly scaling connectivity up or down, has never been more necessary than during the Covid-19 pandemic.
Undoubtedly, the move to Adaptive Mobility was being planned long before the pandemic, but Telstra's timing could not be more perfect.
The current rate of technological innovation is phenomenal as organisations pivot, reinvent, and reboot themselves, usually with an uptick in digitisation.
The old ways of putting connectivity in a box, locking it up for a couple of years and forgetting about it, now seems ridiculous.
The move to Adaptive Mobility was originally part of Telstra's T22 restructuring strategy and a response to intense competition in the sector. With Optus driving price points lower, and Vodafone already offering no lock-in contracts, the Adaptive Mobility model allows Telstra to take the initiative and focus on its competitive advantage in the areas of 5G, enterprise wireless, and its far-reaching range of mobility-enabled technology solutions.
Telstra has also launched Adaptive Networks, but that is another story.
MobileCorp offers Adaptive Mobility services
As a Telstra Platinum Mobility Partner, MobileCorp has an in-depth understanding of how to get the best out of the new Adaptive Mobility plans for enterprise, government, and non-profit organisations.
Leverage our knowledge, experience and access to Telstra account analytics to structure your new Adaptive Mobility contract.
Book a call to discuss Adaptive Mobility
What is Adaptive Care?
Adaptive Care is a support service module available to all new and existing Telstra customers on Adaptive Mobility plans.
Adaptive Care provides a single point of contact for an organisation's day-to-day mobility support. MobileCorp offers Adaptive Care from our Australian-located service desk. Services includes new connections/disconnections, change of plans or ownership, SIM replacement and activation, device orders, device warranty repair and replacement, and Telstra services like call diversion, messagebank, international roaming (not much call for that currently!)
Without Adaptive Care, organisations will need to manage their own day-to-day operational tasks through a self-service portal.
Adaptive Mobility Care is a managed service subscription provided for an organisation's entire account for a set bundle of services. Adaptive Care is charged at $3 per service/per month (inc GST).
Special Introductory Offer: All new Adaptive Mobility Care subscribers will be charged $0 per service/per month until January 31st 2022.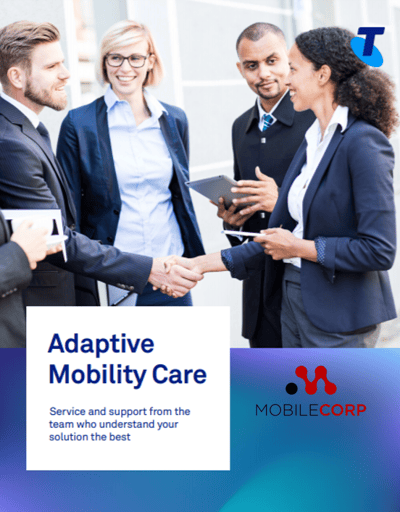 ---
About MobileCorp
MobileCorp is a Sydney-based communications technology company. We support enterprise, business and government organisations by providing managed endpoints and ICT services including mobile device security, mobile device management, expense management and managed connectivity solutions. We are also a foundation Telstra Platinum Partner and a proven track record of success over 30+ years of service.