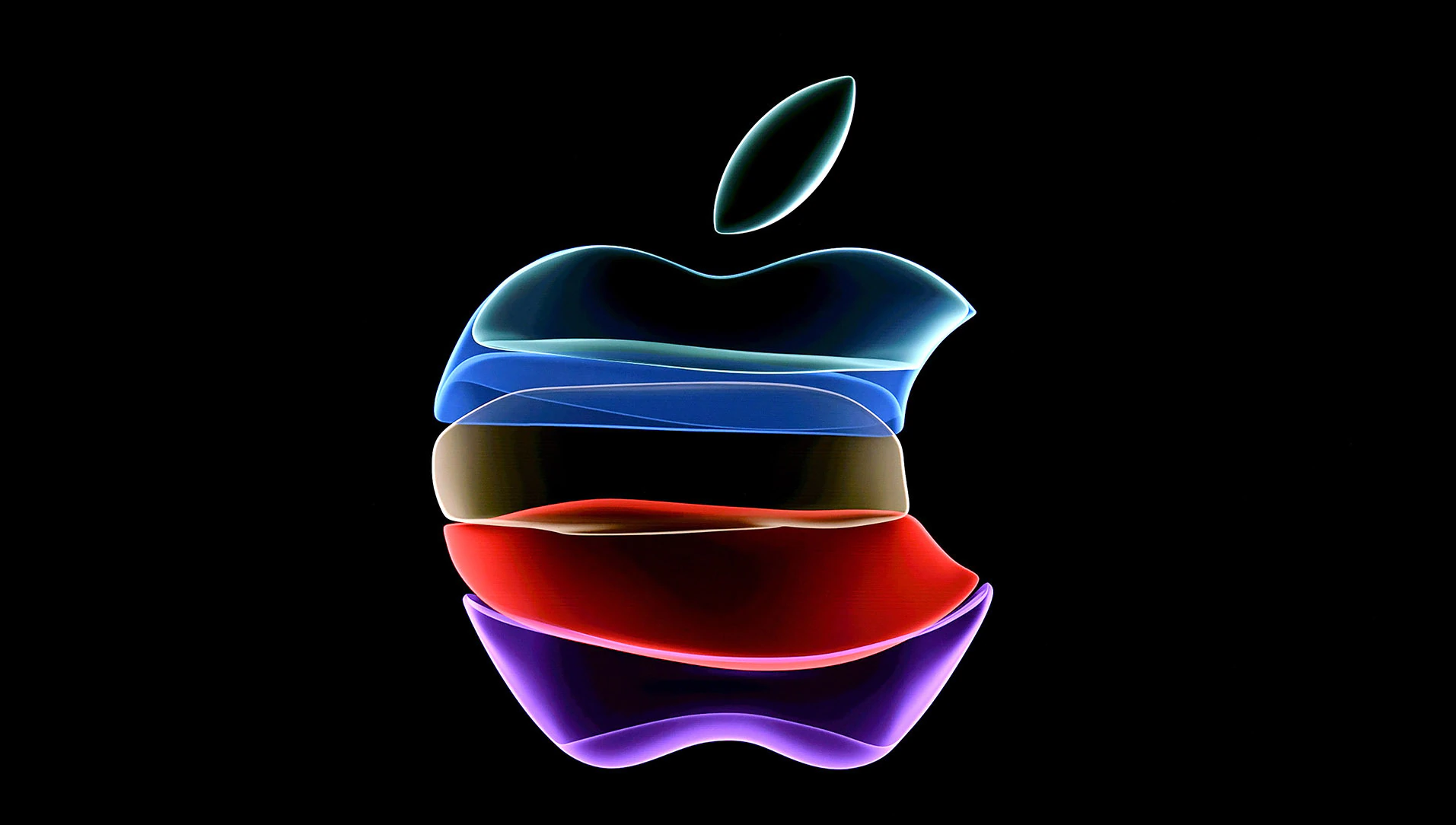 Apple Device Leasing has suddenly become very popular with Australian businesses looking to minimise and manage the financial impact of refreshing their Apple devices.
From mid-2020 MobileCorpbegan seeing a definite shift by Australian enterprise and business away from Outright Purchase and Mobile Repayment Options (MRO), and towards leasing agreements for their Apple devices.
What is Apple Device Leasing ?
Apple Device Leasing is a financing option through Apple Financial Services for the purchase of Apple devices including iPhone, iPad, and Apple Watch; as well as Mac and Apple TV.
This is an official Apple-backed program, available through Telstra, and designed to assist enterprise and business to procure Apple technology by
leasing devices at a price point more than 20 percent cheaper than the outright purchase price
moving hardware costs from CapEx to OpEx. For Telstra customers the lease fee is applied on the Telstra bill over a 24 or 36 month term
managing end-of-life device disposal pain points
What is the Apple Device Lease pricing ?
You won't readily find pricing for Apple device leasing in the public domain on either the Apple or Telstra website. This is a managed solution and pricing is dependent on the number and type of devices to be leased, and the lease term.
However, as a general guide, Apple leasing through Telstra typically delivers a saving of more than 20 percent over outright purchase, and 10 percent over a Mobile Repayment Option.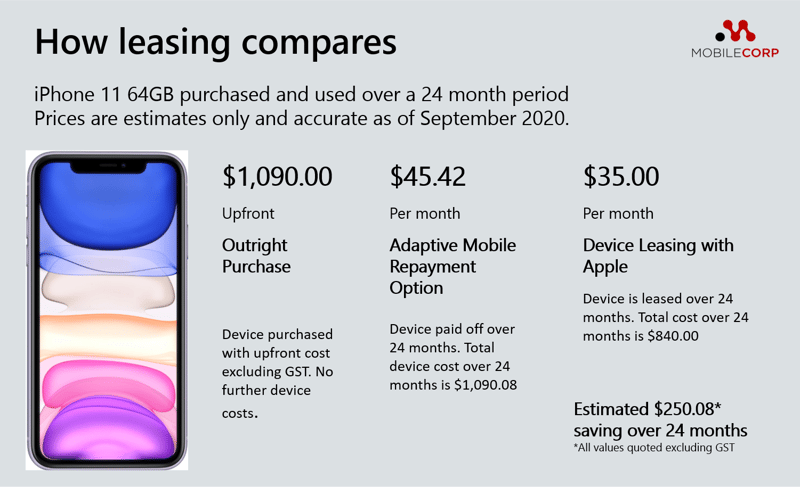 What happens at the end of the lease term?
Given this is a lease arrangement, the devices remain the property of the lessor and are returned at the end of the lease term.
Customers are proactively contacted 90 days out from the end of the lease term, and device(s) must be returned within 30 days of the end of the lease. During this 30 day period, new devices can be deployed under a new lease agreement.
Throughout the lease period, the customer is required, at their own cost and expense, to keep the devices in good repair, condition and working order, except for ordinary wear and tear.
When the devices are returned, the condition of each is physically assessed and deemed to be either
In Good Working Condition

Damaged

Beyond Economic Repair
Any devices deemed to be Damaged or BER will incur a penalty fee. This fee is agreed at the outset of the lease period.
[NOTE: The actual device does not have to be returned. Any equivalent Apple device can be substituted.]

Why has there been a shift towards Apple device leasing?
The growth in favour of leasing is due to four reasons
a response to the changing plan constructs from Carriers

a cost cutting measure

economic pressure supporting a shift from CapEx to OpEx

a prescribed device upgrade process and end-of-life management process
In recent years, many enterprise organisations have purchased their Apple devices outright by utilising 'Tech Funds' or 'Loyalty Funds' from Australian carriers. These funds were negotiated as part of the mobile contract and were a 'reward' for committing to a specified contract term, minimum number of services and a minimum monthly spend. The longer the contract term and the greater the spend, the higher the funds provided to be spent on hardware or managed services.
Alternatively, organisations could opt for an MRO arrangement where the cost of the device is bundled with specific business plans and spend commitments, and paid off in monthly instalments with no upfront payment and no interest.
In recent months, Telstra has announced new business plans with no lock-in contract term or spend commitment. However the trade-off for increased flexibility has been the reduction of upfront 'loyalty' funding which had traditionally been spent on hardware or managed services.
This has made organisations reassess how they will finance the upgrade of their mobile fleets.
The financial impact of Covid-19 and resulting economic pressures, has also been a factor with organisations attracted to the cost saving of around 20 percent compared to outright purchase, and the additional benefits of an OpEx model.
What are the benefits of Apple Device Leasing from Telstra?
Cost savings

- Leasing provides a financial saving which is typically around 20 percent less than that offered through MRO or outright purchase.

OPEX rather than CAPEX

- No upfront capital expenditure. Spread payments over the lease term as an operational cost.

Continual fleet upgrade - Once a master lease agreement is entered into, new devices added to the fleet as leasehold items offering continual flexibility.
Refreshed device lifecycle every 2 to 3 years

- The rate at which software and productivity tools are evolving, and the eminent spread of 5G means many organisations would be looking to upgrade these business critical tools every 2 to 3 years in line which aligns nicely with a lease agreement.

End of life device management

- Leasing removes the question, 'what to do with end of life devices'? Devices are collected and returned to the lessor. The organisation is exonerated from the corporate and social responsibility of disposing of the devices in a secure and sustainable manner.
What are the disadvantages of Apple Device Leasing ?
Have to refresh devices every 24 to 36 months

- organisations must refresh their fleet and start a new lease - inevitably for a higher priced device - at the end of each lease term.

Assets not owned

- this means that custom corporate applications, and any private and corporate data, will need to be secure wiped from the device at the end of the lease term before return.

Device return management - at the end of each lease the organisation faces the logistical challenge of retrieving all devices, reconciling them with the lease records, and returning them to the lessor. There is also the potential for penalty payments if the devices are not returned in a reasonable condition. This is where having a Managed Mobility service provider like MobileCorp as a resource comes into play. A MSP would maintain an asset register and ownership records, and can manage the lease retrieval and redeployment project.

Locks organisation into lease period

-

An interesting point for organisations to consider... under the new 'no lock-in' business plan constructs the customer is not locked into a carrier for any specific contract term; but if opting for leasing they will still be locked into the term of the device lease. In effect, this means it would be difficult to shift carrier even with a 'no lock-in' connectivity contract.
How can a business access Apple Device Leasing from Telstra?
MobileCorp is a Telstra Platinum Partner and can facilitate Apple Device Leasing for Australian businesses. The application process is not arduous but does include a credit check and there is a minimum hardware spend of $5,000. Contact Us
---
About MobileCorp
MobileCorp is an enterprise ICT solutions company with a mission to deliver our customers a communications technology edge. We provide Managed Mobility Services, Enterprise Mobility Management, Mobile Security, Complex Data and IP Network, and Unified Communication solutions. We have a proven track record providing managed services for Australian enterprise and business, and we are a Telstra Platinum Partner.