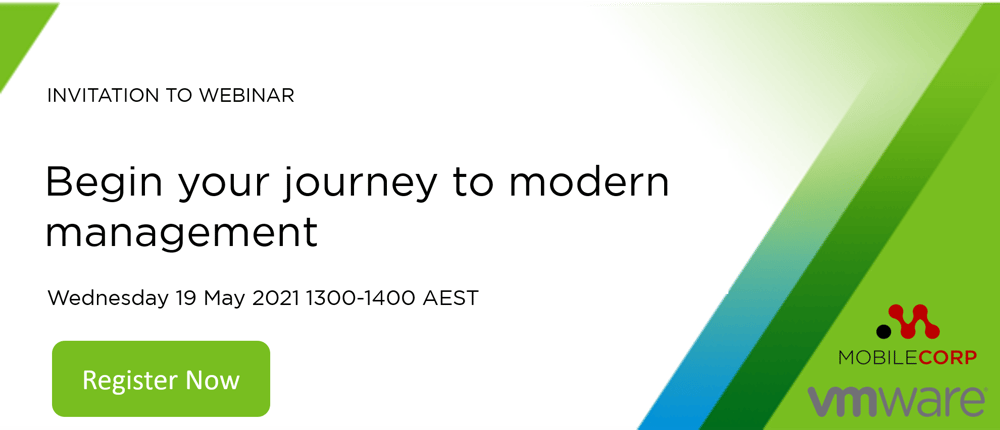 Today's hybrid workforce - distributed between office and remote - demands a modern approach to management of Windows 10 devices.
Topic: Modern Management is the blueprint for a Future Ready Workforce
Webinar: Wednesday 19 May 1.00-2.00pm AEST
Speakers: VMware | MobileCorp
An in-depth presentation covering why modern management is critical for digital readiness in the age of remote work.





Understand the best practices on making the move to modern management and what we're hearing from customers when they take the modern management journey.
Learn how to unify mobile and PC management
As the workforce becomes more distributed, IT must continue to fulfill its central mission: to connect and secure endpoints so that employees can get the apps and services they need to stay productive and do their best work–wherever they are.
Yet many IT teams have discovered that traditional PC management can't keep up. It doesn't provide the agility and security needed to support employees in every location, quickly and consistently.
Traditional v Modern Management
If you can't make the date reach out to us directly on 1800 253 242 or send us a message.
---
About MobileCorp
MobileCorp is an Australian communications technology company providing Mobile Device Management, Managed Mobility Services, Complex Data and IP Networks, and Unified Communication solutions. It has a proven track record providing solution architecture, build, deployment, and managed services for Australian enterprise and business.