The Telstra 5G network is delivering new speed records with Sydney, Brisbane and the Gold Coast all topping the 1000 Mbps download benchmark.
In the first months of 2021 Australia's city centres and urban neighbourhoods have seen Telstra 5G speeds increase by over 360% to exceed 1000 Mbps.
Yesterday - April 28 2021 - outside the MobileCorp office in Mascot, Sydney, we clocked 1000.15 Mbps download and 94.86 Mbps upload on the Telstra 5G network. Three months ago, in January 2021, at the same location we measured a comparative 5G speed of 277 Mbps download and 33 Mbps upload.
Yesterday's test was carried out using an iPhone 12 Pro accessing the Telstra 5G network with a Telstra Business Plan XL. The slower January speed test was carried out using an iPhone 12 with a Telstra Business Plan.
Telstra 5G speeds smashing 1000 Mbps
The top speeds recorded across the country were Sydney with a download speed of 1120 Mbps, Brisbane 1023 Mbps, and the Gold Coast 1077 Mbps.
Adelaide, Canberra, Melbourne and Toowoomba have all measured speeds of 900+Mbps on the Telstra 5G network.
These results have Telstra well ahead of its nearest rivals, Optus, whose fastest 5G network speeds were recorded as 746 Mbps in Melbourne, followed by 740 Mbps in Sydney.
The speed testing was carried out by independent consultancy, umlaut, and published as the 5G Australia Audit Report December 2020-January 2021.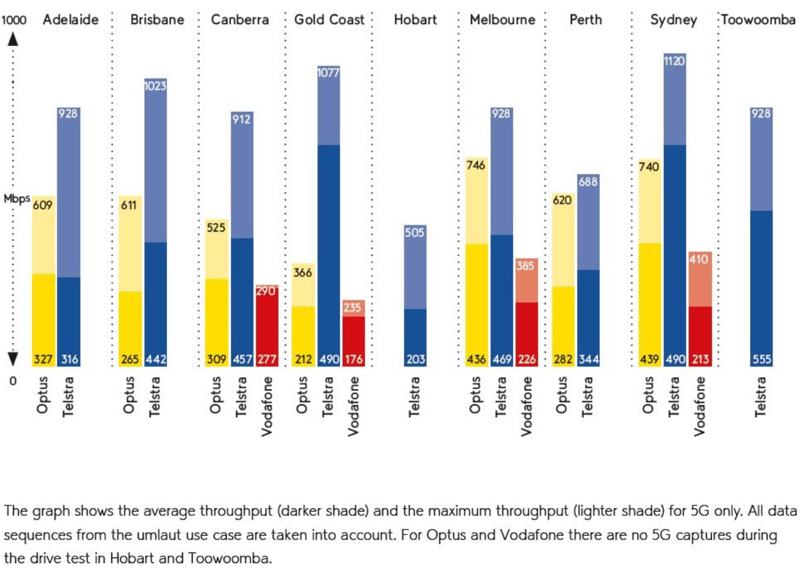 Three reasons why 5G is getting faster in Australia
The first thing to note is: not all 5G networks are the same and the speed achieved is noticeably different from one network to another. Speeds will also be impacted by the mobile plan you have chosen and also the 5G device you are using.
#1 Extra cell sites equals stronger signal
5G signal strength begins to weaken after 500 metres. More cell sites means improved signal strength which equals faster speeds. Telstra has significantly outstripped its rivals in the number of cell sites it has rolled out.
Telstra switched on its 3000th 5G site in February 2021 – that's nearly 3x more 5G sites than Optus.
As a result, Telstra has more 5G availability than any other carrier in each of the nine cities surveyed by umlaut, with availability being the percentage of time spent in 5G coverage along the 5000 kilometres of road surveyed.
In Sydney, Telstra users were accessing a mixed session of 5G/LTE for 61% of the time, compared to Optus users on 31% and Vodafone users only 4%.
In Hobart there is little reason to own a 5G phone or have 5G included in a mobile plan, unless the user is with Telstra. Telstra users in Hobart were accessing a mixed 5G/LTE session 88% of the time while both Optus and Vodafone failed to deliver any access to 5G.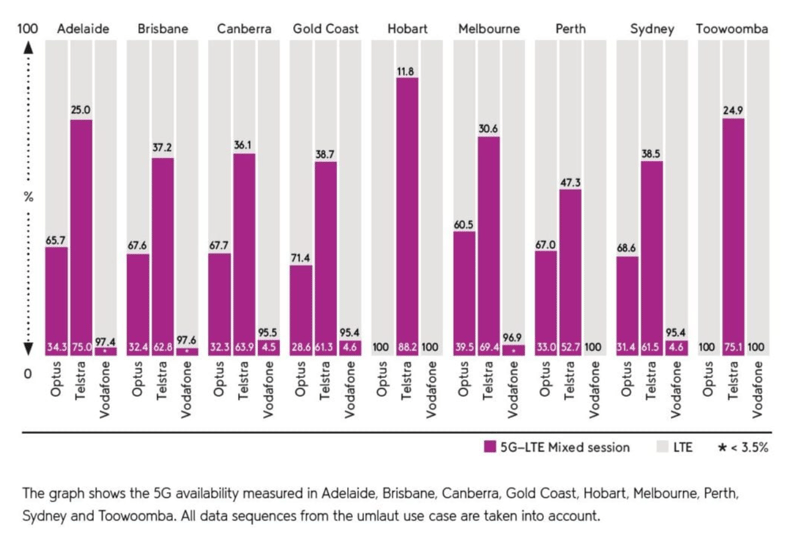 #2 5G Plan optimisation
Australian carriers are constantly optimising their 5G networks and making the benefits available to consumers.
Telstra has recently introduced the Adaptive Mobility Accelerator as an add-on option for its Enterprise business plans.
Accelerator provides a Quality of Service guarantee which promises "a speed uplift on our 4G and 5G networks when using your shared monthly data allowance."
Telstra says users will notice the benefits of Accelerator more when undertaking high bandwidth tasks such as video streaming or downloading large files and when in areas of higher customer demand on the network.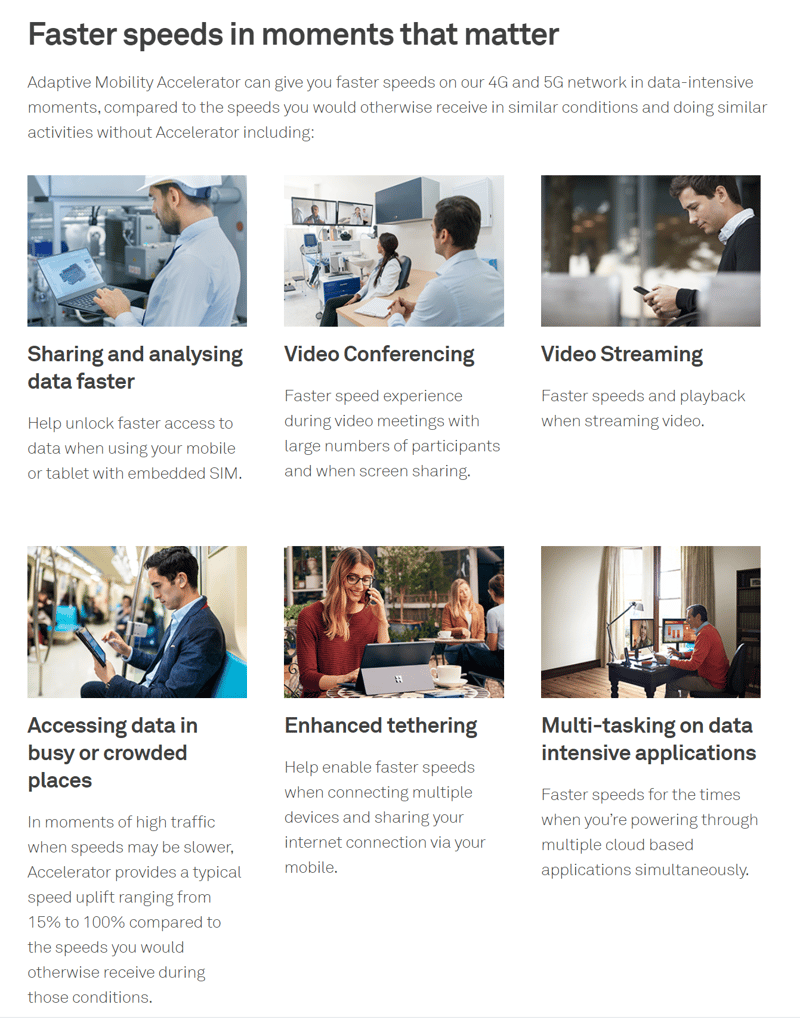 For SMB, Telstra has Business Demand Data which has been expanded from its 4G business plans, to select 5G business plans with higher data allowances.
Telstra says Business Demand Data can help provide a more reliable and consistent data connection on the Telstra Mobile Network" during times of "unexpected surges in data traffic" that can impact mobile download performance.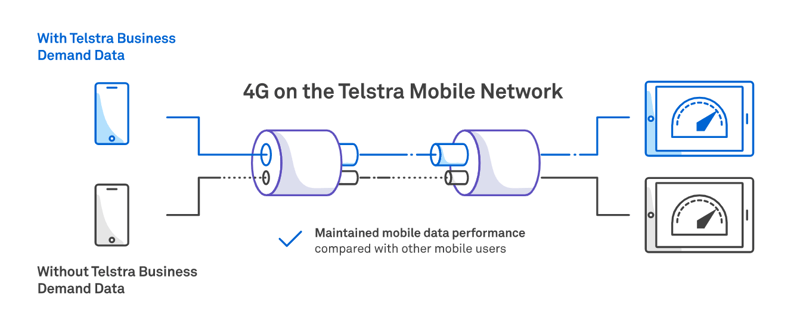 #3 Apple iOS 14.5 update optimises for 5G
On April 26 2021, Apple released iOS 14.5 which included improvements to optimise 5G performance. The headline update from a 5G perspective was the new dual SIM support, but Apple also highlights Smart Data Mode enhancements.

Leaving aside dual SIM support - which is a whole other story - what is Smart Data Mode?
With iOS 14.5 Apple says it has improved the iPhone 12's Smart Data Mode. This is an option hidden in the cellular section of the Settings menu that makes the phone automatically switch between 5G and LTE depending on which one has better service at the time. With iOS 14.5, it should provide better battery life and performance than before.
Interestingly in the United States, T-Mobile's standalone 5G network is also accessible to iPhone users who download iOS 14.5. In the same menu as Smart Data Mode, T-Mobile customers can now switch to a new, faster "5G Standalone" mode. Prior to this, T-Mobile users couldn't use 5G without also relying on LTE to some extent.
In Australia, Telstra also has a 5G Standalone Network so perhaps this feature could soon be available here too.
Read more about Telstra 5G for Business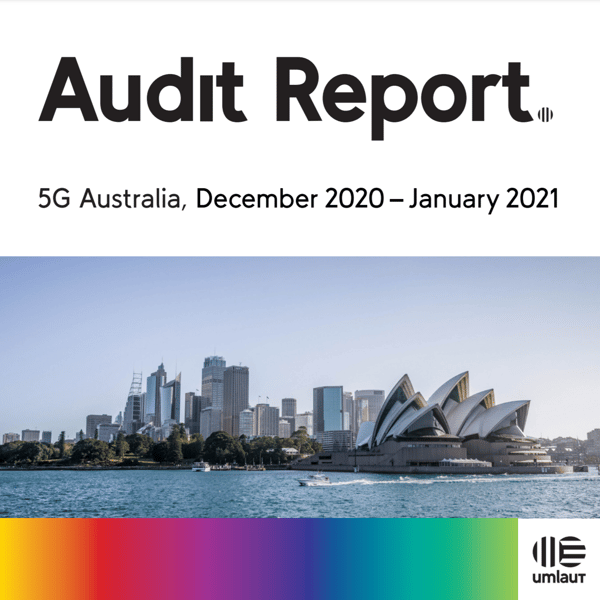 ---
About MobileCorp
MobileCorp is an enterprise ICT solutions company with a mission to deliver our customers a communications technology edge. We provide Managed Mobility Services, Enterprise Mobility Management, Complex Data and IP Network and Security, and Unified Communication solutions. We have a proven track record providing managed services for Australian enterprise and business, and we are a Telstra Platinum Partner. Contact Us