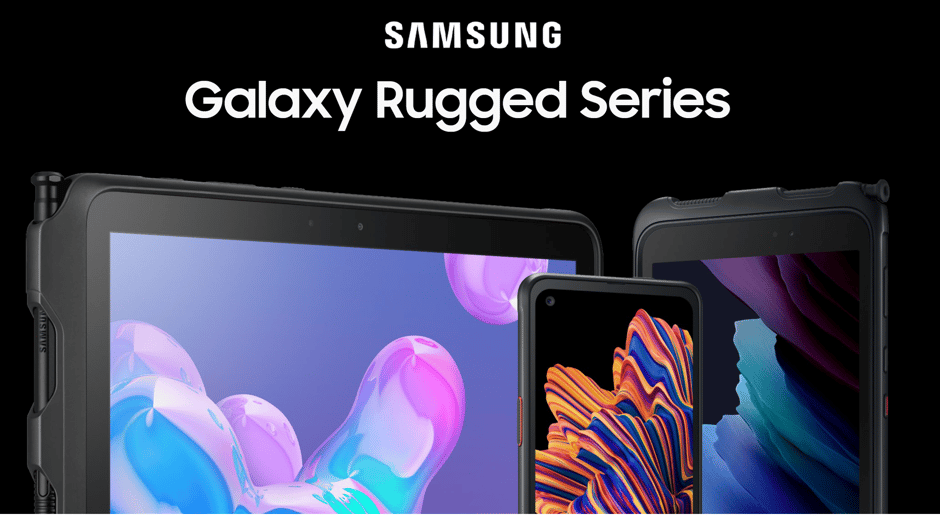 Samsung has launched a series of new rugged devices targeting frontline and field workers in specific industry verticals including health, transportation, manufacturing and the public sector.
The new Business Rugged series is made up of two mobile handsets - the XCover 5 and XCover Pro - and two tablets - the Tab Active3 and Tab Active Pro.
The devices are now available in Australia but are only sold through business channels by Samsung Authorised Resellers like MobileCorp, and the carriers.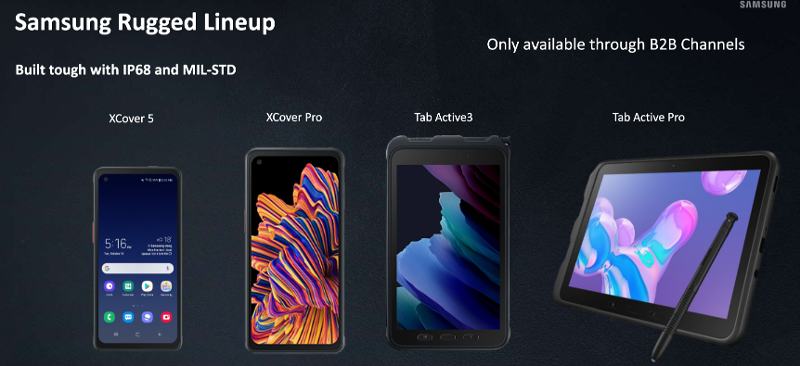 Samsung has taken rugged devices to the next level
Samsung has taken the rugged device sector to a new level with multi-functional design and accessories bundled by industry.
The rugged series have been designed for 'a day in the life" of workers in the most demanding professions and environments.
Functionality swaps simply between personal and work use, and the devices are capable of doubling up as phones, bar code scanners, mobile point of sale, and 'push to talk' radios.
Video: For All Day Rugged
Knox Capture - Barcode Scanning Ready
All four rugged devices are barcode scanning ready with a feature known as Knox Capture.
Based on Scandit technology, Knox Capture enables single, selective, or batch scanning for a wide range of barcode types.
The XCover button on the left side of the device is set as the default for scanning but the hardware key can be remapped to trigger scanning, or the keyboard wedge can be used to fill in any field with a scan, without typing.
Either front or back camera can be used for scanning, and a UI button in the camera scanning overlay is used to turn the device flashlight on and off while scanning in dark conditions.
Knox Capture can be integrated with business apps and workflows without requiring software development or system integration. Data formatting can be applied, and adding rules can modify data based on certain actions and criteria.
Knox Capture can be bulk deployed over-the-air to target devices using a range of EMM platforms with profile files.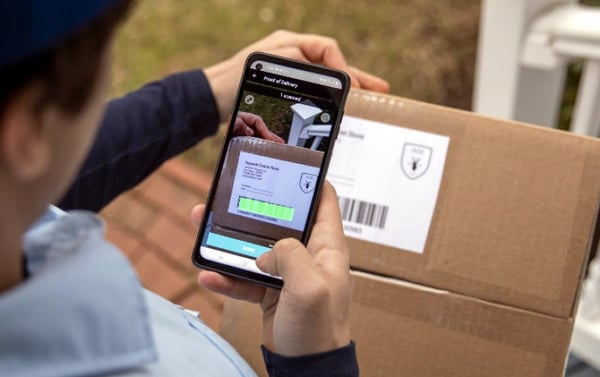 Push to Talk functionality
There are two programmable buttons - one on the top and one on the left side - on each device. Either button can be allocated to the 'push to talk' (PTT) function and each can be easily used with gloves and in wet conditions.
If you are thinking PTT is similar to the traditional 'walkie talkie', then think again. PTT groups do not require line-of-sight or even close proximity. PTT groups can be connected by a mobile network, WiFi, satellite broadband, or bluetooth. Anyone with an internet connection anywhere in the world – with the right permission – can join a PTT group or private conversation.
PTT also differ from walkie-talkies in that they are multi-purpose - video, voice and data - and not single-use voice only devices.
Samsung has partnered with Microsoft to bring the Microsoft Teams 'Walkie Talkie' PTT app to the Samsung Business Rugged series.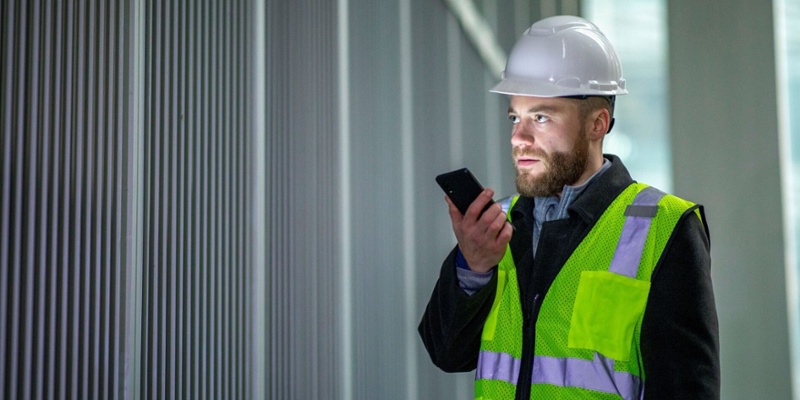 Tough Devices for Tough Conditions
Samsung rugged devices meet all the expected environmental durability measures for drop protection, anti-shock impact, water and dust resistance. However these devices go a step further by thinking about how the user is dressed and the demands of the work.

Touch Sensitive
Touch sensitivity settings ensure screens are responsive even to gloved hands. This allows employees to stay protected while staying productive.

Replaceable Battery
Being out in the field means having sufficient battery life to get employees through their day. Samsung rugged devices have replaceable batteries, which can be easily swapped over while on the move.

Element Proof
With an international standard rating of IP68*, Samsung rugged devices withstand water up to 1.5 metres deep for 30 minutes, and are also dust proof.

Military Grade Certified
Samsung rugged devices meet the MIL-STD-810G* anti-shock standard designed by the US Military to accurately assess device limitations. Testing methods include a drop test onto a plywood impact surface over concrete from a height of 1.2 metres.
Samsung Business Rugged Series Devices
XCover 5 RRP AUD$449
The Galaxy XCover 5, is a rugged device ideal for a mobile workforce at a price point attractive to business yet sophisticated enough to handle demanding field and factory roles. The Galaxy XCover 5 has all the same functionality as its more expensive stablemate but has a smaller form factor, lower spec camera, and less powerful battery and chipset. It focuses on durability and comfort, being lighter and easy-to-hold, with improved touch sensitivity for use with gloves. It comes with an easy-to-charge, replaceable battery for all-day productivity, and has both barcode scanning and PTT capability,
XCover Pro RRP AUD$799
The Galaxy XCover Pro is Samsung's flagship rugged smartphone with a larger 6.3 inch (16 cm) screen designed to deliver an optimal viewing experience for photos, maps and other visual content like health scans and construction plans. It has a high quality camera array with 25MP and 8MP dual rear cameras and a 13MP front camera for when photos in the field are important. The powerful 4050 mAh battery is removable and replaceable, and three buttons are programmable for access to specific applications.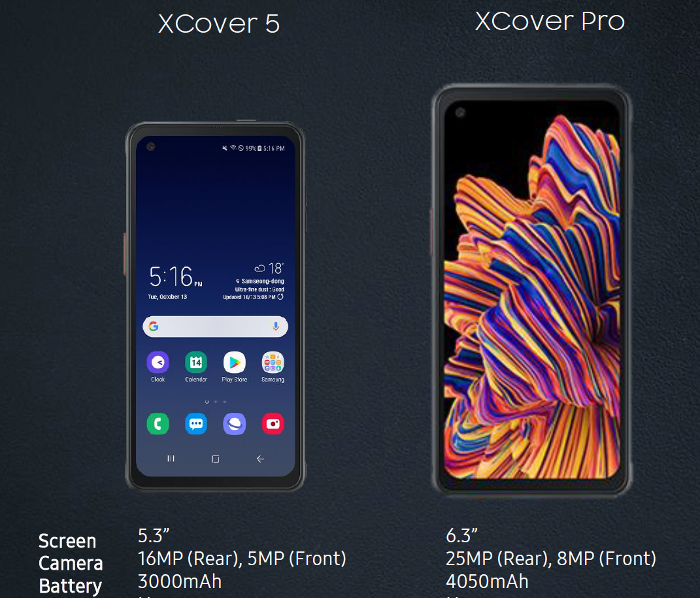 Tab Active3 RRP AUD$849
In the tablet space there is also a choice of two form factors. The more compact Galaxy Tab Active3 has an 8-inch screen which offers ample workspace and mobility when you're moving between work sites.
Both rugged tablets come with the S Pen, enabling workers to get the signatures they need for shipping manifests or quickly make notes on building plans while on site.
The Tab Active3 has all the functionality of the Tab Active Pro including barcode scanning, PTT, durability, sensors, and mobile Point of Sale mPOS. Both devices are secured, deployed and managed by Samsung Knox.
Tab Active Pro RRP AUD$1179
The Galaxy Tab Active Pro offers a large, full HD 10.1-inch display, ideal for multitasking and viewing detailed images like blueprints, patient files, spreadsheets, and analytics dashboards.
There are an array of sensors including accelerometer, barometer, fingerprint sensor, gyro sensor, geomagnetic sensor, hall sensor, RGB light sensor, and proximity sensor. The gyroscope and geomagnetic sensor work in tandem with the AR core for workspace interaction in a whole new way.
Often mounted in-vehicle, the 7,600mAh battery can last for 15 hours of video playback for long periods of work even when outlets are few and far away. The battery can be removed and replaced. The POGO pin charger means the tablet can also be connected to a variety of accessories while charging at the same time.

Samsung Rugged Smartphone or Tablet?
The key differences between choosing an XCover handset versus an Active Tab tablet besides the obvious screen size and battery sizes, are the S pen and the Samsung DeX desktop experience.
The S pen opens up a range of actions from notations on documents, collecting signatures on delivery or payment, sketching diagrams or plans, marking a checklist, or capturing a partial screenshot.
Samsung DeX allows employees to connect to a Smart TV or monitor and cast onto the bigger screen, which can be useful for presentations, examination of patient scans or construction plans, planning a route on maps,

Samsung Business Rugged Use Cases
The obvious use cases for rugged devices are professions on the frontline, in the field, or in-vehicle.
Retail: Barcode scanning, mobile e-payment, and push to talk features on top of the usual internet browsing and voice calling makes a rugged device the perfect 'all in one' device for retail workers. Discreetly call for backup at the register, for customer assistance or make announcements to staff with PTT. Stay on top of order fulfillment reading dozens of barcodes with a single wave across the shelf, eliminating the need for dedicated inventory-taking devices. Keep the gloves on when safety requires it.
Transportation: The Business Rugged devices handle the extremes of temperature in the cabin of vehicles when other devices are likely to become overheated and shut down. Additional features include scheduling, navigation, route tracking, fleet management telematics integration, electronic logbook, predictive maintenance, and satellite 'Push to Talk' which is particularly relevant to Australia's remote locations. For passengers, there is the option of onboard entertainment, payment gateway for food and beverages, reservations and travel guides.
Public Safety: Situational awareness is one of the greatest challenges facing incident commanders, whether they are in charge of police, fire rescue, emergency medical services (EMS) or a combination of these responses at an emergency scene. The Samsung Business Rugged devices can cope with challenging environments tracking every officer's GPS location in real time and sending help if the officer's heartbeat goes dangerously high. Dispatch can also provide officers with maps containing driving directions, alerts to obstructions and roadblocks, and drone and ground footage of the incident scene as they come in. MCPTT is a push-to-talk experience in mission critical situations designed for emergency communications. Secure data with the Samsung Knox security suite.
Manufacturing: On the factory floor, the Samsung rugged devices are durable enough to withstand drops and knocks, water and dust exposure, and are designed with a protective glove-sensitive screen. Dual LED helps work in low-light conditions. As we move towards Smart Factories and 5G, rugged devices are the key to real-time visibility of operations, using existing asset data like CCTV or Thermal Imagining. Paper-based systems can be eliminated by using the near-perfect-accuracy S Pen.
Health: The agility required of healthcare services has been highlighted by the pandemic with the advance of telehealth, pop-up clinics, and the growth of healthcare operatives in the field. Confidentiality of patient data is crucial and secured by the Samsung Knox suite. The S pen can be used to take patient notes, highlight features on scans, write out treatment plans or medication instructions, or have a the patient provide a signature.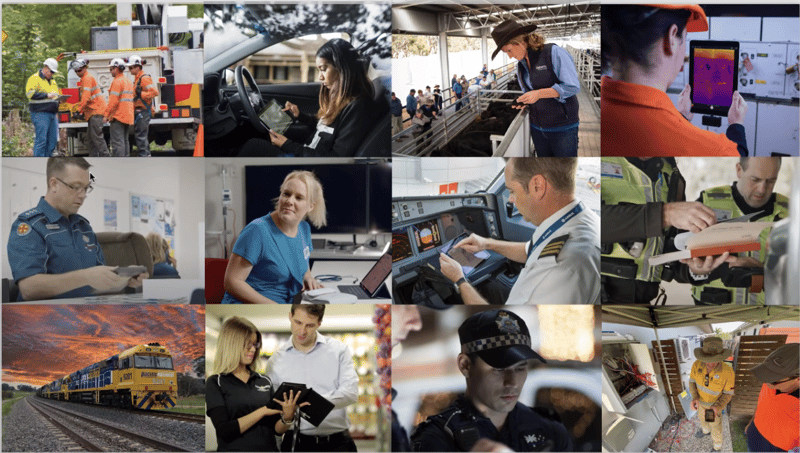 ---
About MobileCorp
MobileCorp is a Sydney-based communications technology company. We support enterprise and business by providing managed endpoints and ICT services including mobile device security, mobile device management, expense management and managed connectivity solutions. We are also a Samsung Knox MSP and Samsung Authorised Reseller. Telstra Platinum Partner and Telstra accredited 5G specialist partner.