MobileCorp has launched a corporate mobility and IT managed service bundle for SMB which leverages the benefits of having a single vendor across network, endpoints, and end user operations, support and security.
SMB bundle supports distributed workforce and targets cyber security risk
The bundle offer is a response to critical issues that have emerged over the past 18 months that are challenging businesses of all sizes, but are particularly difficult for SMB to manage. These are
network and endpoint security, and business continuity, in a climate of grossly heightened cyber threat

employees working remote from the office requiring responsive IT management and support

the accelerated adoption of cloud, unified communications, unified endpoint management, and modern workplace management technologies
Benefits of single vendor across mobility and IT
With the remote work shift, traditional IT has moved significantly closer to a cloud-based unified communications and connectivity infrastructure, says Stephen Aravopoulos, MobileCorp managing director.
Prior to the pandemic, many organisations managed corporate mobility separately from core IT operations. Now with employees needing to work from anywhere, anytime, on any device and accessing the corporate network and applications on demand, it is counterproductive to continue with a siloed approach.
"It makes sense in today's world to have a big picture view across the connectivity and communications experience an organisation provides for its employees and customers.

"There are clear benefits to having one vendor across the combined mobile and IT infrastructure, security and support. These include knowledge-sharing, system integration, risk mitigation, and producing a unified end user experience."

.
Like having an in-house team
With limited inhouse resources, many of MobileCorp's SMB customers have found themselves stretched by the need to manage a remote workforce and, at the same time, implement major infrastructure and cyber security upgrades.
"Having MobileCorp managing across both mobility and IT operations, it is like having an entire inhouse team of specialists. We can carry the heavy lifting of operations and end user support, freeing up any internal resource for more strategic work."

Security and business continuity focus
Each time a cyber attack is reported in Australia there are numerous IT managers across the country taking a collective sigh of relief that they are not the victim...this time. Cyberattacks have skyrocketed by 600% since the start of the pandemic and no organisation is immune to the threat. This is particularly worrying for smaller organisations with limited inhouse IT resource.
"Small to medium organisations often have limited defences in place when it comes to cyber threats. Proactive monitoring, threat defence, and having a plan in place for business continuity and disaster recovery is essential for organisations of all sizes to have peace of mind."
Distributed workforce demands remote management and integrated communications
The distributed workforce - with employees increasingly working away from a centralised office - is here to stay, at least for the foreseeable future.
Organisations are now consolidating their infrastructure and systems to support this situation as a 'new normal'. This has led to an increased focus on integrating desktop and endpoint management with heightened interest in Modern Desktop Management platforms like VMware Workspace ONE and Microsoft Intune.
It has also led to a uptake of unified communications solutions like Microsoft 365 as organisations look to seamlessly connect and collaborate regardless of physical location.
Meanwhile remote employees need responsive IT support to protect productivity. This workload can be difficult for SMB IT resources to cover.
Eight Specialised Modules on offer
There are eight modules to the MobileCorp Managed Mobility and IT Services bundle.
Four modules are focused on Systems Management; and four modules are focused on End User Management.


Next Steps
To discuss your business needs and obtain pricing for a mobility-IT managed service bundle contact MobileCorp by email or call 1800 243 252. Looking for more information, download this Managed IT Services brochure.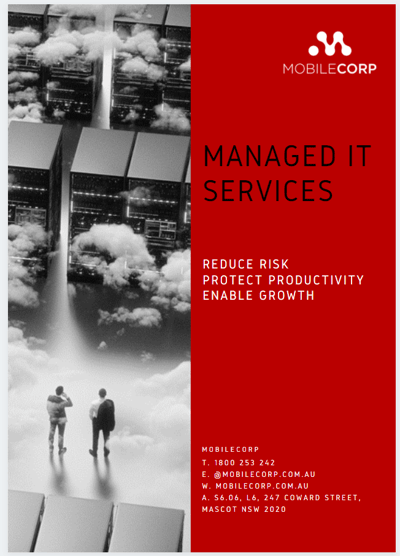 ---
About MobileCorp
MobileCorp is an enterprise ICT solutions company with a mission to deliver our customers a communications technology edge. We provide Managed Mobility Services, Enterprise Mobility Management, Complex Data and IP Networks, and Unified Communication solutions. We have a proven track record providing managed services for Australian enterprise and business, and we are a Telstra Platinum Partner.