Smartphone sales have plummeted due to the pandemic, but demand for 5G devices is expected to push the market back to growth next year.
The smartphone market was in good health in early 2020. As the news of the coronavirus emerged, the main concern was the impact to the supply chain as Chinese factories closed. But, as China got back to work, the virus spread across the globe, and from March, consumer demand plummeted.
Pandemic crushed by biggest sales drop in history
In Q1 2020 the sales drop was 13 percent or 272 million units YoY, which was the biggest drop ever seen in the smartphone market as a whole, and also the lowest level of shipments since 2013.
By the end of Q2 (June 30,20) the annual drop in the market was 17 percent.
"Demand for new devices has been crushed," says Canalys senior analyst Ben Stanton.

"In February, when COVID-19 was centred on China, vendors were mainly concerned about how to build enough smartphones to meet global demand. But in March, the situation flipped on its head. Smartphone manufacturing had recovered but as half the world entered lockdown, sales plummeted.

"Poor business results, employee redundancies and furloughs are causing a great deal of anxiety and uncertainty. Smartphones are still a necessity for most people, and device availability in online channels has enabled those who need to replace a broken or lost phone to do so. But many customers who would have bought a new smartphone as a luxury have delayed that purchase."
5G will lead the rebound in sales says IDC
Consumer demand is expected to rebound late in 2020 and into 2021 on the back of 5G.
The long anticipated launch of the iPhone 12 - Apple's first 5G phone - is expected later this month or early October.
By 2024, IDC expects around 60 percent of smartphone sales to come from 5G devices.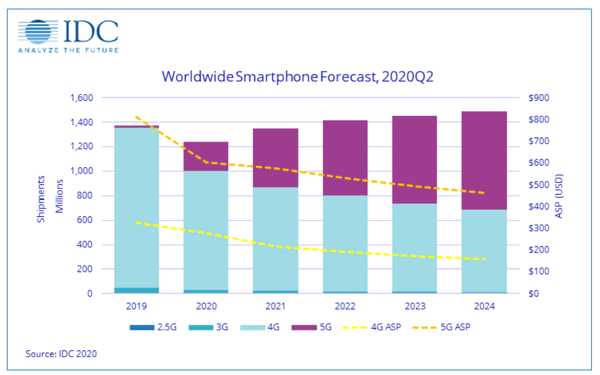 Asia Pacific slower to adopt 5G smartphones
According to IDC data, the Asia Pacific region - excluding Japan and China - has been the slowest of the major regions to adopt 5G devices.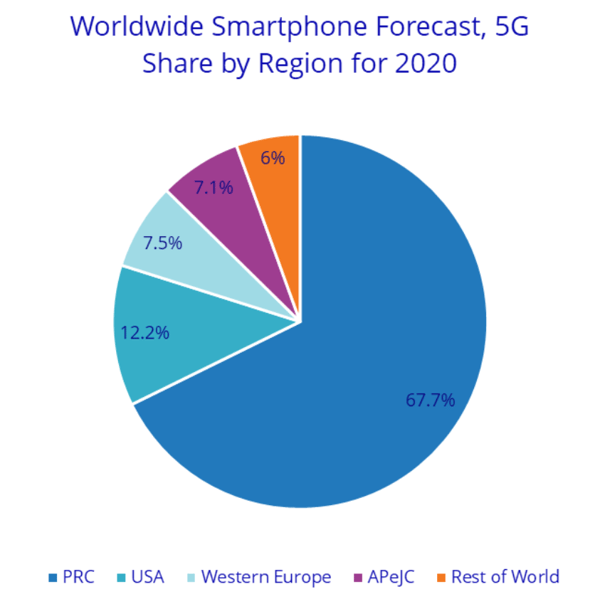 Source: IDC 2020
In Australia, this is perhaps not overly surprising, given the market is still dominated by Apple who are yet to release their 5G iPhone. This is likely to shift significantly in 2021.
Meanwhile Australian carriers are pushing ahead with building out 5G network infrastructure, and moving into mmWave frequency technology - both of which will encourage enterprise adoption.
Australia's leading carrier, Telstra, has partnered with edge compute market leader, Cradlepoint, and leading the world in going to market with a 5G enterprise wireless product.
5G device prices already under pressure
It is also expected that a wider range of 5G devices will become available in the next 24 months as Qualcomm unveil plans to manufacture lower spec 5G-enabled chips. Lower cost chips will inspire a range of low-mid tier 5G devices.
Real recovery will happen in 2022
Aside from the growing reality of 5G and the emergence of lower cost 5G devices, there will also be an increase in the sale of lower cost 4G phones, particularly in developing countries, says IDC. This will help propel the market back into a true recovery in 2022, Covid-19 permitting, says IDC.
"Although we expect year-over-year growth of 9% in 2021, that is only due to the large drop in 2020. The real recovery won't happen until 2022 when smartphone volumes return to pre-COVID levels," said Nabila Popal, research director with IDC's Worldwide Mobile Device Trackers.

"Other elements beyond 5G will play a role in the market recovery, most notably the continued opportunity in developing markets. There continues to be a strong shift towards low- to mid-end 4G devices in developing regions, which make up over 80% of smartphone volumes in these regions."
---
About MobileCorp
MobileCorp is an enterprise ICT solutions company with a mission to deliver our customers a communications technology edge. We provide Managed Mobility Services, Enterprise Mobility Management, Complex Data and IP Networks, and Unified Communication solutions. We have a proven track record providing managed services for Australian enterprise and business, and we are a Telstra Platinum Partner.