The embedded SIM - or eSIM- has become the 'go to' means of managing connectivity as the limitations of using physical SIM cards has become more obvious during the pandemic remote work shift.
The eSIM is not new, but much like QR codes, the eSIM has become increasingly relevant and useful during Covid-19.
A number of MobileCorp enterprise customers have shifted entirely to eSIM in the past six months, says MobileCorp managing director, Stephen Aravopoulos.
"The use of eSIMs is another technology that has been hugely accelerated by the Covid-19 shift to a distributed workforce. eSIM technology has been around for more than three years but in the past six months we have seen many Australian companies move swiftly to upgrade to this digital version of the physical SIM card.

"In a few years, the physical SIM is certain to go the same way as physical drivers licences, and other plastic cards that are now being provided in a digital format by banks, government departments and transport operators. Like videos, CDs, car keys, and even currency; within a few years we will be looking at physical SIMS as an anachronism belonging to a past technology."
Why are Australian companies shifting to eSIMs?
Using eSIMs for corporate mobile fleets makes life easier for organisations and their employees.
The benefits are convenience for the employee, increased speed of connectivity which equals increased productivity, cost savings, enhanced security, and there is also an environmental benefit.
1. Speed to Connectivity
There are many reasons why a new SIM card may need to be issued by an organisation to an employee. These include
a new starter onboarding
an employee transitioning to a new role
a damaged/repaired device
a lost device
a device upgrade
a faulty SIM
An eSIM means a device can be connected to a chosen mobile network with a chosen plan, in a matter of minutes by scanning a pre-activated QR code to download the eSIM profile.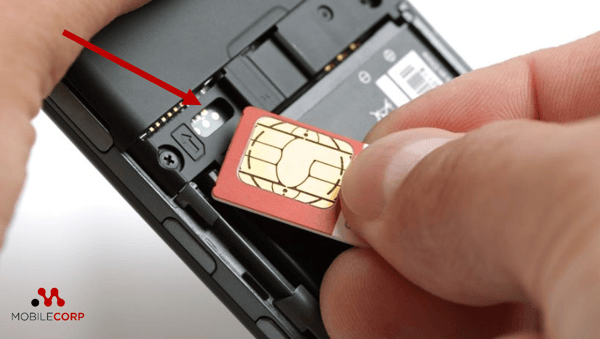 Embedded SIM (eSIM) v physical SIM
2. One-touch End User Deployment
The implementation process for an eSIM is greatly simplified for the end user who is required to take minimal actions to activate an eSIM service.
Actions NOT required when using an eSIM are
no requirement for the end user to source or retrieve a physical SIM card from a carrier or employer
no requirement for the end user to insert a physical SIM into the device - which, let's face it, can be a little tricky without the correct SIM card ejector tool
a greatly simplified process to activate the eSIM service requiring little effort on the part of the end user
no existing SIM or other plastic packaging for the end user to dispose of
With physical SIM card replacements it has traditionally taken days for organisations to deliver SIM cards to off-site (and sometimes, on-site!) employees. The increase in remote working has exacerbated the likelihood of physical SIMs being lost or damaged in transit.
Alternatively, employees would have to collect a new/replacement SIM from a carrier's store. During the pandemic lockdowns this was also difficult.
On receipt of a physical SIM, the employee would then need to make a telephone call to arrange for their SIM card to be activated on the carrier network. They would also have to physically remove their existing SIM and replace it with their new SIM.
With eSIM, the process for MobileCorp's business and enterprise customers, is greatly simplified.
The organisation chooses the required plan for each end user. MobileCorp then updates Telstra network records and the organisation's Corporate Asset Register; pre-activates the eSIM profile and emails it as a QR code to the end user who has only to scan the QR code with the device's camera to download the profile.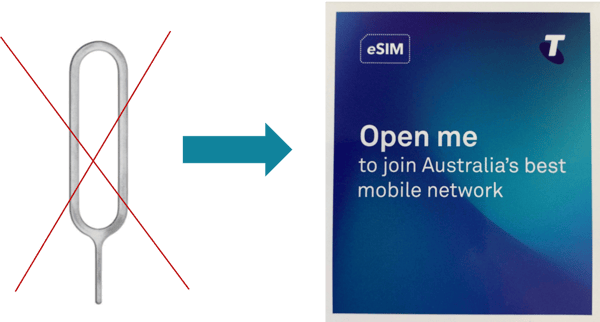 3. Cost Savings
But SIM cards are free, how can eSIMs be a cost saving?
It's simple. Getting a physical SIM card to an employee has a cost associated. Of course, this cost was negligible pre-pandemic when an employee could usually make their way to a centralised location in head office and collect one, or receive one in the internal post, or even pop down to their local Telstra store and pick one up.
Now in the era of the distributed workforce, none of those methods of distribution are ideal.
Being able to email a QR code to an onboarding employee, or as a replacement for a lost or faulty SIM, takes away the cost of couriering a physical SIM; and greatly reduces the cost associated with lost productivity as the employee waits for its arrival.
4. Enhanced Security
SIM splitting or sim-jacking is a type of attack where a fraudster tricks your mobile network provider or local phone store into activating a new SIM in their possession.
eSIMs sadly do not solve this type of identity fraud. For this, smartphone owners need to make sure they have strong account protection measures in place. This includes a unique password, along with security recovery questions that can't be guessed from browsing your online info. Even then, you are still reliant on your carrier and their local retail store actually carrying out those checks before activating a swap.
However, having an eSIM does make device theft more difficult. With a physical SIM, so long as a thief can disable any device restrictions, they can hard-wipe the phone and remove the existing SIM to make it ready for resale.
An eSIM makes this a lot harder. It's not possible to delete an existing eSIM profile without the owner's password. Nor is it possible to add a new profile without the existing owner's authentication. If someone is foolish enough to buy a stolen phone with someone else's profile still active, it's going to be pretty easily traceable.
5. Environmental and Sustainability benefits
No more physical SIMs means no more plastic cards. It means no more discarded electronic chips made up of silicon and other metals including phosphorus and gold. And no more of those SIM card ejector tools that you can never find when you need one.
In of themselves, each of these are little things physically, but collectively on a global scale they add up to an unnecessary use of energy and elements, and contribute to ewaste.

What is an eSIM?
We all know what a SIM card is - right? It is the physical chip that carries the data that allows a mobile device to connect to a telecom carrier's network. It looks like this: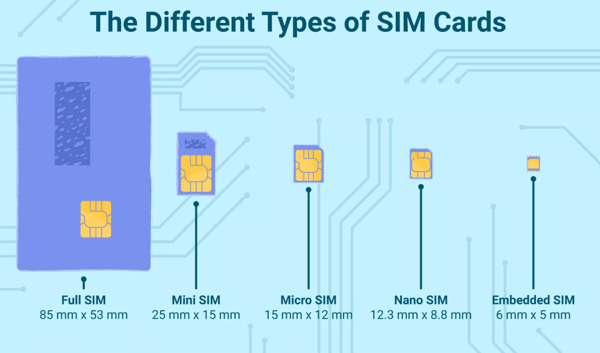 Over the years, the size of SIM cards has shrunk, as device manufacturers work to miniaturise all the components that make up all mobile devices.
An embedded SIM is the smallest iteration yet, and exactly as its name suggests, the eSIM is embedded in the device. It is not removable like previous SIMs. eSIM is also rewritable, meaning that it can be used multiple times to store software allowing it to connect to carrier networks.
eSIMs can be used in mobile phones, tablets, hand-held terminals, laptops, smart watches, and wearables. In future an eSIM will be able to be used in any device that requires connectivity including eSIM cars (Hyundai Venue already an eSIM feature), home appliances such as fridges, air-conditioning units, and smart gadgets.
How do I move to eSIM?
To move to an eSIM service, you first need to be certain that your devices are eSIM-compatible, and that your chosen carrier supports eSIM in your device.
Only the latest mobile phones tend to be eSIM-compatible and not all of these may be supported by your chosen Australian carrier.
For example eSIM-compatible mobile phones that are supported by Telstra's network are:
Apple iPhone XR, XS, 11, SE2020, 12
Google Pixel 4a5G, 5
Samsung Galaxy S20Ultra5G, S21
Motorola razr
An eSIM profile is the software that you must download to your eSIM-enabled device to access the chosen mobile network. This profile is provided in the form of a QR code that is scanned using the device camera.
Ready to move to eSIM?
If you are a MobileCorp customer that wants to discuss using eSIMs please contact your account manager or managed service consultant.
Alternatively, contact our Head of Managed Services, Peter Jonson on peter@mobilecorp.com.au
If you are not a MobileCorp customer, we would be happy to help with advice. Please feel free to also reach out to Peter or learn more about our Lifecycle Management and Managed Mobility solutions here.
---
About MobileCorp
MobileCorp is an enterprise ICT solutions company with a mission to deliver our customers a communications technology edge. We provide Managed Mobility Services, Enterprise Mobility Management, Complex Data and IP Network and Security, and Unified Communication solutions. We have a proven track record providing managed services for Australian enterprise and business, and we are a Telstra Platinum Partner. Contact Us