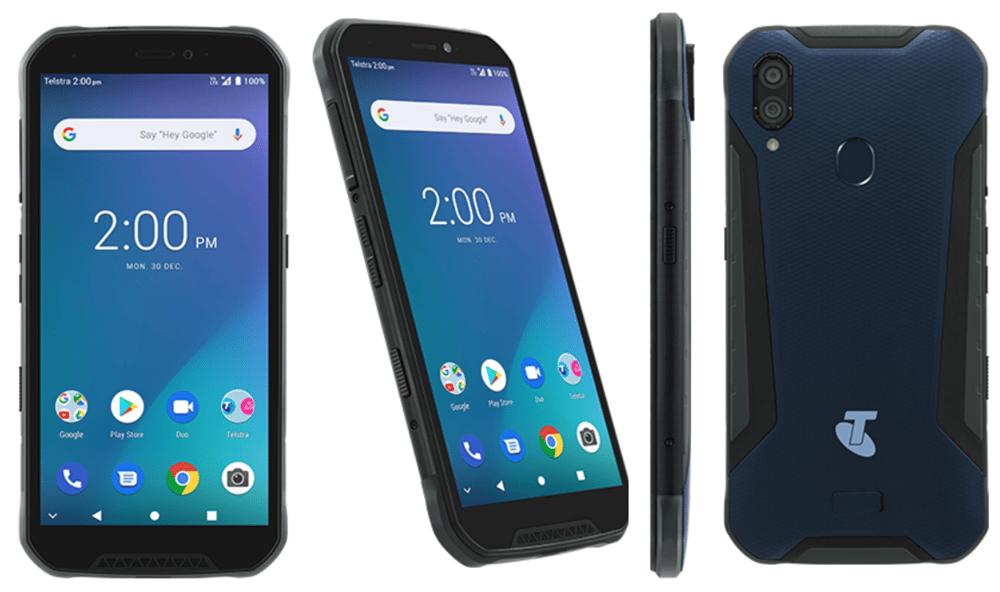 Tough, smart and on promotion. Telstra is

offering a $140 discount off

the popular Telstra Tough Max 3, which launched just before the pandemic. How does the latest device in the ruggedised range shape up?
It's tradie tough...
The Telstra Tough Max 3 is designed for tradesmen, farmers, construction workers and miners - or really anyone who wants a rugged phone with decent smarts.
Like its predecessors, the device is manufactured by ZTE and is all about durability.
It's rated IP68 for water and dust resistance, it's rubberised for drop protection, has a hard plastic back, and also has a tempered glass screen protector in the box.
Tested by GadgetGuy the verdict was convincing:
"While we never recommend throwing or dropping the phone, let alone a swim, we did test these. A drop from 1.2m (shoulder height) to concrete did not affect it and a 60-minute, 1-metre dunk in the pool was fine. It is built like a tank and will withstand tradie treatment."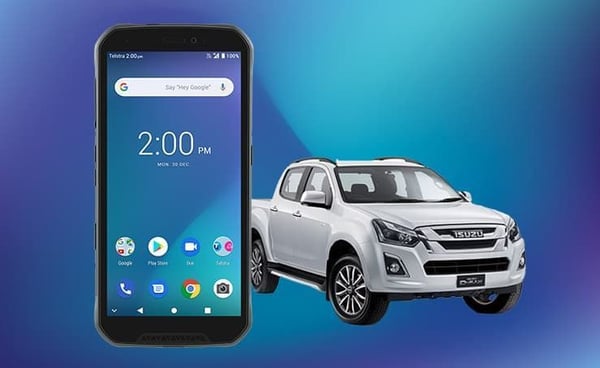 ...and surprisingly smart
There is often a trade-off with rugged phones with durability taking precedence over form, and reliability replacing features. That is not the case with the Telstra Tough Max 3 which is surprisingly smart in its design and specifications. Highlights include:
Facial Recognition and Fingerprint sensor - provides the option of opening the phone while wearing gloves or if your hands are dirty by using the facial recognition feature. At other times there is a fingerprint sensor.
NFC Contactless Payments - this is an addition from the Tough Max 2. As the world moves quickly towards contactless payments, this is a useful upgrade.
Not too bulky - The device is obviously robust and with rubberised edges does not slip as easily into a pocket, but is not overly bulky and is actually thinner than a flagship smartphone enclosed in a ruggedised protective case would be.
Headphone Jack and more ... There is also a headphone jack, microSD slot, USB-C charging, dual-speakers, and even an external antenna port.

Just how tough is tough ?
Luke Hopewell and friends at Telstra had some fun in the studio testing out the Tough Max 3.
To capture our video, we had to drop the Tough Max 3 on the studio floor over, and over, and over again. And after we did that, we then started dropping it into a tank of water!
Telstra promotional offer $140 off RRP
The Telstra Tough Max 3 has an RRP of $499 but is currently reduced to $359 when purchased with a 24 or 36 month Telstra plan commitment.
There is a choice of four month-to-month plans (below) ranging from $50 a month for 30GB to $100 a month with 150GB. With the discounted handset the cheapest device/plan combo works out to $59.97 a month. There is no advertised end date to the promotion on the Telstra website.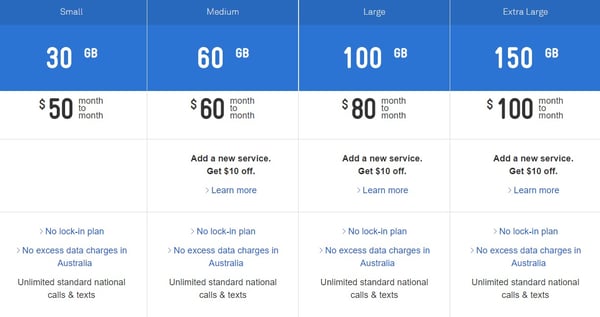 Highlights
Battery Life
The Tough Max 3 has a large 3920mAh battery that will typically last a couple of days without charge. Overnight charging would be the go as the according to PCWorld the first charge took over four hours and subsequent charges were a only a little quicker. Battery discharge at idle is around 254.8mA meaning around 15-20 days standby.
Connectivity - Telstra LTE
The device has Telstra Blue Tick approval and covers bands 1, 3, 7, 8, 28 – all you need for domestic use. Signal strength is -83dBm; and is excellent at finding the next two towers at -85 and -101, resulting in a good stable signal.
Durability
This is a device that is built to last for users who need confidence their device will stand up to the rigours of dusty, wet outdoor environments and be impact resilient.
Credit: Alex Kidman Finder.com
Lowlights (no pun intended)
Screen Brightness
Several reviews expressed disappointment with the brightness of the screen. It is a 1080p screen, so text and images are crisp but the screen lacks apparently brightness (about 250 nits) and contrast (1000:1) for direct daylight use. Users will need to shade the screen in direct sunlight.
Camera
Actually the camera is perfectly fine for worksite photographs and for family snaps and social selfies. It is not comparable with the latest smartphone cameras - but really it doesn't need to be. It has a dual lens 16MP rear camera and a 8MP front facing camera.
Design
There is no choice here. The device comes in one colour - a deep blue - which only shows on the plastic back.
Basic Specs
Qualcomm SD665
4GB/64GB/microSD to 256GB
Single SIM, VoLTE and VoWiFi
Telstra Blue-Tick
External RF antenna port
5.65-inch, 2160 x 1080 pixels, 427ppi
Wi-Fi AC, BT 4.2, FM Radio, GPS, NFC
3920mAh battery, USB-C PD charger 18W
Android 9
Glass screen protector (not fitted)
---
About MobileCorp
MobileCorp is an Australian communications technology company providing Managed Mobility Services, Mobile Device Management, Complex Data and IP Networks, and Unified Communications solutions. It has a proven track record providing solution architecture, build, deployment, and managed services for Australian enterprise and business.