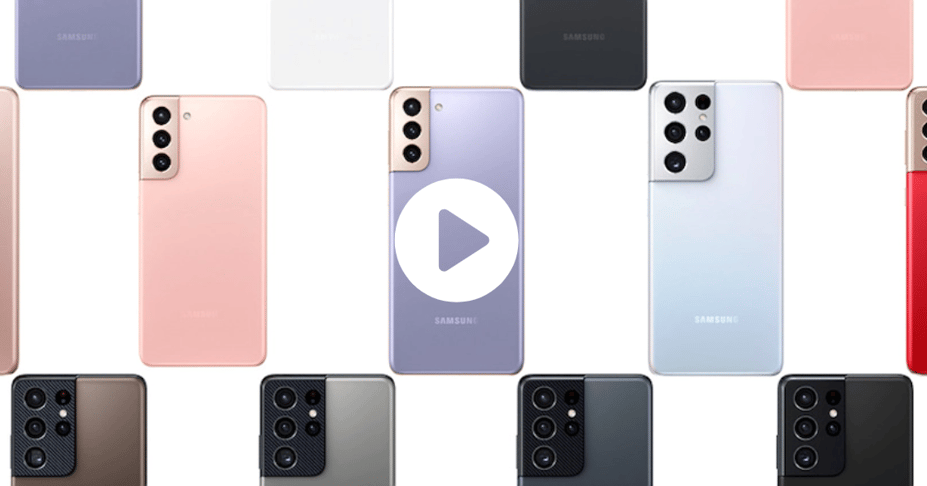 The price of the new Samsung Galaxy S21 is AUD$250 cheaper than the Galaxy S20 when it launched a year ago.
Three new S21 models - the Galaxy S21, S21+ and S21 Ultra - were unveiled by Samsung on January 14 in a virtual event out of South Korea titled "Welcome to the Everyday Epic".
The series has incremental feature improvements but the most talked about attribute has been the price.
Lower price points for all Galaxy S21 model phones
All three new S21 models start at a lower price point than the comparable S20 with 5G.
Drew Blackard, VP of product management for Samsung Electronics America explained the pricing saying the Galaxy S21 and the Galaxy S21+ are "designed for anyone who wants a full-featured phone at a more accessible price point than last year."
| | |
| --- | --- |
| 2021 Samsung Galaxy series | 2020 Samsung Galaxy series |
| Galaxy S21 from AUD $1,249 | Galaxy S20 (5G) from AUD $1,499 |
| Galaxy S21+(5G) from AUD $1,549 | Galaxy S20+ (5G) from AUD $1,649 |
| Galaxy S21 Ultra (5G) from AUD $1,849 | Galaxy S20 Ultra (5G) from AUD $1,999 |
Samsung claims "bifurcation" in the market
"Bifurcation" was the word Samsung used to describe the smartphone market and to explain - sort of - its price drop.

"This year, we've seen what we call a bifurcation within the premium smartphone market, where there's a growing diversity of needs amongst different types of consumers.

"So on one hand, we see some consumers increasingly prioritise value. We hear things like they're less willing to pay for the most expensive phone, or that a more affordable model might be good enough to meet their needs.

But on the flip side, there's still those who need to get their hands on the latest Galaxy device."

Drew Blackard, vice president of product management for Samsung Electronics America
Why has Samsung gone low?
There are three key factors influencing Samsung's pricing policy. These are
The global economic uncertainty inspired by the pandemic. The entire smartphone market declined by

13% in the first quarter of 2020 impacting sales of last year's S20 range which were down by 35% compared to the previous year's lineup. Price sensitivity has been enflamed by the lack of consumer confidence and drop in consumer spending.
Customers holding onto their devices longer. The device replacement cycle has been lengthening for the past several years despite manufacturers attempts to entice upgrades with bonus ear plugs or trade-in credits. The general sense is that flagship devices are offering only incremental improvements rather than bold new technology and consumers are not inspired to upgrade to each new model as it emerges.
Competitive pressure from Apple. Samsung's biggest competitor introduced the iPhone 12 range in October 2020 with a minimal price increase over the iPhone 11. The iPhone 12 Mini starts at AUD $1,199 and the iPhone 12 at AUD $1,349 so unless Samsung dropped its price, the S21 it would have been more expensive in Australia than the iPhone 12.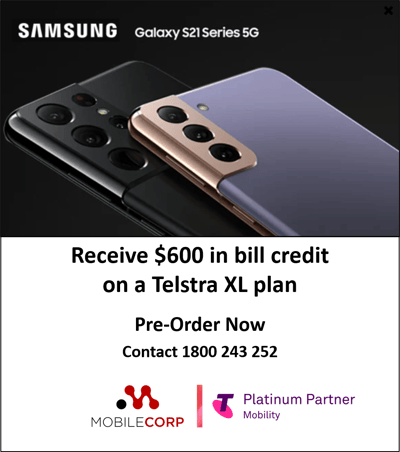 Pricing maintains a buffer against Apple
After all, global pandemics and extended replacement cycles typically impact flagship device purchases the least. The Samsung S20 Ultra accounted for 30% of all S20 series sales last year, well ahead of forecasts of 10-15%.
However, in November 2020, Apple held its pricing increase to a minimum with the launch of the iPhone 12 range. Rather than increase prices, Apple instead removed the wall charger and earphones from the box.
The iPhone 12 also rubbed out Samsung's advantage of being 5G-compatible.
In Australia, where the iPhone has traditionally held the greatest market share, Samsung has reduced its price by $200 for two models to maintain a price discount.
| | |
| --- | --- |
| Samsung Galaxy | Apple iPhone |
| Samsung Galaxy S21 from A$1,249 | Apple iPhone 12 from A$1,349 |
| Samsung Galaxy S21+ from A$1,549 | Apple iPhone 12 Pro from A$1,699 |
| Samsung Galaxy S21 Ultra from A$1,849 | Apple iPhone 12 Pro Max from A$1,849 |
---
About MobileCorp
MobileCorp is a Sydney-based communications technology company. We support enterprise and business by providing managed endpoints and ICT services including mobile device security, mobile device management, expense management and managed connectivity solutions. We are also a Telstra Platinum Partner and Telstra accredited 5G specialist partner.