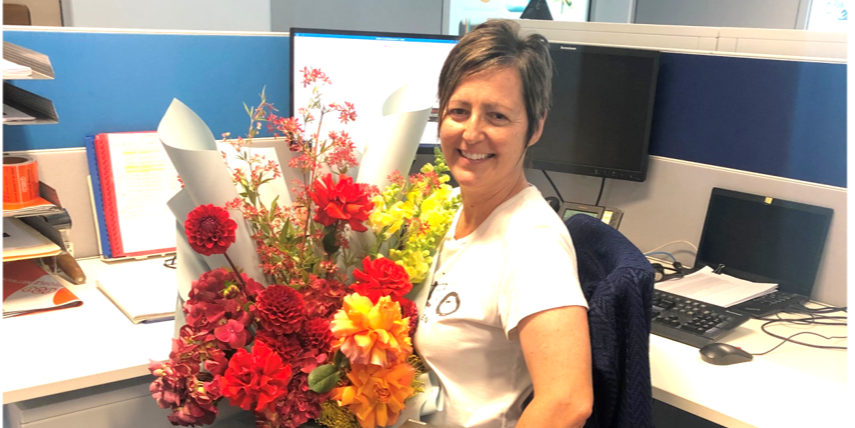 When you've spent 20 years working for one company, you've seen a lot of things. Anna Lyris shares her experiences of 20 years with MobileCorp.
Anna is one of MobileCorp's most trusted and valued employees. She works 'behind the scenes' as a Managed Service and Support consultant, assisting customers with day-to-day operational tasks. She started with MobileCorp in November 2000 and has recently celebrated 20 years' of service. Here are some of her memories...
Why did you join MobileCorp?
I had been working for Telstra for 7 years in a Telstra T-Shop in the Westfields. I worked Monday to Friday, and also Thursday nights and sometimes weekends. I decided I loved the mobile world but not the hours and wanted more of a Monday to Friday 9 to 5 job to spend more time with my two boys.
What were your first impressions of MobileCorp ?
I was interviewed by management and felt so at ease. They flipped when they saw all my trophies, awards and achieved targets that I had gained over my 7 years with Telstra. They virtually said… "when can you start?"
They came across as if they would be the perfect boss and I wasn't wrong, they are perfect, everything you would of wanted in your team leaders.
What are the three biggest changes you've seen over the years?
Mobile phones:

:

I've seen different platforms of telecommunications starting with the in-car Motorola mobile phones and pagers, to CDMA, BlackBerry, and now to the new smartphones.

Technology: When I started it was 2G mobile phones and playing snake; through to today's 5G smartphones and being able to watch a movie.
Way we work: In the early days we used to receive purchase orders and requests through faxes. Now its an automated ticketing system, virtually staying connected all the time, and being contactable 24/7. It is definitely faster now for customers to get what they need.
Did you ever imagine you would stay working for one company for so long?

Yes, I always knew I would stay at MobileCorp. We had a saying with management in the early years that we all would retire and lock the door together.
What is the best thing that has happened to you working for MobileCorp?
My management, they are the best of the best, hence why I have stayed and continue to work at MobileCorp. I always felt I had a personal connection with them. I trust, appreciate them and have respect for them. They always listened and motivated me, genuinely care about me and believed in me. They always made time for me, which in return, created a loyal team member who was willing to do my very best for MobileCorp.
What is the worst thing that has happened to you working for MobileCorp?
Being held up and having a gun pointed in my face! It was around 2007 and we still had a retail shop at Mascot. It was lunchtime and I was in the lunchroom minding my own business when the door was kicked open and all I saw was a gun pointed at me. I was ordered out onto the shop floor and my co-workers and I were made to lie down under a table. There were two of them and while one watched us, the other made a male colleague bundled mobile phones into a box. They then took off. I don't believe they were ever caught but we barred the imeis so the phones would have been useless to them.
How has your life changed in the time you have been at MobileCorp?
Wow - I've been through a divorce, a marriage, the raising of two kids, the death of a parent. My boys grew up alongside the children of my boss, George Aravopoulos. We used to compare stories. George's son, Stephen, is now my boss! It's been a full lifecycle in those years. Those shared experiences are what hold us together. It's a special bond.
What are the most memorable requests you have received from a customer?
A couple of things stand out
I'm based in the office and I have a customer who wouldn't let anyone from MobileCorp come to visit him unless I came out to the appointment as well. He always said I look after the account and action his daily requests and wanted me to come out too.
This is not a request but more of something a customer would do for me, which made me smile…. He'd drive by my coffee shop and pay for my coffee every so often. When I would order they would say it has already been paid for by the guy on the motorbike. He said it was a little thank you for my support.
What is the nicest thing a customer has said to you?
I've had lots of compliments, emails sent to management, and flowers sent to me in appreciation of my service over the last 20 years. I found compliments come in lots of different forms and ways. This was emailed to management last week from one of my customers
Hi Anna,

Congratulations on your 20 years with MobileCorp. Well done and lucky for customers like us who are privileged enough to have someone like you helping us. Cheers!! Congratulations also to Stephen and Peter in recognising invaluable people like you.

Kind regards, W.
Who have you worked with at MobileCorp over the years?

I have worked with about 45 people over the years. Some were for long periods like George who employed me, Theo, and Helen; and others were for shorter times. Lots of people work for MobileCorp for many years but not for 20 years. I've learned to work with a variety of different people and personalities. It keeps life interesting.
How did you find WFH in 2020?

I have always worked in the office Monday to Friday 8.30 to 5 every day. WFH was a great change and most enjoyable. I had all the tools I needed to continue with the work and I had no issues at all. It was much easier and more convenient to work in the study room and then walk straight into the kitchen caring for the family straight after the working day.
What are your future plans?
I look forward to another 20 years of work at MobileCorp and then I should be ready to retire, if I don't win Lotto between now and then.
---
About MobileCorp
MobileCorp is a Sydney-based communications technology company. We support enterprise and business by providing managed mobility and ICT services including mobile device security, mobile device management, expense management and managed connectivity solutions.