Adding Telstra Calling for Microsoft Teams to the Teams cloud collaboration platform will enhance the productivity of your distributed workforce.
Roughly 90% of organisations currently have employees working from home due to COVID-19, according to a Nemertes Research survey.

Meanwhile Gartner says 82% of company leaders plan to allow employees to continue working remotely in the future.
Telephony is the next logical workload to shift to the cloud
COVID-19 has irrevocably changed our working environment. As many as 75 percent of organisations have in the past four months invested in or expanded cloud-based collaboration applications such as Microsoft Teams.
With fewer employees sitting at desks in centralised offices it makes no sense to persist with legacy telephony systems.
As more workloads move into Microsoft 365 – usually starting with Outlook, SharePoint and Teams – telephony is the next logical workload to move into the ecosystem.
What is Telstra Calling for Microsoft Teams ?
Telstra and Microsoft have co-created Telstra Calling for Microsoft Teams for the Australian market. The alliance brings together Microsoft's most popular cloud collaboration tool - Teams - and enables that environment to support audio and video calling underpinned by Telstra's network and voice capability.
It delivers a unified workspace for desktop and mobile, wherever the worker is located, with one number across all devices.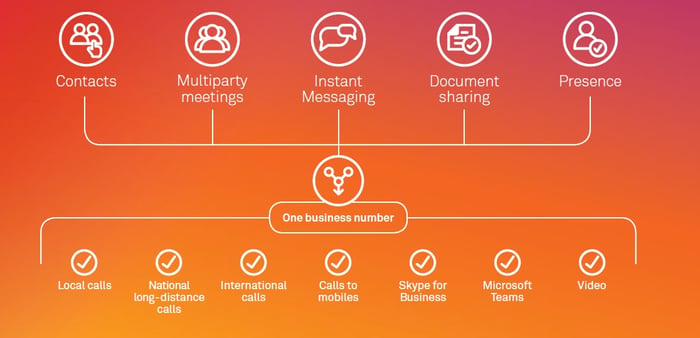 Why adopt Telstra Calling for Microsoft Teams ?
Without the Telstra solution, employees are limited within the Teams app to calling people who also have a Teams account. With the Telstra solution a call can be made to any mobile or fixed line number in Australia and to selected international destinations. These include Hong Kong and New Zealand based numbers from August, Singapore and the UK from October, and will go global from December.
This enhances productivity as distributed workers can unify all their communications from one number, and calling anyone from any device with the Teams app.
Who would benefit from Telstra Calling for Microsoft Teams ?
Telstra Calling for Microsoft Teams benefits organisations looking to adopt Microsoft Teams as their primary unified communications tool.
Telstra Calling for Microsoft Teams uses existing Teams capability, removing the need to procure, install, provision or manage on-premises telephony infrastructure.

What are the benefits of Telstra Calling for Microsoft Teams ?
It makes life easier for employees
Call anyone from Teams - even those not on Teams.
One dedicated phone number (DID)

– for 1:1, team conference calls, local and national long distance calls, international calls to select destinations going global late 2020; from all devices.
Enjoy full voice functions – including traditional PBX call-handling functions like call, hold, transfer, forwarding and voicemail all in the cloud. Choose audio or video calling.
Communicate efficiently - Have visibility of who is available and make contact on the most appropriate channel: voice, video calling or chat.
Enhanced employee experience

– boosts productivity by combining voice and collaboration tools in one familiar application.


It simplifies and reduces workload for IT teams
Supporting remote working – quickly scale users, add new phone numbers, top up calling plans; each user receives a DID linked to Microsoft 365 with full number portability
Offloading IT management – no more managing and supporting disparate on-site private branch exchanges (PBXs), physical phone handsets and a dedicated voice network
Deploy, manage and scale with ease - utilise a self-service portal to simply scale and manage the environment, or trust the job to a Telstra Partner and managed service provider like MobileCorp.
It drives cost savings and supports a shift to cloud
Cost savings - are derived by the shift away from capital expenditure to operational expenditure. No more physical hardware to procure, manage and support.
Moving telephony to the cloud - aligns with employee expectations to communicate with anyone from anywhere at anytime. Cloud-based agility aligned with digital transformation modelling that allows organisations to be more flexible and scale swiftly.

What is Microsoft Teams?
Microsoft Teams is part of the Microsoft 365 suite of products (formerly known as Office 365). It is a cloud-based collaboration application which includes real time messaging, file sharing, audio or video conferencing and calendar scheduling.
There are desktop and mobile versions. There are also a number of collaboration apps that can be integrated including GoToMeeting, Zoom, Webex, Jira, Adobe, Trello and LucidChart.
How Telstra Calling for Microsoft Teams works
To make a call from Teams it is a simple one click choice of Video Call or Audio Call. With Telstra Calling for Teams you can call anyone from Teams, even people who are not using Teams.
A fully-managed link into Microsoft Teams
Telstra Calling for Microsoft Teams removes the complexity of managing a dedicated PSTN network. Telstra provides a fully managed link directly into Teams, so all the organisation needs is an adequate internet access. Each user is allocated a phone number associated with their Microsoft 365 client. The business chooses to either migrate or port its existing landline numbers, or allocate new ones.
Choose an option for connecting
Not ready to move voice completely to the cloud? Host complex users in the Telstra private cloud and move those who are cloud-ready to the Microsoft public cloud. Alternatively, Telstra can provide a managed gateway to connect an on-premises voice environment to the Microsoft Cloud.
MobileCorp Telstra Calling for Microsoft Teams managed service
MobileCorp knows Microsoft 365 and the Telstra voice network inside out.
We have adopted Office 365 as our internal UC tool. This practical day-to-day management experience, as well as our expertise as a Telstra partner for over 30 years, allows us to leverage our hard won knowledge to seamlessly deploy the Telstra Calling for Microsoft Teams integrated solution.
Our professional service, along with any licensing fees, may be charged on the Telstra bill.
MobileCorp managed service
Telstra Calling for Microsoft Teams scope, design, licensing, Telstra carriage, and deployment service.
Office 365 managed service including technical support desk, tenancy management, adding and removing services, licence management, and security monitoring
---
About MobileCorp
MobileCorp is an enterprise ICT solutions company with a mission to deliver our customers a communications technology edge. We provide Managed Mobility Services, Enterprise Mobility Management, Complex Data and IP Networks, and Unified Communication solutions. We have a proven track record providing managed services for Australian enterprise and business, and we are a Telstra Platinum Partner.