OUTCOME
The new WOTSO WorkSpace on Sydney's North Head peninsula went from zero mobile signal at site to achieving a strong, stable 4G and 5G signal capable of accommodating voice traffic for up to 200 people and reducing the traffic load on the wired network.
WOTSO provides premium coworking spaces perfect for those seeking an alternative to the traditional office space or home office.
Each location features an open plan workspace where members can rent a desk for a day, or on a month-to-month basis.
There are 20 WOTSO locations offering 1000 offices, 65 meeting spaces and 22 event spaces across Australia.
Location: North Head, Manly, Sydney
Solution: 4G|5G In-Building Connectivity


Introducing WOTSO at North Head Sanctuary
The new WOTSO FlexSpace at North Head Sanctuary is housed in two heritage-listed art deco buildings which are part of the historic Barracks Precinct in the Sydney Harbour National Park, adjacent to Manly.
This a magical location with a long and colourful history. It was home first to the Gayamagal People who used it as a place of healing. Then, from the early days of the colony until 1984, a Quarantine Station housed new migrants. During WWII the North Fort was built to defend the harbour entrance and after the War, the Army School of Artillery took over the site as a training centre. The area is home to endangered populations of eastern long-nosed bandicoots, little penguins, sunshine wattle and eastern suburbs banksia scrub.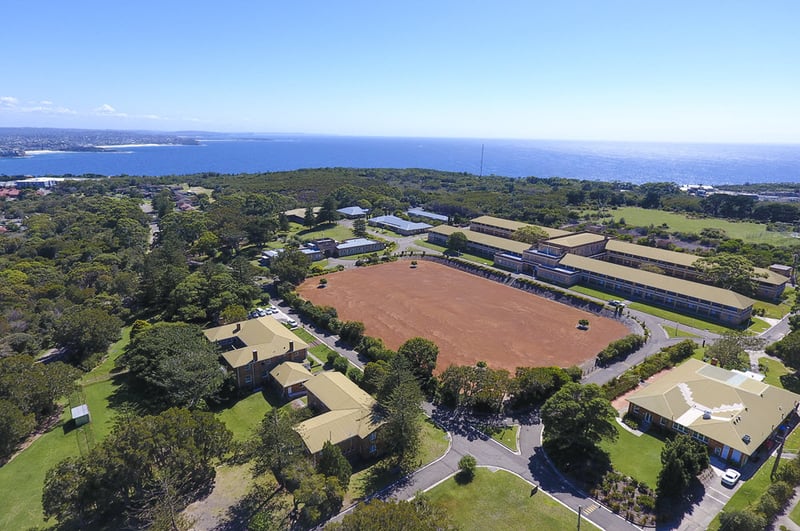 Image: Aerial view of The Barracks with parade ground and two Wotso buildings in the left foreground
What were the challenges?
The WOTSO buildings were the original Officers' Mess built in the 1930s and the adjoining Officers' Annex built in the 1960s. Both buildings were well preserved with their architectural features intact, however the buildings had been empty for some time, there were few modern amenities, and no modern technology infrastructure.
The site would need to be fitted out with a fibre data network, Wi-Fi, and multiple access points. MobileCorp's role was to ensure mobile voice connectivity was accessible at site.
Despite a Telstra tower being located at the entrance to the North Head Sanctuary just 560 metres away, there was no mobile signal available inside the two buildings nor externally in the immediate vicinity of the two buildings. This was due to the terrain and topography with the tower being lower down the hill and with many mature trees in the line-of-sight zone.
"There was just nothing. The buildings were in a dead zone. We had to walk to this tree about 20 metres away where there was just enough signal to make a call. When we were working inside the buildings we had to use walkie-talkies to communicate with each other."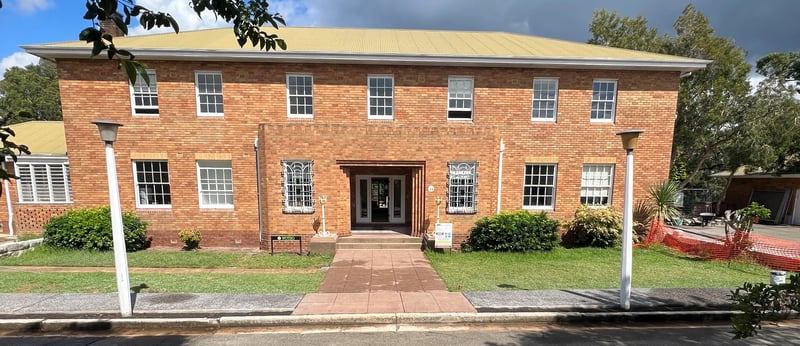 Image: WOTSO FlexSpace in the original Officers Mess, North Head Sanctuary
High voice traffic anticipated
The total capacity of the two WOTSO buildings is between 200-250 people, and although there is excellent fixed infrastructure in place with NBN fibre and a redundant dark fibre link, it was important to not overload the network with voice traffic.
The site also includes an outside tennis court, outdoor seating areas, and outdoor informal meeting or gathering space. WOTSO customers would also have an expectation that mobile voice connectivity would be available across the site and not just though Wi-Fi calling.
"It is vital for people to be able to make voice calls. There is so much traffic on the internet already and we did not want to load it up with voice."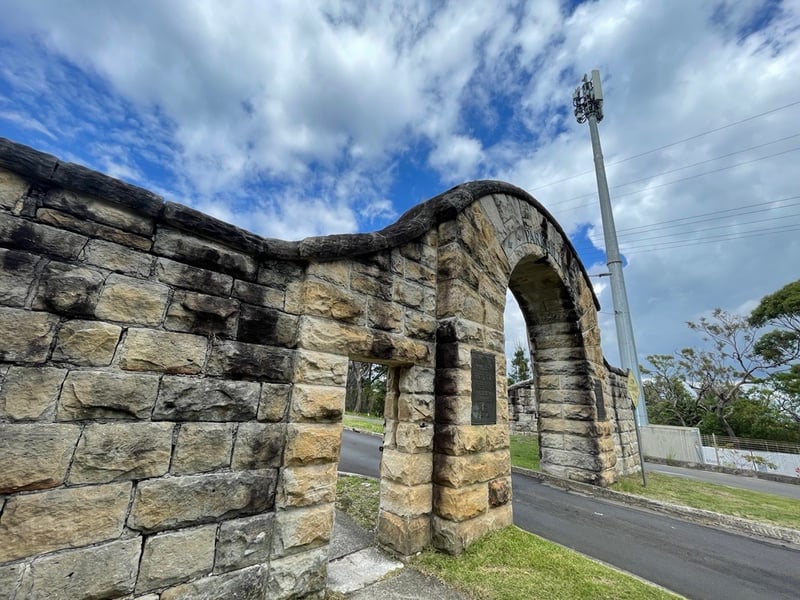 Image: Telstra tower at entrance to North Head Sanctuary.
Heritage-listed buildings
The larger of the two WOTSO buildings is the heritage-listed original officers' mess, a 780m2, two-storey, U-shaped building.
Known as Building 44, it is one of the original set of 1930s barracks buildings and was deliberately built to be below the trajectory of enemy naval fire.
It has many of its authentic Art Deco features intact, including ceiling cornicing, light fittings, original wooden internal flooring and mosaic entrance feature. It contains a large ground-floor function room and 12 rooms on the first floor with shared bathrooms and lounges, as well as a commercial kitchen.
The adjacent officers' annex comprises 20 rooms spread over 466m2 on two floors with bathrooms and utility rooms. There is also an outdoor tennis court at the rear of the buildings, outdoor balcony, and garden seating.
Any connectivity solution would need to respect the heritage requirements and be invisible from the front view of the buildings.
The original walls and ceilings were unable to be disturbed, ruling out cabling inside the ceiling cavity or through the brick walls.
"These are amazing buildings. They are so well-preserved. There is stunning art deco cornicing, a unique stipple-finished internal paint, original wooden flooring and stairs, and solid brick walls. This all needed to be protected which meant no holes and no cabling through walls or inside ceiling cavities."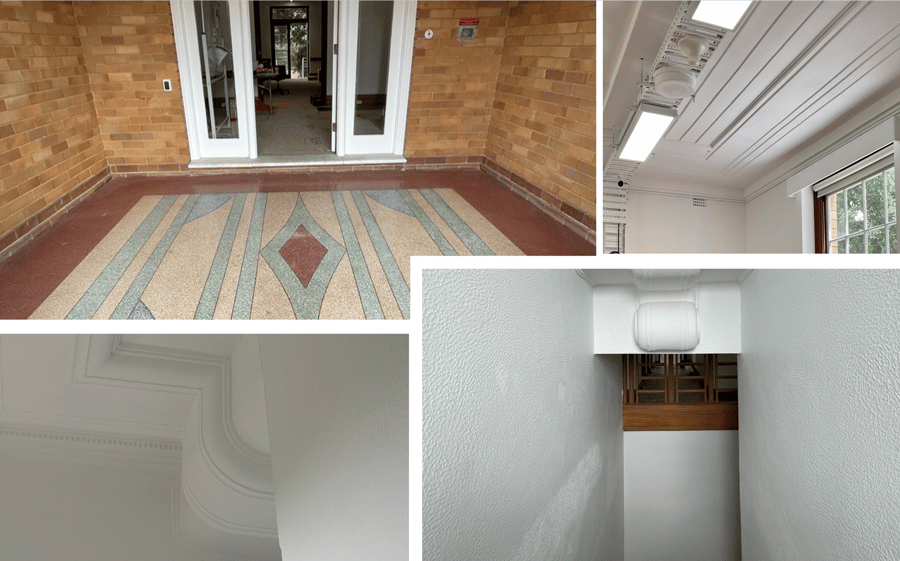 Image: Art deco features in Building 44 North Head Barracks Precinct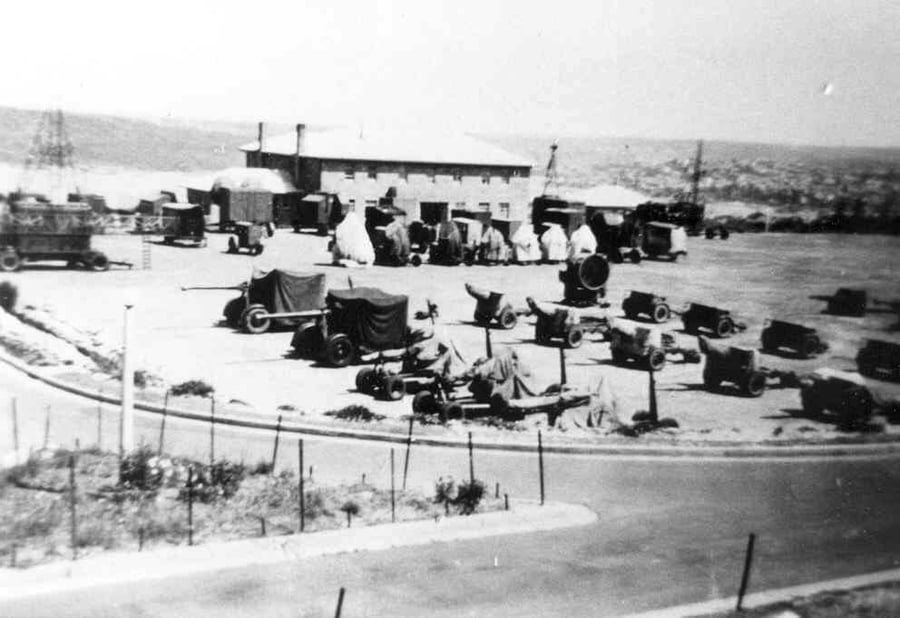 Image Courtesy of Sydney Harbour Trust. Original Building 44 with parade ground and artillery guns.
What solution was deployed?
Cel-Fi Go In-Building Coverage (IBC) solution
MobileCorp deployed a Cel-Fi GO G41 Smart Signal Repeater coupled with an external RFI Wideband Antenna and internal wall mounted repeaters to provide WOTSO with a viable indoor mobile coverage solution.
As the two buildings are solid brick with internal brick walls, a separate Cel-Fi Repeater was required for each level.
For each building, we installed a RFI Wideband 9-11dBi 3G + 4G +5G Enclosed LPDA Antenna (700-4000MHz) on the roof. We cabled down 10 metres to a signal splitter, then utilised 15 metres of cable to the Cel-Fi on the top level and 30 metres of cable to the Cel-Fi on the ground floor.
In turn, we utilised six internal RFI Low PIM DAS Omnidirectional Ceiling Antenna (698-960MHz & 1710-3800Mhz) on each level of the two buildings to boost the signal throughout the space.
MobileCorp heritage installation
The two external antenna were mounted on the western profile of the tin roof so they would not be observed from the front of the buildings.
The internal repeaters and ceiling antennas were attached to a cable rack that was fixed to the ceiling and walls internally to protect the original building structure.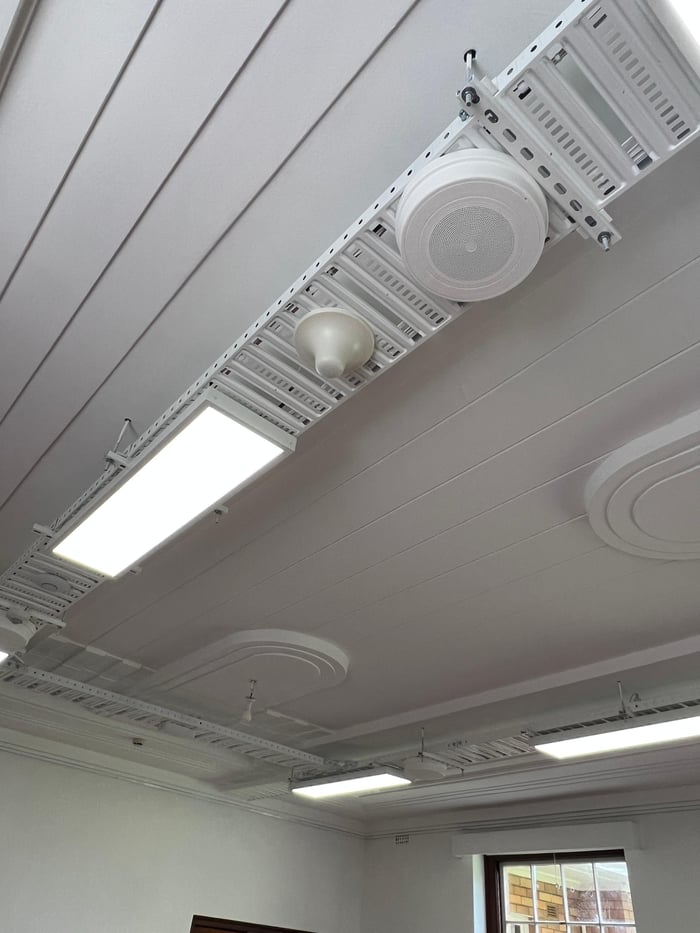 Image: Ceiling antennas fixed on external cable rack to protect art deco corning and original roofing.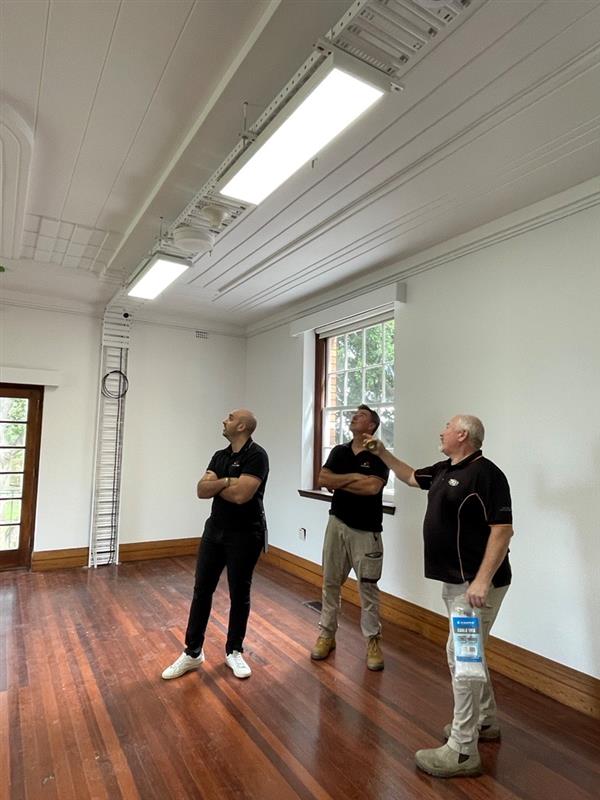 Image: MobileCorp head of Managed Services, Peter Jonson (L) with technicians Tom and Craig, admiring their handiwork
Telstra 4G, 5G network access
MobileCorp mounted two RFI wideband antenna, one on each roof of the two WOTSO buildings, 10 metres above ground level.
An earlier technical desktop survey by a certified radio engineer had identified the optimal signal strength as coming from a shared telecommunications tower in central Manly which had zero line of sight obstructions. However, once on the roof, MobileCorp technicians were able to find a stronger signal from a new shared carrier tower at the entrance to North Head Sanctuary just over 560m from the site.
MobileCorp technicians revised the mounting plans adjusting the direction of the antenna to take advantage of the strongest Telstra signal.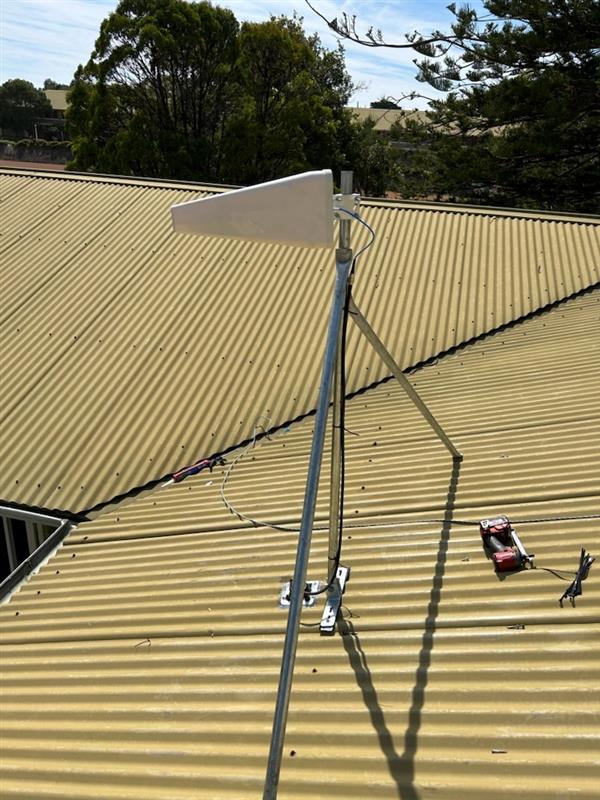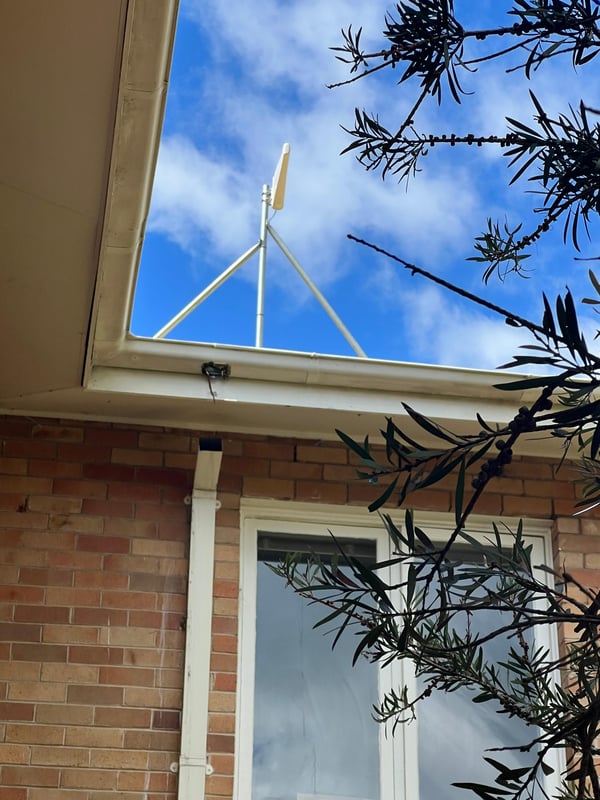 What were the results?
From skeptic to impressed
WOTSO Joint Managing Director, Jessie Glew, was very unsure whether any mobile signal could be accessed at the North Head site, let alone provide a reliable voice experience.
Her experience of being unable to make a voice call when onsite during the building fitout, led her to believe any solution would be sub-optimal. She now happily admits the solution has been a total success.
"I was a bit skeptical...in fact for a fairly significant investment, I thought it was a bit of a punt.

"I did not believe it would work. Now, I'm super impressed."
Reliable stable mobile signal
The signal at site is now reliable and stable with four bars of 4G and 2-3 bars of 5G on compatible devices.
The new shared carrier tower on Darley Road at the entrance to the North Head Sanctuary provides good throughput with minimal congestion and strong signal strength.
WOTSO is now considering expanding the solution to other telco carriers.

Image: Fresnel zone between the building (red line) and the tower (black line) showing topography and vegetation.
Ready to talk In-Building Mobile Coverage?
To discuss In-building mobile coverage solutions with MobileCorp contact:
Peter Jonson
e. peter@mobilecorp.com.au
m. 0400 299 909
Book a Meeting

Subscribe to our fortnightly newsletter