WHAT IS UNIFIED COMMUNICATIONS (UC)?
Unified Communications – or UC – is a solution set that integrate all the communication tools and channels that an employee needs to function effectively in the workplace. The essential channels include instant messaging, voice and video calling, video conferencing, team collaboration, file sharing and email.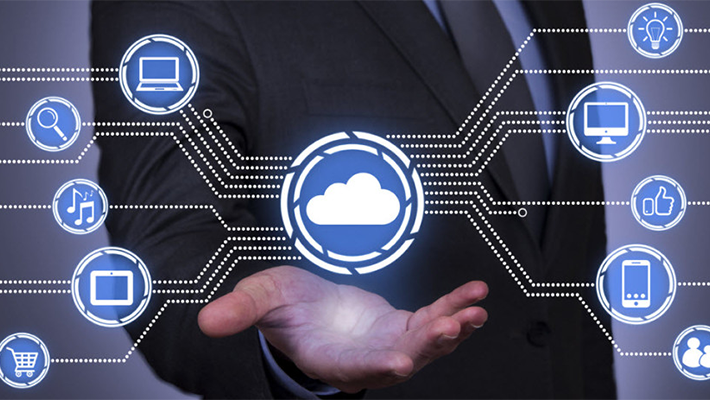 HOW OUR UNIFIED COMMUNICATIONS SOLUTIONS CAN BENEFIT YOUR BUSINESS
Our Unified Comms ensures your workforce is on the 'same page'.
Unified Communications is an enabling technology. It enables productivity and performance because teams can connect how they choose and collaborate instantly, working faster to solve issues and deliver outcomes. It also delivers enhanced employee user experience breaking down barriers and allowing agility and flexibility in working environments.
For IT teams, Unified Communications means simplicity and scalability. Administrative and management tasks are centralised in a single managed system and delivery can be on-premises, in the cloud, or a hybrid model.
Our Unified Communications solutions reduce costs in several ways. There are cost efficiencies in moving from multiple third-party tools to an integrated single unified environment. With most Unified Communications solutions operating 'as a Service' from the Cloud the cost also shifts from Capex to Opex with fewer upfront costs.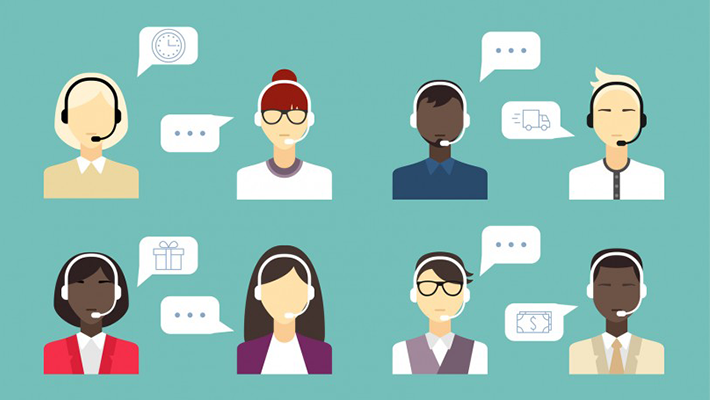 HOW CAN MOBILECORP ASSIST WITH UNIFIED COMMUNICATIONS
MobileCorp offers a Unified Communications solutions to fit every business size and communications requirement.
From Hosted Voice, to Hosted Contact Centre, or a fully integrated Unified Communications as a Service [UCaaS] – MobileCorp can migrate your business to a solution that fits. We partner with all the leading UCaaS providers. We specialise in Microsoft 365 migrations. And as a Telstra Partner, we can also offer Telstra solutions like Connect Workplace which can be added to the monthly bill.
UNIFIED COMMS AND THE DISTRIBUTED WORKFORCE
There was a time not so very long ago when most knowledge workers were tied to their desks. There was the oversized PC and monitor, and a wired desk phone; with the office fax machine and photo copier taking up significant real estate in a corner. Information was shared mainly by email or even photocopied and handed out, and meetings were mainly in person in a dedicated meeting room. Every component of that scene has now gone. The advent of Covid accelerated the shift to a distributed workforce and even if some personnel go back to a physical office, the way we communicate is not going back to what it was before.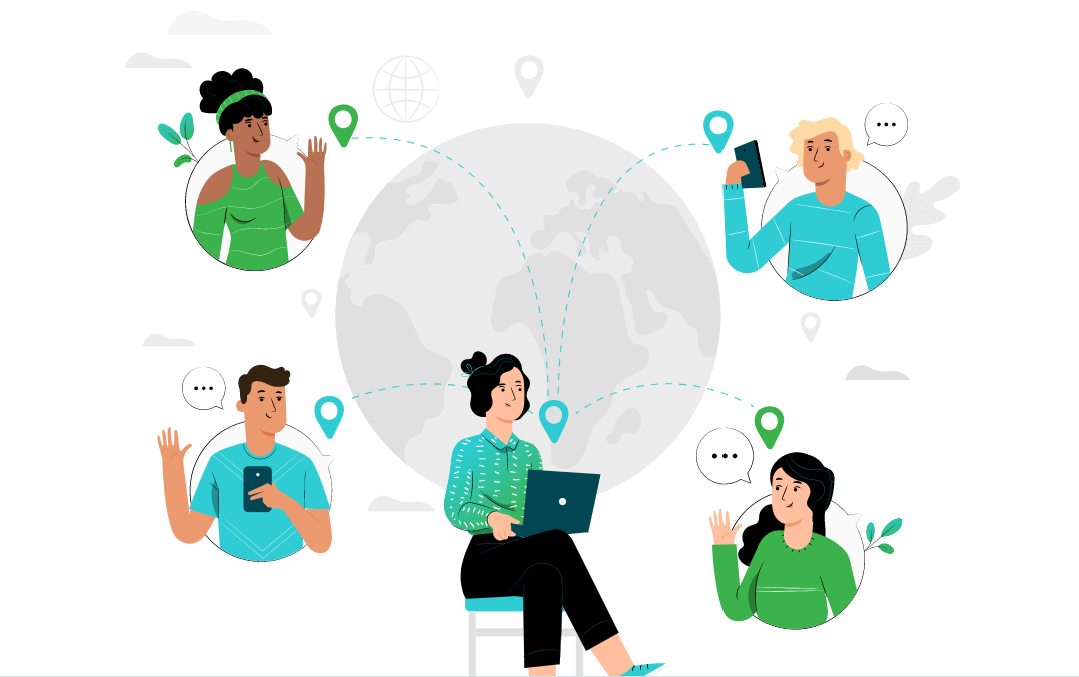 HOSTED VOICE – BUSINESS TELEPHONY SYSTEM
Hosted Voice refers to a business telephony system which is hosted off premises by a service provider i.e., in the cloud. Rather than having a physical telephone system located at the business premises, the users access telephony services through Voice over Internet Protocol (VoIP) either with or without soft phones. This can also be known as a virtual phone system. There are many benefits of a Hosted Voice solution, the most obvious being a lack of capital expenditure, zero maintenance, high uptime reliability and ease of scalability adding or removing users.
MobileCorp, deploys a Hosted Voice solution to suit every business. We have implemented Access4 Hosted Voice in our own business. We also recommend two Telstra UC products - Telstra IP Telephony [TIPT] and Telstra Liberate. TIPT is a simple, flexible, and scalable cloud solution, underpinned by the scale, reliability, and security of Telstra's network. Telstra Liberate unifies desk phones and mobiles. It integrates traditional fixed and mobile channels at the network layer so there is a seamless handover between mobile and landline calls.
MICROSOFT 365 AND MOBILECORP
Microsoft 365 is the most popular app in Australia and has 200 million subscribers globally. Microsoft 365 is all the familiar Office apps along with collaboration, productivity, and security tools in one tidy bundle. These include Teams, OneDrive, PowerApps, Dynamics365, Tasks, Planner and Project.
MobileCorp offers two managed migration packages, one suitable for SMB, and the other for more complex enterprise or integrated 365 UC migrations. We also offer a comprehensive managed service for Microsoft 365 tenancies. This includes tenant design, build, migration, operational management, security, compliance and reporting, and support services.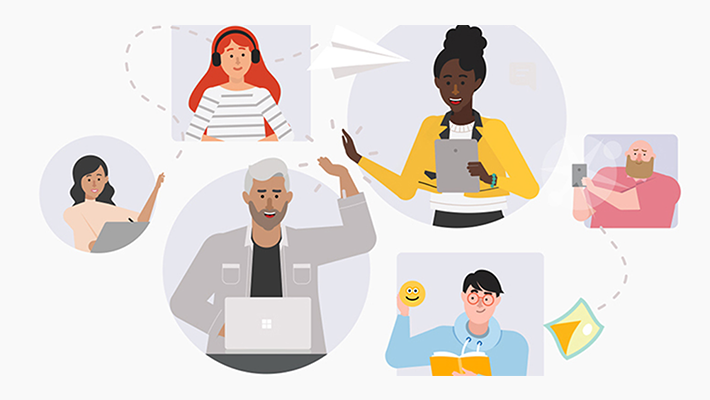 A TELSTRA CONNECTED WORKPLACE
Telstra Connected Workplace is a complete 'office worker' package from Telstra. Launched prior to the COVID pandemic, it is perfect for businesses with branch offices that require a shared office Unified Communications solution.
Telstra Connected Workplace provides a Managed Private Network with all sites sharing the same Internet Gateway and each site having a managed router with Network Termination Unit provided. Telstra Connected Workplace enables secure file sharing, video and voice calling with softphone client, email, and web security.
Speak to MobileCorp, your Telstra Platinum Partner, to investigate whether Telstra Connected Workplace is right for your business.
HOSTED UNIFIED COMMUNICATIONS (UCaaS)
Hosted Unified Communications is another name for UCaaS or Unified Communications as a Service. Hosted refers to unified communications applications and services being provided – or hosted – off-premises by a third-party service provider in a secure data centre i.e., the cloud.
UCaaS providers develop, operate, and maintain their own multi-tenant cloud-based UC services, which will be less costly and more secure for customers when compared to their premises-based solutions. MobileCorp provides a UCaaS managed services including solution architecture, solution evaluation, network assessment, migration, licensing, technical support desk, and end user management. Read more about our Hosted Unified Communications services.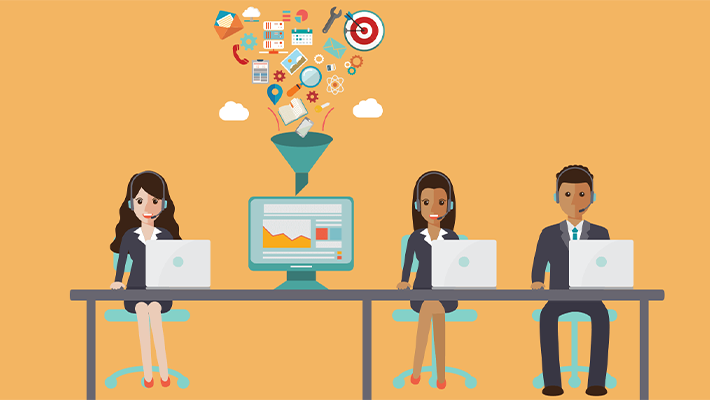 HOSTED CONTACT CENTRE AS A SERVICE (CCaaS)
Hosted Contact Centre is a sub-set of Hosted Unified Communications. It refers specifically to a contact centre environment which is cloud-hosted and provides omni-channel, personalised and conversational engagement and communications.
A contact centre which is 'cloud-hosted' is also referred to as Contact Centre as a Service - CCaaS. Hosted contact centres offer a flexible, scalable alternative to on-premise solutions and can be deployed quickly with low up-front costs.
The world's leading contact centre vendor is Genesys Cloud. MobileCorp provides expertise in Telstra Contact Centre Genesys Cloud, a solution perfect for 10-500+ seats with simple set up, and no dedicated network or data and voice design required. It has pre-built integrations with Salesforce, MS Dynamics and ZenDesk.
We also specialise in the integration of Genesys Cloud CX with Microsoft Teams. Our services include network evaluation and design, migration, licensing, technical support desk, and end user management.
5G | The Connectivity Revolution
Will 5G trigger a fourth industrial revolution?
How will 5G change the Australian business landscape?
Which Australian industries face 5G disruption?

All industrial revolutions have coincided with major technological revolutions. 5G is being heralded as the enabler of the fourth industrial revolution: the connectivity revolution.

This white paper dissects the hype, lays out the facts, and delivers a practical action plan for Australian business leaders.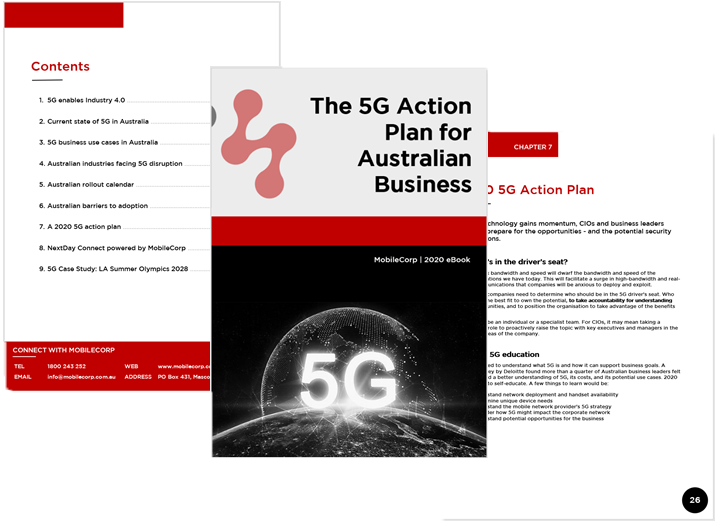 STORIES WORTH SHARING
when 'being on the same page' has made all the difference
SERVICES

where we have expertise and experience to offer