scale and provision in minutes
support a remote workforce
connect to or from anywhere on the globe
Australian first 'Network as a Service'
Telstra Programmable Network is Australia's first Network as a Service solution.
TPN is a globally connected on-demand networking platform. It is the ideal solution for scalable remote workforces.
TPN is designed to deliver secure, flexible and on- demand connectivity to virtual network services with automatic provisioning in minutes.
Benefits of a Telstra Programmable Network
Telstra Programmable Network is a new service which takes full advantage of Telstra's cloud-based infrastructure and software.
Benefits include:
Support a remote workforce
In these uncharted times of global pandemic, react swiftly to scale and provision remote working securely.
One flexible customisable platform


Create a custom network. Choose from modular capabilities and self-provision (or have MobileCorp provision) a choice of network capacity, services and applications.
Respond faster
Provision in minutes – not months – for fast adaptation to changing business and market demands.
Connect to and from anywhere on the globe
Connect to new customers in more places with ease and speed. Telstra has already laid the infrastructure to leverage a global network.
Accelerate application performance
Dynamic access to secure private connections to improve end-user experiences.
Telstra Programmable Network by MobileCorp
MobileCorp provides full management of the Telstra Programmable SDN platform, utilising the knowledge and expertise of our network engineers to provide strategic advice, operational accountability and technical support.
MobileCorp managed services include:
utilising the platform canvas to design a custom solution provisioning layer 2 Ethernet connections and VNFs; and managing bandwidth on-demand settings
ordering services and equipment and purchasing licensing and provisioning them automatically on Telstra Programmable Network, leveraging the latest in SDN and network function virtualisation technology
building out the platform adding exchange connections from the Global Exchange and virtual network functions from the Marketplace
providing global guidance to customers wanting to access more than 35 global Programmable Points of Presence (POPs), directly integrated with over 2000 Telstra IPVPN POPs in 200 countries and territories
assigning a proactive account manager to provide a single point of contact for strategic and operational escalation
supporting internal IT resource with a technical service desk working to SLA; relieving internal resources of time-consuming BAU tasks and proactive monitoring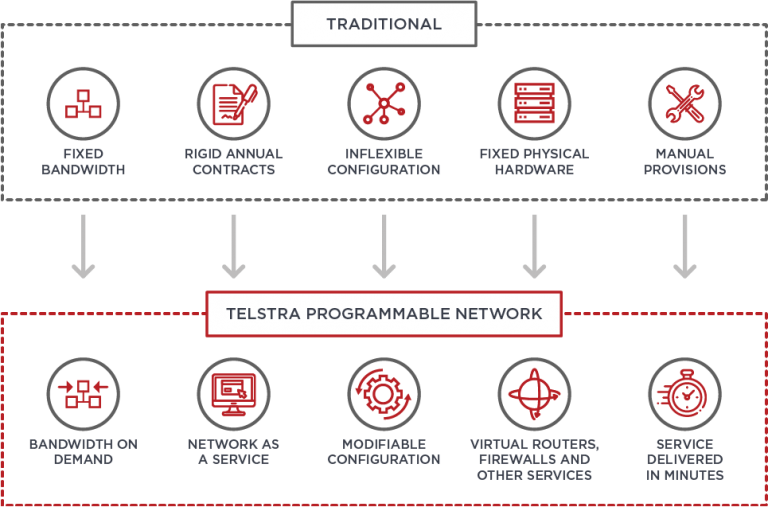 Telstra Cloud Router for TPN
Whether connecting to one cloud or many, simplify the experience with Telstra Cloud Router on TPN. It's easy to create and deploy for scalable Layer 3 connectivity to key cloud service providers.
Up and running in minutes
Use Telstra Cloud Router, a custom-built Virtual Networking Function (VNF) to establish and configure private Layer 3 peering to public, private and hybrid clouds in near real-time.
Licence included
Telstra Cloud Router includes a software licence for as little as one hour – see below for plan and pricing information. You can take up the plan that best suits you at the TPN Marketplace.
Guided network parameters
Set up Layer 3 peering to key cloud providers such as Amazon Web Services and Microsoft Azure using an intuitive graphical interface.
Technical Features of TPN
Wearing a technical hat? You might be interested in these features.
Automated connectivity and Global Exchange
Browse the TPN Global Exchange to add network building blocks by choosing clouds, data centres and services from an ecosystem of 60+ cloud service providers and 35+ enabled data centres. Enjoy automated connectivity to AWS, Azure, Google and Oracle.
VNF Marketplace
Select from a marketplace of virtual network functions (VNFs) vFirewalls and vRouters from leading vendors. BYO licence or choose Telstra VNFs, such as Telstra Cloud Router and Gateway Protection, which come with licences included.
Fast, customisable networks
Use the platform canvas to design and deploy modular solutions, with layer 2 Ethernet connections and VNFs provisioned in under ten minutes and flexible commercials.