SIP is the leading technology for telephony and unified communications delivery in Australian enterprise and business
SIP [Session Initiation Protocol] manages the transfer of voice, data, video, instant messaging and applications on the network. With Telstra SIP Connect, it's easy to have IP access to the Telstra phone network and still use your existing equipment.
Demand for SIP has escalated in the past 24 months with the decommissioning of the ISDN network, and the rise of the distributed workforce.
What is Telstra SIP Connect ?
SIP is the predominant choice of Australian companies to manage telephony and unified communications.
SIP is a globally adopted and future-proofed technology. It will survive voice and data convergence and the adoption of cloud solutions, making it a safe investment.
With Telstra SIP Connect, organisations can move to IP Telephony at their own pace by using a combination of IP-PBXs, legacy PBXs and Telstra's fully hosted TIPT service to suit each site.
With Telstra SIP Connect, voice and data traffic is carried over the Telstra Next IP® network offering Quality of Service to prioritise time-sensitive voice traffic and certification to the international ISO-27001 standard ensuring exceptional security for voice calls over a virtual private network.
Why would a business choose Telstra SIP Connect?
SIP is the most popular solution for telephony and unified communications delivery in Australia. The key reasons for this are:
it is future-proofed technology ready for 5G, edge computing and cloud
it can reduce telephony costs by 50 percent over traditional IP infrastructure
it can be a guaranteed Quality of Service product giving priority to voice traffic
it has no fixed capacity
it delivers real-time unified communications applications
with an RSP such as Telstra there is the ability for mobile network failover
Business Use Cases for Telstra SIP Connect
SIP is an enabling technology.
A SIP solution can be used in many business use cases including:
re-thinking communication channels between a head office and branches to take advantage of lower costs
moving an on-premise PBX phone system to the cloud
introducing Unified Communications and VOIP services like video calling, instant messaging, file sharing to the business
upgrading services and migrating to NBN
upgrading to IP telephony from PTSN/ISDN
What is the best SIP solution for business?
Even though legacy IP solutions may still be doing the job, for a business to get ahead in the 21st century it needs to be looking at investing in high performing, next generation communications to gain the ultimate collaborative edge.
To take advantage of future-led, data hungry applications such as business VoIP, requires a network that is far more powerful than the average broadband connection.
There is no one-size-fits-all solution for SIP trunks because the best option will depend on an organisation's size, internet traffic and call volume.
However, there are two main delivery methods for SIP trunks:
Multi-Protocol Label Switching is a private circuit used to connect multiple sites and remote workers. It was created to increase the forwarding speed of routers and has evolved to become vital in the building of large IP networks.
MPLS does not use the public internet which means the business retains complete control of its traffic, and is able to add priorities to types of traffic such as data or voice. This means MPLS is a Quality of Service (QoS) network delivering faster speeds and a totally uncongested network.
MPLS solutions are flexible in nature so network designers can easily decrease the number of 'hops' to and from different network points making for a rapid response time.
To get the most out of SIP Trunks they will need to be placed over a QoS network such as MPLS.
The other method of utilising SIP is over the public Internet.
SIP over the public Internet may be suitable for businesses with light phone traffic.
If the connection is going to be used to send other types of traffic such as video or email, there has to be enough bandwidth to cope, or there has to be a way for voice traffic to be prioritised over all other traffic.
Having a dedicated separate internet connection for voice traffic would solve the problem of contention at the local network level but not at the Internet Service Provider level, and although this is a better solution, QoS still cannot be ensured and there may be some loss of performance unless carefully monitored.
MobileCorp Managed SIP Migration
MobileCorp will manage the entire SIP migration project driving to a successful completion with minimal input required from the business.
Areas of accountability include:
Solution architecture

Telstra SIP Connect Network costing

Migration Project

liaison with equipment suppliers, and selected RSP
co-ordinating on-premise activity including technician visits from NBN (if required), RSP, and potential cabling work
manage the cut-over of services without downtime or disruption to the business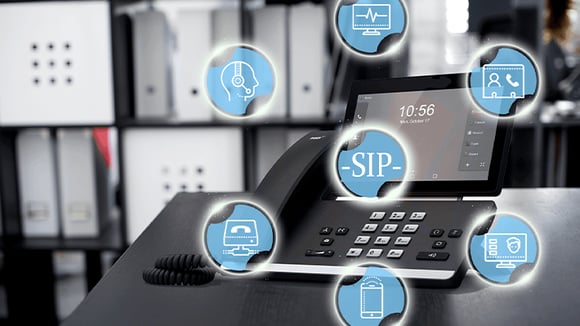 Telstra IP Telephony (TIPT)
Telstra's SIP-based collaboration solution is Telstra IP Telephony or TIPT.
There are many SIP products available in Australia. All of the major telco carriers, as well as from a range of smaller registered service providers (RSPs), offer service plans of varying speed and QoS.
MobileCorp recommends Telstra's TIPT for Australian business for the following reasons:
all hardware can be paid off over 36 months on the monthly Telstra bill
Telstra is Australia's highest performance network as announced by Gartner (2019) with proven SIP trunking capability
disaster recovery failover is to the Telstra 4G or 5G network
can be delivered over any internet service provider, not just Telstra
Managers responsible for the network will need to understand some of the finer details of how SIP works to ensure traffic on the network, especially voice traffic, is given suitable bandwidth and priority.